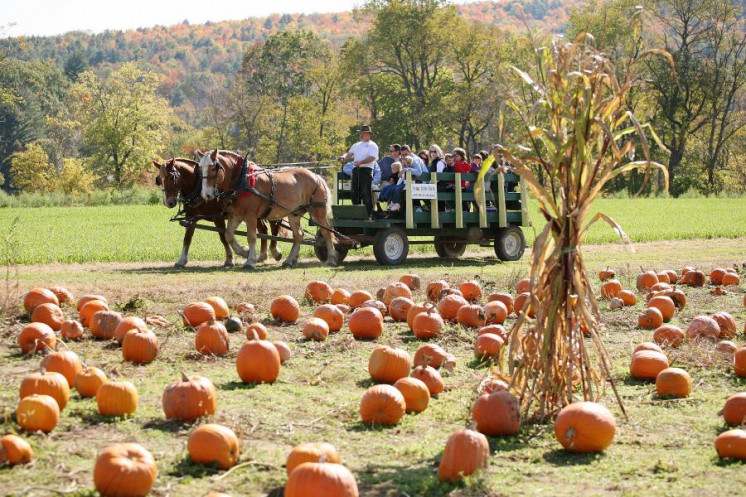 Cedar Circle Farm in East Thetford, VT will hold its annual Pumpkin Festival on Sunday October 9th from 10am to 3pm. Now in its fourteenth year, the Pumpkin Festival offers fun for the whole family with kids' activities, storytelling, live music, horse-drawn wagon rides, pumpkin picking, and an organic Good Food Concession.
Children's activities include storyteller/musicians the Swing Peepers in the Circle of Cedars Enchanted Forest playing three sets throughout the day. Live music will also feature two great Upper Valley bands: Off the Rails from 10:30-12:30 and the Stovepipe Mountain Band from 1-3. Children will love the live owls brought by VINS, face painting, educational activities, and crafts.
Be sure to arrive hungry! Lunch and dessert line will open at 10:30am with delicious, organic, farm-fresh dishes prepared by Chef Alison and her crew in the farm kitchen. The fall menu will include pasture raised pulled pork tacos (vegetarian option also) with kitchen crafted krauts, seasonal organic soups and salads. Our pumpkin brownies are just one of the delicious desserts we'll be offering. We'll also be offering a new Kid's Plate this year and the NOFA wood-fired artisan pizza will return as well. The farmstand and coffee shop will be open until 5pm.
Raffle tickets will be sold to raise funds for CSA shares for limited income Vermonters through the Farm Share Program subsidized by NOFA-VT and Cedar Circle Farm. The Pumpkin Festival is a "Green Event" with a waste recovery station, which has yielded only two bags of trash for more than 1500 visitors in previous years. Bring a plate, utensils and cup to help reduce waste.
Parking is available in designated fields for $10 per car, and carpooling is encouraged. No pets please. 
Cedar Circle Farm is a forty-acre certified organic farm, dedicated to "growing for a sustainable future" through the production of certified organic vegetables and berries, bedding plants, and quality flowers and herbs. The farm offers a CSA program, harvest festivals, cooking classes, and guided educational farm tours. 
Cedar Circle Farm is located on Pavillion Rd. along the Connecticut River, just off of Rt 5 in East Thetford, VT. For details and directions, visit https://cedarcirclefarm.org/events/festivals.