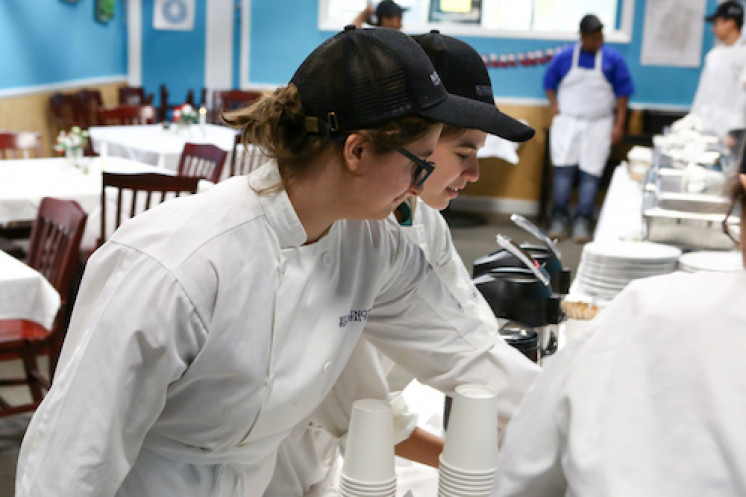 Have you come across the amazing, student-run cafes throughout the state? Vermont Technical Career Centers offer culinary arts classes that give students real life experience, preparing them to pursue culinary school or a range of jobs in food systems, hospitality, or the restaurant industry.
These unique cafes are often open to the public - you just have to be "in the know" for days and hours. Read below about four inspiring programs, and hurry - the school year is almost over!
The Champlain Cafe has been open at the Burlington Technical Center since 2016 (previously it was named Lattice Works and Gourmet Cafe). Students study specific themes and learn techniques associated with the cuisine of the week. The themes and menus correspond to events, holidays, celebrations, and cultural cuisines. Examples include Fresh Pasta, Cinco de Mayo, Lunar New Year, Mediterranean Cuisine, Winter Solstice, and Mardi Gras.
Their menus rely heavily on produce that is available locally and seasonally, including from their own campus via the Burlington Food Project. The Food Science class supplies them with fresh micro-greens. They also purchase directly from other farms. This year, the students were proud to win the City Market "We Love Local Recipe Contest" with a recipe for sweet and smooth sweet potato, carrot and apple soup with garam masala roasted chickpeas!
Students practice their recipes and techniques all week, then open the cafe on Fridays. The decision was made to be open only one day a week so that the program can focus on learning, rather than production. The students rotate between different stations - sous chefs, cooks, bakers, dining staff, and sanitation. They serve 30-50 meals on Fridays, but also offer catering for private lunches, baked items for holidays, and sell their Vermont Mud Brownies at two local markets.
They cafe is open to the public and their loyal Burlington School District staff clientele. The weekly menu is posted on their website, Twitter, and Facebook. Interested diners can also be added to their email list. The cafe requires reservations by 10:00am on Thursday for a 12:00pm - 1:00pm seating on Friday. Takeout is also available, and take advantage of the Loyalty Card (the 10th meal is free).
Unfortunately, the last day of service this school year is tomorrow, Friday May 3rd, with a Cinco de Mayo theme. They will re-open in September for the 2019-2020 school year!
They plan to be open just the next two weeks - Tuesday, Wednesday, and Thursday - until their last day of regular service on May 16th. See this week's menu, which will change a little next week - adding a beet burger and several Cinco de Mayo specials.
The Culinary Program has a great partnership with their own Sustainable Agriculture & Food Systems Program, a farm located in Jeffersonville, VT just outside the Robtoy Farm. They get eggs, potatoes, onions, carrots, etc., along with anything else that is available through this program. Additionally, it's a goal to try their absolute hardest to buy almost completely organic and local.
The students spend all day together, 8:15am - 2:00pm, and report becoming extremely close. Erica, a second-year student and senior says, "this class is more like family than a class. The atmosphere is more like home than institution...we can achieve a lot and have awesome and delicious results."
Throughout the school year, the students prepared food for the annual tech center open house; put on a luncheon for the Women's Auxiliary Club of Morrisville; and hosted a spaghetti dinner for the tech center's families, students, and staff (serving 150 people pasta from scratch and Italian sausage from the pigs at their Agriculture program). At one of their most recent events, the SkillsUSA competition at NECI in Montpelier, Erica won a silver metal in restaurant service.
Reservations are accepted 10:00am - 11:00am by calling 802-851-1551 and Tuesday - Thursday service is 11:15am - 12:00pm. Try the Misty Knoll Chicken Sandwich and Flourless Chocolate Cake!
The Hilltopper Restaurant is currently serving Signature Dishes on their menu until May 15th, on Tuesday, Wednesday, and Thursday. Each student has developed their own dish, like Green Pea Falafel at $6.50 and Grilled Venison and Stuffed Trout at $11.50. The students report that regular customers often work their way through each of the new creations! The menu changes four times throughout the school year. The fall menu emphasizes all that the Saint Johnsbury area has to offer and this final menu is developed by the seniors.
The St. Johnsbury Academy Culinary Program has a comprehensive curriculum with three professional kitchens, including a full scale bake shop and the Hilltopper Restaurant - a full service restaurant, right on Main Street. Their lunch service has become very popular, creating a real life experience for the students - a "working classroom." The regular guests have become a big part of the educational process, providing excellent feedback, and cheering on the students as they progress through the school year.
The Harvest Menu is their biggest showcase for local and regional ingredients. They start the school year with the bounty of the summer and fall. As the year progresses, the menus change to provide students with exposure to different ingredients, techniques, and flavor combinations. Joe's Brook Farm is a favorite farm, as they say Mary and Eric lead an amazing farm crew and provide beautiful produce and service.
With only 42 seats, the restaurant fills up fast, particularly when large parties are booked. On a given day that the cafe is open, they serve 40 to 65 meals, including take-out. They strongly suggest reservations (802-748-8965), at least a day or two in advance. The last month of the school year is generally sold out a week or two in advance. After they wrap up in a couple weeks, the cafe will open again to the public in October. See more photos, dish descriptions, and short student bios on their menu.
While the Randolph culinary arts program isn't regularly open to the public, they do quite a bit of catering and some pop-up events, among many other truly inspiring endeavors. Culinary Arts at the Randolph Technical Career Center is a full day program, which allows the students to take on varied and large events. This year the program catered 8 large events, hosted 5 pop-up bistros, as well as their famous Friday night take-home dinners.
The students in the program work closely with the Center's Agriculture Department, butchering, planting, and making cider together. This week they are gearing up for planting spring greens (the farm has a large high tunnel (greenhouse), too). In terms of butchering, every year the students have the opportunity to break down whole animals - a skill that is being lost, according to some. This year, they butchered four deer and two hogs, learning how to use the entire animal, pack all of the main muscle cuts, grind meat, make sausage, cure & smoke, and prepare stocks. Their instructor knows this skill will serve his students well, whether they work at a farm-to-table restaurant, butcher shop, custom meat shop, grocery store, or end up with their own farm. RTCC agriculture students learn to use a tractor and do some blacksmithing. The environmental resource management program also has a sugar house. In addition to these opportunities, many students are already familiar with all sorts of agriculture and it's all incorporated seamlessly into food preparation.
As part of their curriculum, students also work in local restaurants and dining establishments. Whether they are helping to feed 700 students in Norwich, or cooking at Twin Farms Resort, they are able to practice their skills and gain even more hands-on experience. They build relationships with other Vermont producers, as well.
Some of us can only wish we had these kind of experiences in high school!