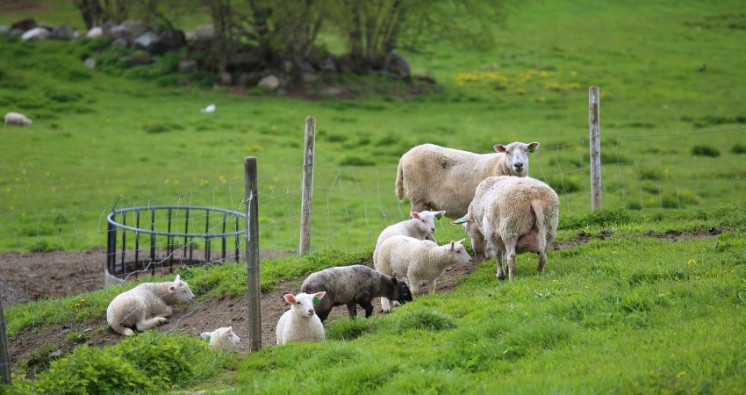 You know it's finally Spring in Vermont when the verdant green fields are dotted with baby lambs and fluffy sheep! Springtime gets us thinking about lamb recipes and now is the perfect season to try your cooking skills out on a proper roast. Peter Varkonyi, Co-Founder and Butcher at Brownsville Butcher & Pantry offers up this lovely lamb shoulder recipe that has a touching backstory from the farm just down the road a piece.
Our lamb comes from a wonderful gentleman, and one could say a patriarch to our small town, Mr. Bill Yates Sr. His farm is approximately 2 miles from our store on Rt 44. He raises mostly sheep, but a few pigs and goats find their way into the mix. His lamb, however, is the real prize of the farm.
Mr. Yates and his family have been raising livestock for decades. We are just fortunate enough to own a shop in his backyard. Just about every week we receive a beautiful whole lamb from the Yates farm, sometimes two. Especially around the holiday season, the decadent meat really takes center stage in our butcher shop. We do our absolute best to utilize every part of the animal from the loins, to the rib and bone for stock.
Hands down, our all time favorite cut of lamb is the butterflied shoulder. The lamb shoulder has much to offer in tenderness and incredible unctuous flavor. When you debone and butterfly the shoulder you have a wonderful opportunity to impart flavor and cook the shoulder in a relatively quick yet effective manner.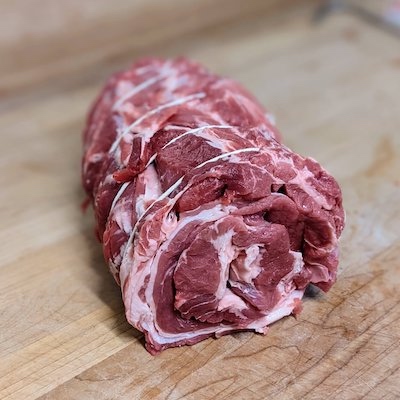 Grilled Butterflied Lamb Shoulder
& Green Olive Arugula Salad
Total marinade time 12-24 hrs
Total cook & rest time 45 min
Serves 6-8 guests
Ingredients:
3-4lb. Boneless Lamb Shoulder
enough olive oil to lightly coat entire shoulder
8 oz. spicy arugula
1/4 cup pitted and chopped Castelvetrano Olives
1/4 cup torn parsley
1 thinly sliced euro style cucumber
3 T. olive oil
1 T. red wine vinegar
flaky salt to taste
Herb & Lemon Rub
2 T. flaky salt (Maldon)
1 T. fresh cracked black pepper
1 T. dried oregano
1 T. crushed chili flakes
4 each cloves and garlic, crushed and minced
2 lemons, one zested and one cut in halves
1/2 cup minced parsley
Instructions:
1. Mix all ingredients together except olive oil, red wine, and salt. Once ready to serve dress salad with oil, vinegar and flaky salt to taste
2. Mix all ingredients for making the herb and lemon rub together, making a grainy and wet consistency. Reserve lemon halves for the grilling with lamb.
3. Genously rub boneless lamb shoulder with olive oil and apply rub, let sit 12-24 hours refrigerated preferably uncovered. Once removed from the fridge and let temper (30 min) prior to cooking.
4. Whether using a propane or charcoal grill, the same technique applies. Use an indirect cooking method, meaning one side of the grill is on high or burning hot while the other is off or coals pushed to one side.
5. Place the lamb shoulder butterflied side down on the cool side of the grill and cover on the grill and look to reach a temperature of 350 degrees. After 10 minutes, rotate the roast 180 degrees and place the cover back down. (The cover down on the grill creates a full radiant heat source and will cook the shoulder more evenly similar to an oven on convection. After another 15 minutes, flip the shoulder over (butterflied side up). Significant color should be developing but no charring or burning. Place the cover back on the grill for 10 minutes.
6. To finish the shoulder to an internal temperature of 130 degrees or medium rare place the shoulder over the hot portion of the grill. Place the reserved lemons alongside. Careful for flare ups as the flames will create bitterness in the meat. After significant caramelization is reached 3-5minutes remove shoulder and lemons.
7. Let the shoulder rest a minimum of 10 minutes. The slice thinly against the grain of the meat. Once the shoulder is sliced and fanned out on your serving platter top with green olive and arugula salad. Squeeze the charred lemon over the entire dish and drizzle a touch more olive oil and flaky sea salt.