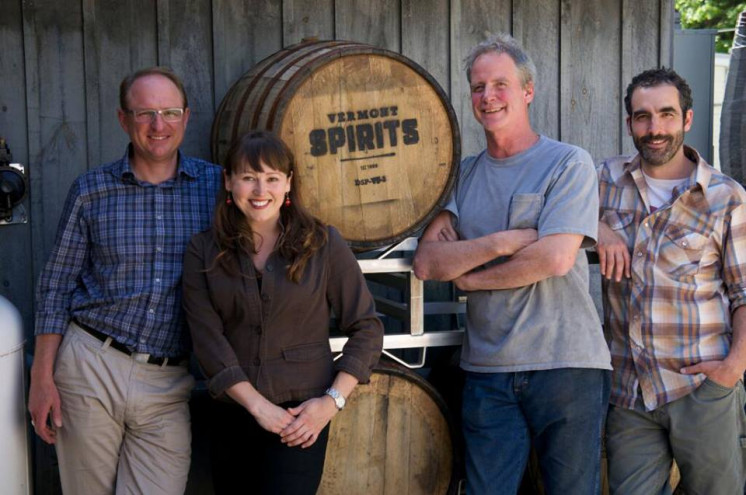 Vermont Spirits Distilling Company of Quechee is aptly named. Steve Johnson, President and CEO, uses Vermont grown corn, juniper berries, apples and maple syrup in his products. He credits much of the distillery's success to the high quality of local ingredients. Even their product names are inspirited by Vermont; Copper's Gin is named after Vermont's first currency and No. 14 refers to Vermont joining the union as the 14th state.
What is Vermont Spirits' whiskey distiller Joe Buswell excited about? Whiskey, of course!
Joe loves his job as the whiskey man at Vermont Spirits. Senior distiller Harry Gorman oversees the production of their higher volume vodkas, while Joe gets to experiment with smaller batches, "with lots of room to work and explore!" says Joe. No. 14 Bourbon Whiskey with Maple has created a buzz. After a limited summer launch sparked demand, they have increased production to meet the growing interest. Starting with five year aged bourbon, Joe filters the liquor through charcoal and finishes No. 14 with a touch of maple. The result is a complex, distinguished liquor with a mellowed, faintly sweet edge. The drinking ease and versatility of No. 14 makes it one of Joe's new favorites!
Vermont Spirits features No. 14 in these two plays on classic cocktails!
No. 14 Old Fashioned
3oz No. 14 Bourbon
2tsp Simple Syrup
2 dashes Angostura Bitters
3 dashes Fee Brothers Orange Bitters
No. 14 Side Car
2oz No. 14 Bourbon
1oz Dekuyper Orange Curacao Liquer
2oz Fresh Lemon Juice
Garnish with a Fresh Orange Slice
Or enjoy these two fall cocktails featuring Vermont Spirits Vodka-perfect for your next party!
Baked Golden Apple
3/4 oz Vermont Gold Vodka
1 oz Eden Ice Cider
1/4 oz Goldschläger® (just for sparkle)
3/4 oz sparkling apple cider
Serve on the rocks with an apple slice garnish.
Liberation Libation
2 oz Vermont Gold Vodka
1/2 oz Vermont maple syrup
1 1/2 oz non-alcoholic sparkling apple cider
Chill over ice, strain and serve in a cinnamon-sugar rimmed martini glass.