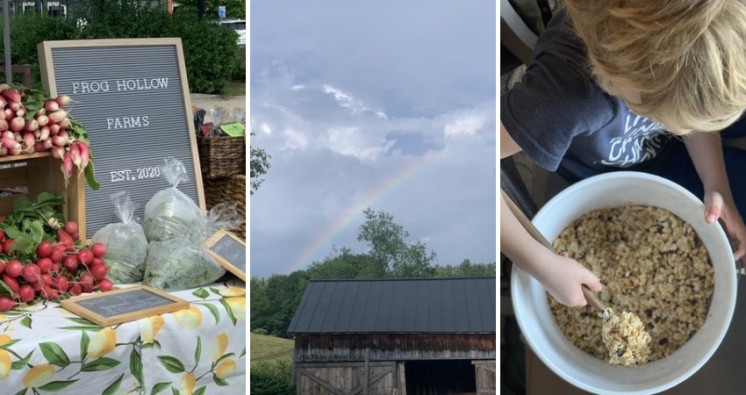 All of us here at DigInVT are super excited to have Frog Hollow Farms on board for this year's Vermont Open Farm Week! Before you visit their farm in Hubbardton, read up on the Reinke Family's new endeavor and join us in welcoming them to Vermont!
Frog Hollow Farms specializes in heirloom produce grown sustainably and organically on a 250 year old farm. Originally from Cleveland, OH, Jason and Janis Reinke purchased the farm in March of 2020 and are now working to bring the historic homestead back to its original glory by restoring the house, barns, and land using holistic and ecological farming practices. The farm is rich in history, as it's one of the first homesteads to be established in Hubbardton. It also boasts incredible views of the Taconic Mountains and Lake Bomoseen. Specialty foods made by Janis – a chef turned farmer – feature the farm's fresh bounty foraged directly from the pastures and field. Produce and specialty foods can be purchased in the farm's on site farm stand, or at the farmers markets in Rutland and Fair Haven.
We recently spoke with Chef/Farmer Janis about all things Frog Hollow Farms! See what she had to say below.
---
 Please share a little bit about the history of your farm and where it's located.
Our farm is located in the historic town of Hubbardton. The farm was built around 1810 by a member of the Hubbard family and is one of the original homesteads of Hubbardton. The land itself has a lot of history, as Red Coats traveled through the forests to the Battle of Hubbardton in the Revolutionary War. We are the fourth owners of the farm, and are working hard to restore it to a true working farm.
How did you get involved with farming and what's the most important thing you've learned along the way?
My husband, Jason, grew up on a farm in mid-Ohio, and I come from a family of farmers. Though I've lived in the city my whole life, I've always felt called to the country, and love getting my hands in the dirt, and food! I think the most important thing we've learned is grace. Nothing will ever be perfect, and we need to allow ourselves the ability to make mistakes and learn from them. Farming is hard. We knew it would be, but it's so important to always take a step back, be mindful of what's happening around you, and make adjustments if needed.
What is one of the most rewarding things about being a farmer here in Vermont?
Being a chef turned farmer, there's nothing better than growing food and sharing it with people. Vermont is a special place that called to us the minute we visited for the first time in November of 2019. So many farmers and people love to share knowledge. There's never any competition in a way that makes you feel uncomfortable. Everyone wants everyone else to succeed, it's pretty amazing really. And the views from the farm are pretty incredible - we have the best commute to work everyday surrounded by mountains and pastures.
What is one of the most challenging things about being a farmer here in Vermont?
We have no family here, and moved in the middle of the pandemic shut down, at the end of March. It's been very hard to meet people and spread the news about our farm. Our family and friends had planned to visit this summer and help us get started, but COVID-19 stopped that, so we've been on our own. It's been incredibly challenging, and sometimes lonely, but we still love every minute of it and look forward to being able to share it with everyone!
What is your favorite product you grow or raise?
This is a tough one - as I love everything about food, and the chickens make me laugh every day. If I had to choose one thing, it would be our Wildcrafted Collection of infused vinegars, syrups, and jams. Struggling to get the field done and no farmers markets, we needed something that we could sell that was easy to package. I started driving around the farm every Monday, taking pictures of plants, flowers, and anything I could find. I researched so many things and learned what was edible, medicinal, and beneficial…so we started making things like rose water from the wild roses growing on the property, nettle pasta (which will be coming soon to our store), peony syrup, and lilac vinegar, and syrup. Our friends and family have loved them, and I'm looking forward to learning more, and making more of these kinds of specialty items from what the land provides to us.
Which Vermont farmers are you most inspired by?
I've been reading about so many Vermont farms, it's really hard to choose. Philo Ridge Farm has been a really big source of inspiration for us, and it closely models our business plan and ideas for the farm in the future. I am most excited to be able to cook and share with others from our harvests, and they have an incredible farm, market and kitchen.
What are your plans for Open Farm Week?
Open Farm Walk & Picnic | August 10 - 16
Come take in the beauty of the Taconic Mountains, and this historic 210 year old farm built around 1810. Built by one of the Hubbard Family members, it is one of the original homesteads in what is now known as Hubbardton. The walk will take you through Frog Hollow's 45 acres of farm fields and pastures, sharing some of the history and what Farmers Jason and Janis are doing to restore the buildings and the land. See the sheep in the pasture, the chickens, and walk through the fields growing heirloom produce. The hike will take you to one of the best spots on the farm: the 100 year old orchard. Here you can take in the incredible views of the mountains and nearby Lake Bomoseen while you enjoy an optional picnic that can be purchased ahead of time and picked up prior to your hike. Picnic lunches will include everything you need for a lawn picnic, prepared by the Farm Manager and Executive Chef, just bring your own blanket.
The farm will be open rain or shine, and the hike does include some steep rolling hills. Dress appropriately for the weather, and wear comfortable hiking or walking shoes. No dogs please, the hike is great for children and families. Wagons recommended for children that may have trouble walking the entire trail – strollers are not recommended. Registration is not required, but optional picnics must be purchased 48 hours in advance if interested.
Visit www.froghollowvt.com to purchase picnics and for more information.
Do you have a favorite recipe to share using products from your farm?
Our summer wild greens salad is my favorite! I had always wanted to try Purslane, and had a bed of Calendula flowers not ready to flower yet with Purslane growing crazy in it. I researched to see if more than the flowers were edible on the Calendula plant, and found that the leaves could be used in salads. So we tried them both, and when you put them together it's pretty incredible. Calendula leaves are bit bitter and spicy like Arugula, paired with Purslane that is incredibly refreshing and a little sweet, it's become our favorite salad mix, and we've started selling them at the market. It's a great mix for farmers since both plants grow really well in this crazy heat!
Ingredients: 
Frog Hollow Farms Wild Green Salad Mix
2-3 radishes, sliced paper thin
1 oz goat cheese
1/2 cup cantaloupe, cubed
1/4 cup red onion, thinly sliced
2 tbsp sour cream or yogurt
1 tbsp Frog Hollow Farms dandelion vinegar (or sub apple cider or white wine vinegar)
2 tbsp extra virgin olive oil
pinch of salt & pepper
1/2 lemon, zested and juiced
Directions:
Wash and dry salad mix/greens. Place in a large bowl. Gently toss greens with red onion, radishes, and cantaloupe.
Make the dressing - in a small bowl combine lemon zest, lemon juice, sour cream or yogurt, dandelion vinegar, olive oil, salt and pepper. Whisk thoroughly until combined.
Divide salad between four plates. Top with crumbled goat cheese and dressing.
Enjoy and tag Frog Hollow Farms in your creation on Facebook and Instagram!