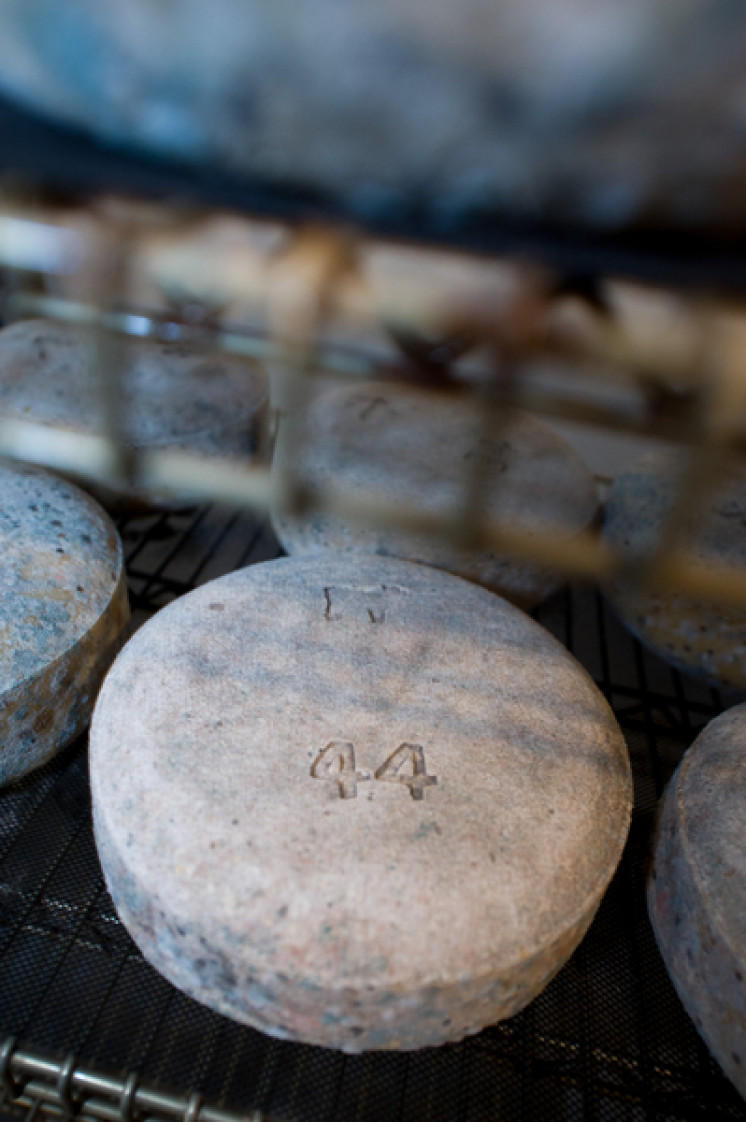 The day-to-day swing of life at Orb Weaver Farm is determined by the season. Spring, with its lengthening days, finds us ending our cheese-making and cow chores and looking forward to the summer growing season. Beginning in June our cows are literally "put out to pasture" for the warmer months, and our efforts turn toward our market garden, which for the past 29 years has supplied our local food co-op with a variety of organic produce.
As the fall vegetable season winds down with broccoli and shallots, energy shifts back to the barn. Our herd of seven Jersey cows freshens (calves) just before Thanksgiving. By the end of November we are back in our cheese room, making cheese every Monday and Thursday. We produce an aged raw milk cheese that either ripens in our cave with a natural rind, or is aged in a walk-in cooler in wax. When the days are at their shortest, and the sun makes its low arc in the south, it can be cold and icy here in the Champlain Valley, but with the sun streaming through the south-facing windows, the warm milky aromas, and folk music on the iPod, there truly is no better place to be.
Spring and summer meals on our farm tend to be light and spontaneous, revolving around whatever is ripe and ready for eating. Winter meals are based on all the produce we've frozen, canned, or dried; cooking can be more complex, but the goal is still warmth and gentle comfort. This cheese puff recipe is an elegant and fun way to begin a winter feast.
Marian Pollack and Marjorie Susman have been producing cheese at the their Orb Weaver Farm in New Haven since 1981. The cheese can be found in stores in the Middlebury and Burlington areas, and at food co-ops throughout the state. Visit their website and blog at www.orbweaverfarm.com.
This article was originally published in the Fall 2009 issue of Vermont's Local Banquet.
Orb Weaver Farm Cheese Puffs
1 1/2 quart, heavy-bottom saucepan
1 cup water
6 Tbs. unsalted butter
1 tsp. salt
1/8 tsp. ground pepper
3/4 cup all-purpose flour
4 large eggs
4 ounces grated Orb Weaver cheese
2 baking sheets covered with parchment paper
Standing Kitchen Aid-type mixer with paddle attachment (optional)
Heat oven to 425 degrees. Bring the water to a boil with the butter, salt, and pepper, and boil until butter is melted.
Meanwhile, measure out the flour. Remove the butter and water mixture from the heat and stir in the flour all at once. Beat with a wooden spoon for a few seconds, then return to the heat and stir over medium-high heat for a minute or two.
Put the hot mixture into the bowl of the mixer, and start beating it with the paddle (or beat it vigorously with a wooden spoon). Add the eggs, one at a time, making sure each egg is incorporated before adding the next one, and continue beating. Add the grated cheese to the warm mixture.
Put scant tablespoons of the mixture onto parchment paper. You should have approximatley 40. Bake until they are golden brown and have doubled in size, about 20 minutes.