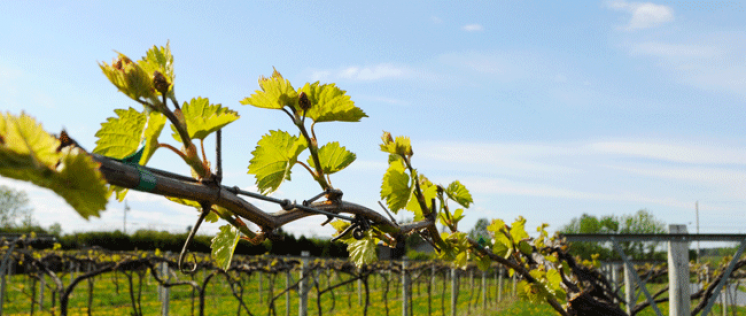 This post was originally posted on Lincoln Peak Vineyard's blog.  The warmer weather is bringing out the buds which means grapes which means wine!  Make sure you check out the great wines (and spirits and ciders!) that call Vermont home.  Grab your Wine Passport for a taste adventure!
When I wrote my previous post ten days ago, I could barely find signs of buds swelling in the vineyard.  A few warm sunny days and what do we have?  Young shoots covering the vineyard, reaching for the sun.  In fact, our first big chunk of work in the vineyard begins today– shoot thinning.
Despite our careful pruning, vines almost always pop more buds and produce more shoots than we want in the vineyard.  It's all about balance– too many shoots means too much fruit, which means lesser quality fruit.  So when the shoots are small and tender, we work through every row flicking off the extras.
We're aiming for about one shoot every three inches, depending somewhat on varietal.  In this La Crescent vine, the node spacing is almost perfectly three inches.  You can see how the middle two nodes each had four shoots– whoa nelly!– and I removed three from each. I chose the keepers based on their position and angle– close to the cordon (branch) is good, and aiming down is nice, since we'll be coming through later this summer to shoot position every one of these.
I know you're thinking, "Really, Sara, more pictures of leaves?"  But I have to admit I think baby leaves are (almost) as cute as puppies.  Here you go.