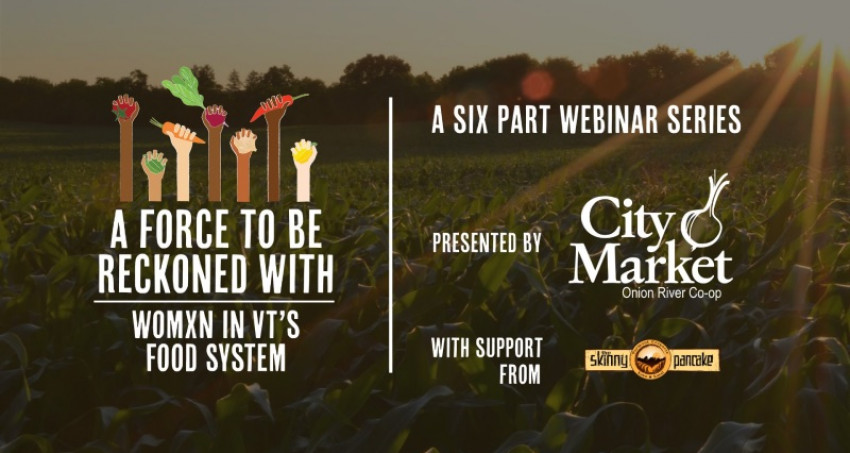 Join every Thursday at 12:00pm (starting Sept 10) for a virtual six-part webinar series highlighting the intersectional experiences of Womxn and Femmes in all facets of the Vermont food system, from seed to hands.
Presented by City Market: City Market is Burlington's community-owned grocery store. Guided by our Global Ends, City Market is committed to strengthening the local food system and increasing food access for all Vermonters. Learn more about their Food for All program here.
About The Webinar Series
ShiftMeals launched as a response to the catastrophic shortcomings of the globalized food system as revealed by COVID-19. This crisis has spotlighted systemic inequities for historically marginalized communities; consider that Black, Latinx, and Indigenous americans are 5 times more likely to be hospitalized with the disease than white americans, and Womxn are losing their jobs at nearly double the rate of men. These statistics point to inequitable distributions of access to healthcare, domestic and caretaking responsibilities, and frontline and service industry jobs.
A Force To Be Reckoned With honors those most affected by this crisis by bringing together these powerful Womxn and Femme farmers, leaders, organizers, and activists. We are creating a space for collaboration, discussion, and visions for a more resilient food system in Vermont.
Everyone, regardless of gender identity or expression is invited to listen and learn from these visionary Womxn and Femmes. This is a place for the whole community to come together to listen, learn, and reflect.
To make this series as widely accessible as possible there is no charge to attend these discussions. Please consider your own situation and if you are able to extend a donation to ShiftMeals or to one of our incredible speakers.
With support from The Skinny Pancake.
Part 1: COVID-19 and Vermont's Changing Food System
Thursday, September 10th
12pm
Vermont's food system is critical to our economy, state identity, and quality of life, with over 64,000 Vermonters employed by farms and food related businesses. The arrival of COVID-19 rattled the food system, amplifying weaknesses in our globalized food system while inspiring Vermonters to creatively build new tools for community food security. This discussion will focus on the impact COVID-19 has had on Vermont's food system, assess disparities in this system, and identify lessons we take forward for a more prepared and resilient food system in the future. 
Panelists:
Anore Horton, Executive Director of Hunger Free Vermont
Brittany Sperber, Operations Manager for ShiftMeals & The Skinny Pancake
Grace Oedel, Executive Director of NOFA-Vermont
Zully Palacios, Migrant Justice
Lynn Ellen Schimoler, Working Lands Enterprise Initiative at the Agency of Agriculture, Food & Markets
Facilitated by: 
Jean Hamilton, Executive Director of ShiftMeals
REGISTER HERE: https://www.eventbrite.com/e/covid-19-and-vermonts-changing-food-system-tickets-117336385287
Part 2: The Future of Farming is Femme 
Thursday, September 17th
12pm
Womxn are the fastest growing group of new farmers. This panel pushes us to set aside stereotypes and honor the emerging energy of femme earth tenders, activists, and organizers. These incredible womxn will examine gender based disparities in Vermont's food system, and envision a supportive community that values womxn, provides mentorship, and continues to engage future generations of femme farmers.
Panelists:
REGISTER HERE: https://www.eventbrite.com/e/the-future-of-farming-is-femme-tickets-117338816559
Thursday, September 24th
12pm
Strong communities are resilient communities, able to support those in need through troubling times. This panel highlights grassroots organizers who are strengthening their communities' ability to address and repair systemic inequities, rising food insecurity, and other vulnerabilities  that have been exacerbated by the COVID-19 pandemic. These womxn discuss the power of grassroots organizing, strategy adaptations to the current situation, and envision what strong communities can look like in Vermont. 
Panelists:
Carolina Lukac, Vermont Community Garden Network
Cat Buxton, Rural Vermont
Sara Jean Whelan, Slow Food Vermont 
Liv Peña, Vermont Releaf Collective
Emma Schoenberg, Food Not Bombs
Alisha Laramee, New Farms for New Americans
Facilitated by: 
Sammy LeVine (she/her), GrowTeam Manager at ShiftMeals
REGISTER HERE: https://www.eventbrite.com/e/grassroots-organizing-as-a-form-of-local-resiliency-tickets-117340258873
Part 4: Vermont's New Wave of Agriculture: Womxn in Hemp & Cannabis
Sponsored by: Heady Vermont
Thursday, October 1st
12pm
This panel will focus on the experience of womxn and femmes within the booming hemp and cannabis industry. We will dive into the inner workings of what it means to be a femme farmer growing hemp and cannabis in Vermont with an emphasis on the challenges that they face, the crucial need for racially conscious structural change, and how this industry can sustainably strengthen Vermont's working landscape. 
Panelists:
Harmony Edosomwan
Monica Donovan, Heady Vermont
Jessilyn Dolan, VT American Nurses Association/ Nurse Grown Organics
Laura Sullivan, Pipe Dreams Hempworks
Arantha Farrow, Caledonia Cannabis  
Facilitated by: 
Sammy LeVine (she/her), GrowTeam Manager at ShiftMeals
REGISTER HERE: https://www.eventbrite.com/e/vermonts-new-wave-of-agriculture-womxn-in-hemp-cannabis-tickets-117340644025
Thursday, October 8th
12pm
In this panel we explore the different approaches to building land sovereignty in Vermont. Because access to land is central to identity, culture, food production, and wealth creation, land theft has long been a tool of oppression against marginalized communities. These leaders are building alternative land-access models to strengthen their communities, increase local food security, right past wrongs, and bring lasting change to the state of Vermont. 
Panelists:
Tracy Zschau, Vermont Land Trust
Akua Deirdre Smith, Black Land Power Network
Alison Nihart, Agrarian Commons Board Member
Stefan Bratt, NAACP Brattleboro
Facilitated by: 
Zymora Cleopatra Davinchi (she/her), BIPOC Food Sovereignty Program Manager at ShiftMeals 
REGISTER HERE: https://www.eventbrite.com/e/impactful-structural-change-land-sovereignty-and-reparations-tickets-117341486545
Part 6: BIPOC Womxn and Femmes: Navigating Vermont's Food System
Thursday, October 15th
12pm
The purpose of this panel is to support, celebrate, and reflect on the contributions of BIPOC womxn and femmes in Vermont's food system. Together we explore their experiences as business owners, earth tenders, healers, faces of organizations, and advocates. Additionally, we aim to build community, honor the dynamic spaces that these folx are creating specifically for marginalized Vermonters, and unpack the inequities that exist at the crossroads between race and gender within Vermont's food system. 
Panelists:
Related Places (9)