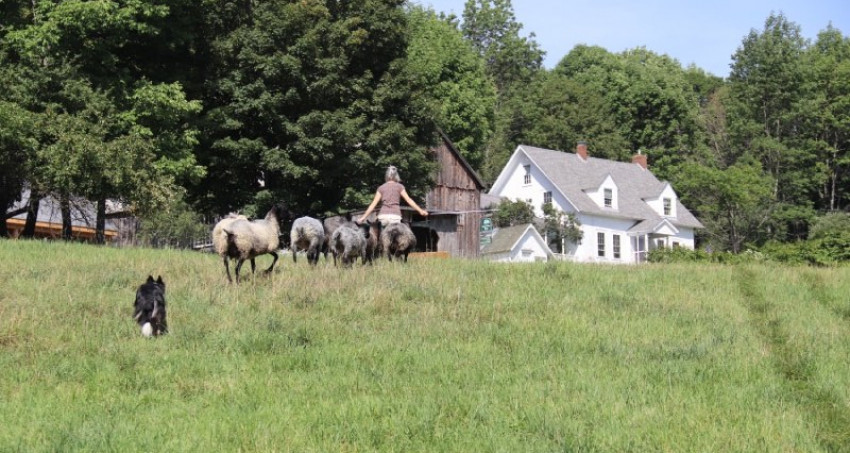 Vermont Grand View Farm
1638 Scales Hill Rd
Washington, VT 05675
Get Directions
Sat, Aug. 14, 2021 10:00 AM – 2:00 PM
VT Grand View Farm & Buck Family Maple Farm invite you to join them for a fabulous day of fun, learning, and adventure during Vermont Open Farm Week!
These two farms sit back to back in South Washington where John Buck tends to his sugar woods and makes Vermont maple syrup, while on the other side of the hill, Kim Goodling tends to her flock of Gotland sheep.
Field Trip Schedule
August 14, 2021 Group #1: 10:00am - 1:00pm / Group #2: 11:00am – 2:00pm
Upon arrival to Vermont Grand View Farm, you will be given a farm scavenger hunt and map. Kim will help you get your boots/shoes clean (to keep the animals healthy & safe) and then will show you how to begin your self guided scavenger hunt of the two farms. You will visit different places on Vermont Grand View Farm to learn about Kim's sheep and farming practices. At each location, you will read about what the farm does and grab a sticker for your map. Click here for more information about your tour of Vermont Grand View Farm.

Your last stop on the scavenger hunt takes you on a relaxing 10 minute walk through the Buck Family Maple Farm sugarwoods and brings you to their sugarhouse. Here, you'll learn not just about how syrup is made but also how John preserves the natural habitat for the plants and wildlife that live in his sugarwoods. Click here for more information about your tour of their property.
You will end your scavenger hunt back at Vermont Grand View Farm for a family picnic or a wood fired pizza!
Vermont Grand View Farm is home to Vermont's first flock of Gotland sheep. The diversified farm focuses on selling breeding stock and wool products from their flock as well as maple syrup. The Goodlings welcome people to their farm through farm stay vacations and custom fiber art classes.
Related Events (3)
Related Places (1)