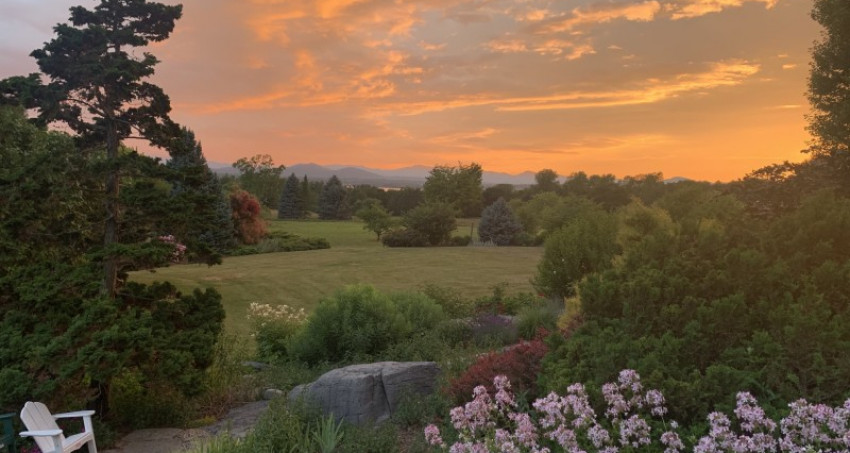 Fri, Aug. 13, 2021 5:00 PM
Join in the fun for dinner on the farm! Golden Apple Family Farm is proud to be celebrating their first Vermont Open Farm Week with a collaboration between a few of their favorites from the local food community: Misery Loves Company, Sweet Roots Farm, and Backdoor Bread. Misery will be serving their famous buttermilk fried chicken from Golden Apple's very own pastured heritage chickens alongside just-picked vegetables and simple greens from Sweet Roots Farm and bread from Backdoor. Enjoy an orchard cocktail by MLC, Lulu's ice cream and Calito's berry popsicles for the kids. Stroll the property, enjoy the farm's extensive perennial gardens, visit the Finnsheep, Mangalitsa pigs, and heritage chickens, and spread out a picnic blanket on the west lawn to enjoy a little bluegrass as the sun sets on the Adirondacks.
Adult dinners include a cocktail/mocktail/beer/wine/cider, MLC fried chicken with vegetable sides, a simple green salad, Backdoor Bread and MLC dessert.
Kid dinners include boneless fried chicken, vegetable sides, Calito's berry popsicle/Lulu's ice cream, and blueberry lemonade.
Adults: $80/person
Kids: $20/person
Event is rain or shine. Limited table seating available on a first-come basis.
The Golden Apple Family Farm is remembered fondly as a pick-your-own orchard that began more than 50 years ago. Over time the property evolved as it changed hands and shifted focus to perennial gardens and rare cultivars. Since 2017, the Herringtons have been committed to honoring both histories of the property. Their vision is to create a space for the community to appreciate the beauty and diversity of the gardens while bringing the property back to agricultural productivity and restorative biodiversity. As they put effort into recovering the orchard, they introduced and supported hives of pollinators. They followed with heritage chicken layers and their many-colored eggs, while adding pastured-raised broilers and turkeys over the last few years. Recently they have welcomed Mangalitsa pigs and a small flock of dual-purpose Finnsheep to help regenerate the soil and add to the future offerings of the farm.