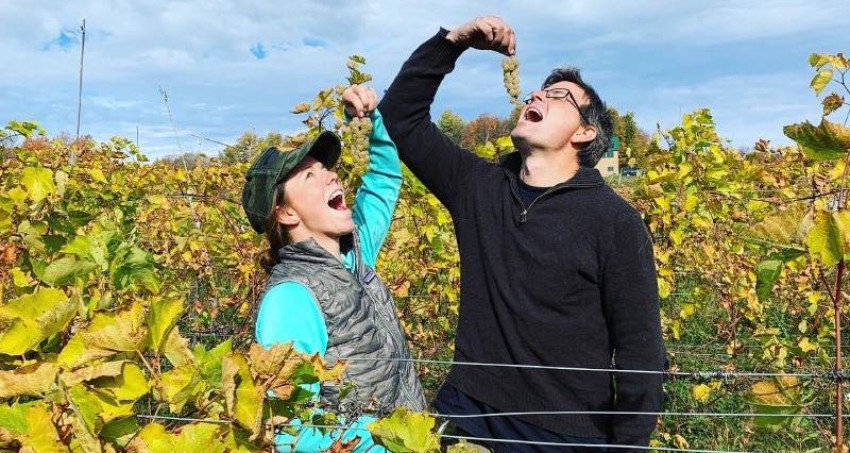 Aug. 14 — 16, 2020 10:00 — 16:00
Visit Ellison Estate Vineyard for a guided tour of their 10 acre vineyard and 50 acre property! Guests will learn about Vermont wine as a growing industry and the cold-climate grapes that thrive in Vermont, and get to hang with the sheep at the end of the tour! Participants are welcome to meander in the vines and paths on the property and may also bring a picnic and enjoy the breathtaking views of Lake Champlain and mountains. Ellison Estate Vineyard is very family friendly - there will even be an art table for the kids - and the winegrowers are happy to talk about farming, grapes, winemaking, and wine. Ellison Estate is excited to welcome their community to their farm!
Tour dates include:
Aug 10
Aug 14
Aug 15
Aug 16
Though this event is FREE, registration is required. Click here to register on Eventbrite! Once you click "register," days and time slots available will be listed and you can choose which one works for you!
Ellison Estate Vineyard is a family run vineyard and winery that will be releasing their first wines in August 2020! Ellison Estate Vineyard makes dry white, rosé, red, and sparkling wines from cold-climate grapes. Regenerative agriculture inspires their work and they embrace organic and biodynamic principles. Ellison Estate Vineyard aims to create alluring native Vermont wines and foster community.
Related Events (1)