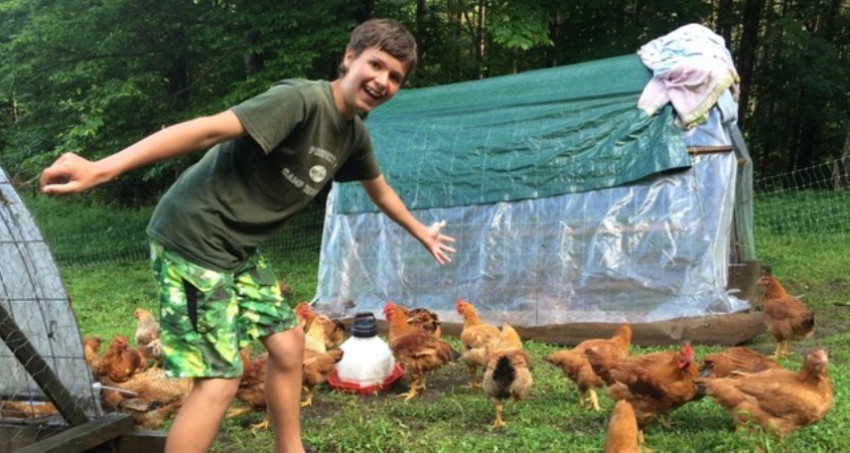 Earthwise Farm & Forest
341 McIntosh Hill Rd
Bethel, VT 05032
Get Directions
Wed, Aug. 11, 2021 10:00 AM – 11:30 AM
Join Earthwise Farm & Forest for a tour!
Learn about their regenerative and organic farming practices, and why they chose to stay small in scale
See how they care for and manage their livestock (milk cows, draft horses, oxen, turkeys, meat birds, pigs, laying hens, and muscovy ducks)
Visit the farmers' off-grid home
Walk through the gardens
Spend time in their Labyrinth Garden
Bask in the beauty of the edible landscape
Earthwise Farm & Forest is draft-animal powered and certified organic, incorporating biodynamic and ecological practices & principles. Much of the farm is 'off-grid' and the farmers have incorporated many conservation practices into their home & farm design to reduce the amount of power, water, and other resources needed to operate a family home efficiently.
The farm tour will start and end at the little farm store, where organic raw milk, vegetables, chicken (frozen), garlic, flower bouquets, pottery and preserves are available for sale. A small tasting table will be set up to introduce you to some of Earthwise's delicious products.
$15/person. Space is limited, so pre-registration is highly recommended, though walk-ins may be allowed. Book here!
Note: The best way to get to the farm is either via Tatro Hill Rd in Randolph, or by way of Gilead Brook Rd in Bethel. Both roads can be found when traveling Route 12 (taking you from Randolph to Bethel). From these roads, GPS will work fine. Do NOT take Spooner Rd.
Earthwise Farm & Forest is a certified organic, draft-animal powered homestad farm, incorporating biodynamic, regenerative, and ecological practices & principles. They produce and market grass-fed meat and milk products, maple syrup, vegetables, herbs & flowers. Earthwise also offers classes throughout the year focusing on practical farming skills, along with spiritually-minded approaches to connecting to oneself and the land. They have been certified organic since 2011, but managing the farm organically since its inception in 2000.