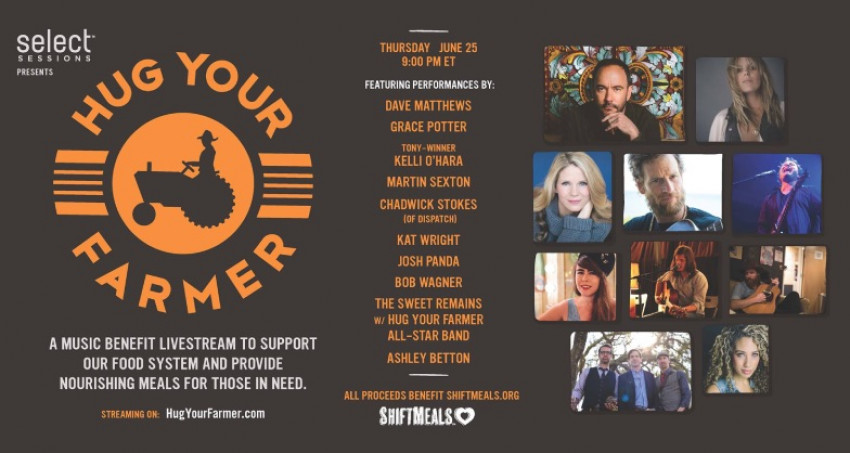 Thu, Jun. 25, 2020 9:00 PM – 10:00 PM
Select Sessions presents a virtual HUG YOUR FARMER, a music benefit livestream to support local food systems and provide nourishing meals for those in need. Featuring performances from Dave Matthews, Grace Potter, Martin Sexton, Tony-winner Kelli O'Hara, Chadwick Stokes (of Dispatch), Kat Wright, Josh Panda, Bob Wagner, The Sweet Remains w/ Hug Your Farmer All-Star Band. Streaming on HugYourFarmer.com on Thursday, June 25 at 9:00pm ET.

100% of donations received will go directly to ShiftMeals, connecting local farmers to restaurants that are providing community support to people who need food in a dignified and nourishing way. This program is a model that can scale beyond Vermont, to help those in need, nationwide.

DONATE: https://donorbox.org/shiftmeals_hug-_your_farmer

The health and durability of our local restaurants has a direct impact on the sustainability of our local farmers. Together they nourish our communities. Support your restaurant, support your farmer's work, support folks in need. In this moment, Hug Your Farmer is about hugging your local food system, and feeding your neighbors in need.

Presented by Select, in support of Shift Meals.

With generous support from JunaPR and Scout Digital.
Related Places (1)