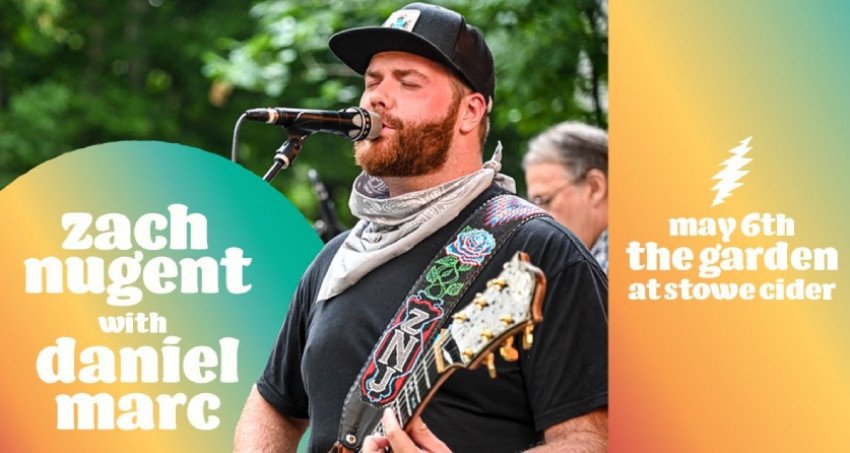 Thu, May. 6, 2021 05:00 — 08:00
Join Stowe Cider in The Garden for a night of live music with a duo performance from Zach Nugent & Daniel Marc! The pair will be covering music from JGB and The Grateful Dead, as well as tunes from their own catalogs. Stowe Cider is thrilled to have these two incredible artists share our stage and promise you this is a performance you won't want to miss.
IMPORTANT EVENT DETAILS from Stowe Cider:
***Event is 21+.
**Events are rain or shine.
*Tickets are non-refundable.
Food will be available on-site, no outside food or beverages will be allowed.
We have put together a list of guidelines that follow state regulations and allows us to support local musicians:
A complete list of all guests with contact information will be gathered upon arrival.
All adults must have IDs
Masks are required for guests when they exit their vehicles, going to the restroom and when ordering. Staff will sanitize tables between each use.
Guests are permitted to dance in the area directly at their table. Guests up out of their seats or dancing must be wearing a mask. Masks can be removed once a guest is seated at their table.
There will be no gathering between tables.
We are currently accepting payment by card only, and will not be accepting cash.
The Garden is a no-smoking area.
Guests arriving under the influence may not be permitted to enter the venue and The Garden staff reserves the right to deny service to anyone showing signs of intoxication.
Anyone caught sneaking in or supporting another guest to access The Garden without a ticket will be escorted off the property by Stowe Cider staff or the police and will not be refunded.
Patrons are required to follow VT guidelines found here: https://accd.vermont.gov/covid-19/restart/cross-state-travel
Have fun, stay safe, and let's listen to some music!