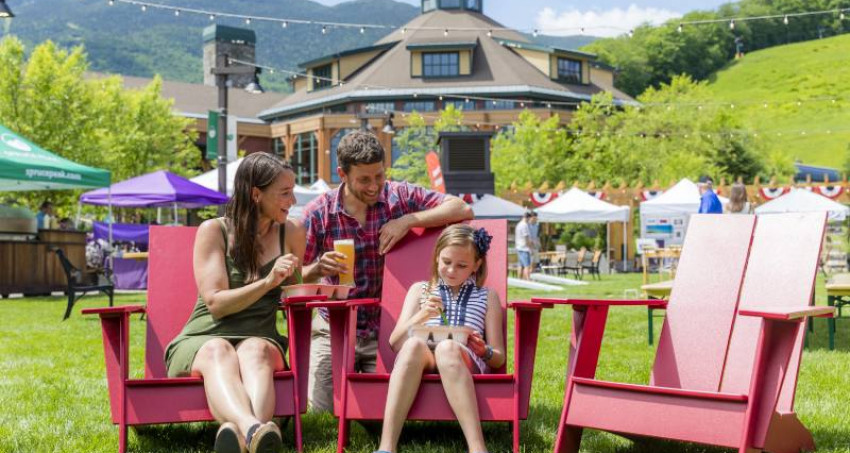 Solstice, The Lodge at Spruce Peak
7412 Mountain Road
Stowe, VT 05672
Get Directions
Sat, Aug. 21, 2021 12:00 PM – 2:00 PM
A fundraiser for Vermont Fresh Network: This summer, we are super excited to partner with several of our members to offer a delightful picnic series in celebration of our 25th anniversary! Grab some friends and choose your location. These picnics celebrate summer's flavors and showcase Vermont farms & chefs. The funds raised with this series of picnics support Vermont Fresh Network and our mission to cultivate the farmer-chef-community relationship.
Vermont Fresh Network supporters, enjoy a taste of summer in celebration and support of our local food and farm community! Tickets for these picnics are limited.
Spruce Peak:
Indulge in a mountain top picnic in Stowe at Spruce Peak! Pick up your picnic basket full of local goodies expertly prepared by Executive Chef, Sean Blomgren, and team, consult the map for best picnic spots, and enjoy an afternoon of breathtaking views. Lounge on the green, venture into the Enchanted Forest, or meander along a trail up Spruce Peak. Picnickers will be set with all the fixings, including a special Vermont Fresh Network picnic blanket. These picnics are perfect for two! Pre-registration and tickets are required: $102 for two (including tax + minimum donation amount). Thank you for supporting our work!
MENU
Entrée: choose one (feeds 1 person):
Fried Chicken Chicken Salad Sandwich (Misty Knoll Chicken, Potato Roll, Heirloom Tomato)
Israeli Sabich Pita (Triple J Boiled Egg, Knee Deep Vegetables, Hummus, Tahini)
Sides: Elote Potato Salad (Native Corn, Dug Potatoes, Queso Fresco, Tajin, Lime) & Stone Fruit Salad (Ginger, Labne, Mint)
Served with: Two Sons Baguette, Spruce Peak/Jasper Hill Farm Slopeside Cheddar, Spruce Peak/Blake Hill Wild Blueberry Jam
Dessert: Summer Berry Galette
Beverages: choose a refreshing non-alcoholic beverage of your choice upon arrival or upgrade to wine, beer, or cider on-site.