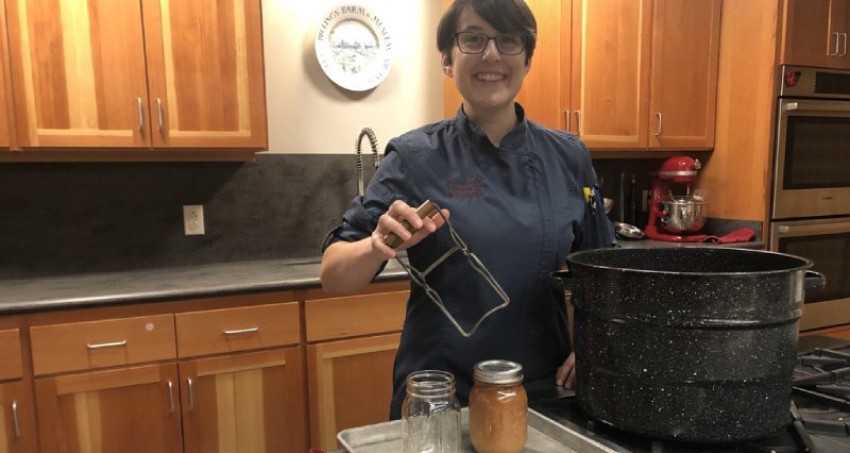 Billings Farm & Museum
69 Old River Rd
Woodstock, VT 05091
Get Directions
Sat, Sep. 26, 2020 10:00 — 13:00
A Virtual Workshop, Saturday, September 26: Billings Farm & Museum will present the next workshop in the Billings Backyard Series, Putting Food By: Can and Preserve Your Harvest Bounty with Chef Emery Gray, a Woodstock, Vermont-based chef. This virtual workshop will be presented on Zoom on Saturday, September 26, from 10 am – 1 pm.  
From the safety of your own kitchen learn how to "put up" this season's harvest using two of the most abundant and loved foods: apples and tomatoes. Chef Emery will take you through the process of canning tomatoes, and then making and preserving applesauce and apple butter using the water bath method of canning. Live virtual instruction will include ample time for questions and troubleshooting.  
This program is designed for beginners, although all are welcome. Registration is $15/person; Billings Farm & Museum members are $10/person. Pre-register by September 24 to receive advance instructions, recipes and preparation details. For more information on the workshop and to register, call 802-457-2355 or visit www.billingsfarm.org/putting-food-by. 
Future programs will cover topics including DIY teas and tinctures, home brewing, beekeeping and preparing your garden. Each workshop will provide concrete steps for participants to incorporate these practices into everyday living. 
Billings Backyard is a series of monthly workshops designed to teach sustainable living skills to adult participants and is underwritten by a generous grant from the SpringRiver Private Foundation Trust.