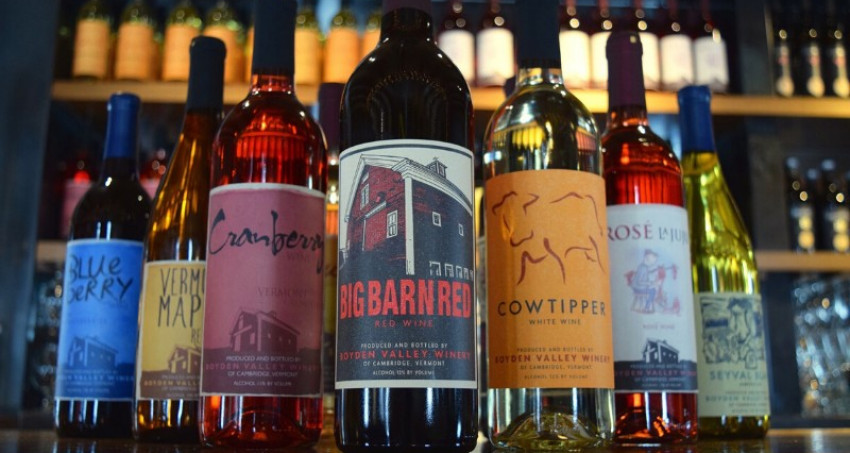 Boyden Valley Winery and Spirits
64 VT Route 104
Cambridge, VT 05444
Get Directions
 Enjoy a virtual tastings with the folks at Boyden Valley!
Each Virtual Tasting will feature 3 products and a cocktail or sangria
Taste along as they talk about the product, the flavor profile, food pairings and cooking suggestions, and answer your questions.
Now is the perfect time to buy bottles so you can follow along with the tastings at home. For every 12 Bottles of wine sold through the website during the LIVE virtual tasting, Boyden Valley will donate 5% of the sales to the Vermont Food Bank! 
Tasting Schedule
Fri, 5/1: Cinco De Mayo: Cowtipper, Rhubarb Wine, Blueberry Wine
Wed, 5/6: Reds: Riverbend Red, Big Barn Red, Marquette Reserve
Fri, 5/8: Ice Wines: Vermont Ice Cider, Vermont Ice White, Vermont Ice Red
Wed,  5/13: Maple Highlight: Vermont Maple Reserve, Gold Leaf, Vermont Ice Maple Creme
Fri,5 /15: Fruit Wines: Rhubarb, Cranberry, Blueberry
Wed, 5/20: Ciders: Vermont Ice Hard Cider, Honey Hopper Cider, Cran-Bog Cider, Royale Cider
Fri, 5/22:  Whites: Seyval Blanc, Cowtipper, Rhubarb
Wed,  5/27: Dry: Seyval Blanc, Big Barn Red, Frontenac Brut Rosé
Fri, 5/29: After Dinner: Cassis, Gold Leaf, Glogg
Wed,  6/3: Spirits: Pomme Noir, Pomme Noir De Glacé, Vermont Ice Maple Créme
Fri, 6/5: Traditional Trio: Cowtipper, Big Barn Red, Rosé La JuJu