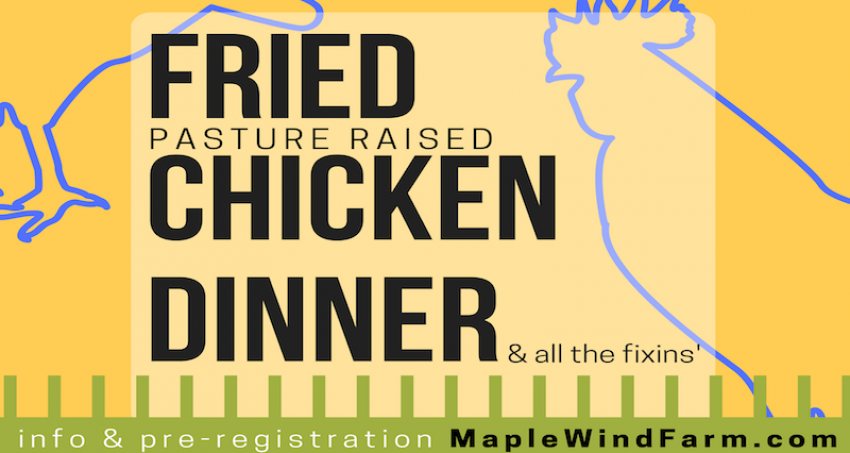 Let Maple Wind Farm cook for you! Come out to the farm in Richmond for a classic Maple Wind Fried Chicken dinner - drive thru style! Please select the time window that works best for you and be here within that time-frame. The chicken plan dinner (yes, it's gluten-free) includes a piece of breast and a drumstick, which are buttermilk brined and dredged in Nitty Gritty Cornmeal then fried to perfection, 2 portions of side salads (made by Bear Roots Farm Kitchen), and Maple Wind's famous maple cornbread. Drive thru and head out for a picnic or bring home.
Preregistration is highly recommended. Walk-ups may not be accommodated as capacity is limited. $22/plate. Vegetarian option is also available.
No dogs, please.
Don't forget that you can also place orders for Maple Wind's meats and eggs to pickup at the same time!
Since 1999 Maple Wind Farm has been raising animals on pasture with daily movement as the key to the highest quality meats. They raise pasture raised chickens, turkeys and layer hens. Both the poultry and pigs are fed a diet of non gmo grain and forage on pasture. The beef cows are 100% grass fed and finished- no grain ever! Maple Wind sells direct to consumers all over New England and wholesale to area coops and restaurants.
Related Places (1)