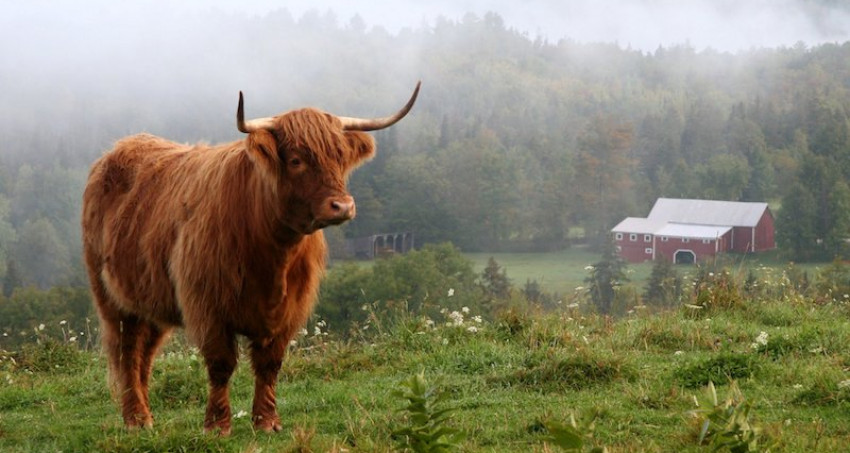 Sun, Aug. 6, 2023 11:00 AM – 2:00 PM
Bring a blanket, bring a lunch and enjoy a picnic by the pasture, enjoying exquisite mountain vistas and watching the oldest registered fold of Heritage Highland cattle in the United States grazing nearby. There will be fuzzy Highland calves to comb and cuddle and a Highland decorated cake to enjoy after your picnic. Greenfield Highland 100% Grass Fed beef will be available to purchase at the farm.
$5.00/person. Under 3 years old, free. Cake will be provided.
Be sure to type in Plainfield Town, not just Plainfield, when using a GPS or phone for directions to the Greenfield Highland Beef Open Farm Week event. Put a pin in Greenfield Highland Beef on your phone or GPS. It will bring you right here!
Shat Acres Highland Cattle is the oldest registered fold of Highlands in the United States, since 1966. Shat Acres sells champion Highland breeding stock throughout the United States. Their 100% Grass Fed and Finished Greenfield Highland Beef is sold locally at Hunger Mountain Coop, City Markets, Capital City Farmers Market and at the farm in Plainfield. Their brand new, 3-bedroom Airbnb Highland House Farm Stay on the Plainfield property allows guests to interact with the Highlands and enjoy the peace and exquisite views of the Plainfield farm. Ray Shatney and Janet Steward own and manage their farm and 86 Highland and HighlandX cattle, and love sharing the gifts of this unique breed with Highland House guests.
Related Places (1)