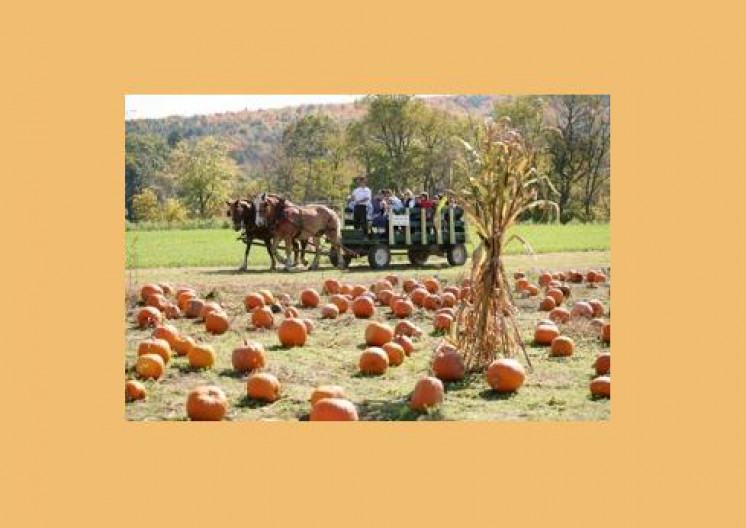 Pumpkin season is always a special time of the year at Cedar Circle Farm & Education Center in East Thetford, VT. The 13th Annual Pumpkin Festival, held on Columbus Day weekend at the height of fall foliage, takes place Sunday, October 11, 2015, from 10am-3pm. This popular, rain or shine harvest festival, attracting more than 1,500 visitors each year, offers pumpkin picking, horse-drawn wagon rides, engaging children's activities, cider pressing, visiting owls, live music from local bands, and plenty of good eats!
 Throughout the day, hop on a horse-drawn wagon and take a ride to the pumpkin patch, with farm guides aboard to talk about organic agriculture on the farm. Taste some freshly-pressed apple cider, that you can even press yourself!
 Enjoy live music from talented local bands on the main stage, under the tent. The morning act from 10:30am-12:30pm, Blind Squirrel, led by Thetford native Bill Shepard, draws on Irish, Appalachian, Canadian, and New England sounds. Jeanne & The Hi-Tops bring high-energy soul and roots music from 1-3pm.
 Children's entertainment takes places in the "Enchanted Forest" in our circle of cedar trees, the farm's namesake. Musical acts feature the Swing Peepers, an interactive music duo, who perform at 10:30am, 12:30pm, and 2pm. The Revels Mummers, part of the Norwich-based Revels North group, perform intermittently between 11am-1pm. Other activities include face painting, crafts, and wreath making, as well as learning about the visiting owl from Vermont Institute of Natural Science (VINS) from 10am-2pm.
 The "Good Food" Concession opens at 11am featuring delicious organic food grown and prepared on the farm, to include salads, hearty soups and desserts, as well as grilled local sausages and organic ice cream. NOFA-VT (Northeast Organic Farmers Association) returns with their wood-fired mobile pizza oven.
 Gather information about food, farm equipment, and alternative energy sources by visiting our community educational displays. Take a stroll around the farm and follow our self-guided farm tour.
 The Share the Harvest raffle features an array of prizes from local businesses, and proceeds go toward NOFA-VT's Farm Share Program. With this community supported raffle, the Farm Share Program can help more local families every year with a season of wholesome and organic fruits and vegetables from Cedar Circle Farm. Tickets for the raffle are available at the CCF table by the main tent, and the drawing takes place at 2pm.
 The Hello Café will be serving coffee drinks during festival, and the farmstand, which features an abundance of organic produce, fall flowers, and farm-made sauces, jams, spreads, and pestos, will be open until 5pm.
 Entry fee to the festival is $10 per vehicle. Please leave pets at home. Guests are encouraged to bring their own serving ware, as the goal is to minimize waste and carry on our tradition of just two bags of trash generated at the festival.
 "We could not host this festival without the generous spirits of our more than 50 volunteers," says Lindsay Pattison, CCF's outreach and communications coordinator. "We have volunteers as young as 7 helping out with our kid's activities and waste recovery stations, and some families volunteer for the entire day, including helping out with our set-up and tear-down. At our festivals, you will find the heart of our community. I'm honored to be a part of it."
 For more information, directions to the farm, to volunteer, and view the full schedule of events, visit www.cedarcirclefarm.org/events/festivals. The Farm is located at 225 Pavillion Road, off of US Route 5 in East Thetford, VT.
Cedar Circle Farm is a forty-acre certified organic farm, dedicated to "growing for a sustainable future" through the production of certified organic vegetables and berries, bedding plants, and quality flowers and herbs. The farm offers a CSA program, harvest festivals, cooking classes, gardening programs for adults and children, and guided educational farm tours.