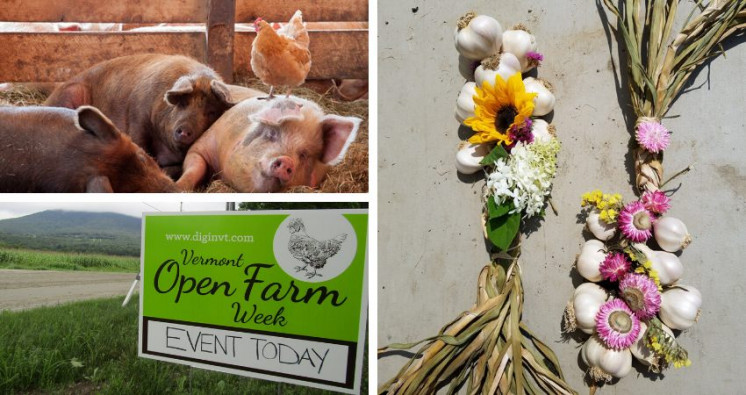 During Vermont Open Farm Week, explore the Lake Champlain Tasting Trail and enjoy the food and farms of the Champlain Valley. 
The Lake Champlain Tasting Trail is made up of restaurants, farm stands, markets, farms, breweries, wineries and other places and locations that showcase many of Vermont's finest food and farm experiences for visitors and travelers to our state.
---
FRIDAY, AUGUST 9TH
Bread and Butter Farm - Shelburne
Mozzarella Making 101 at Bread and Butter Farm
Join City Market on Open Creamery Day for this special Mozzarella Making 101 class, Open Farm Week edition! This class is anything but cheesy. No, really, this class is the "whey" to go! This class will guide participants through a recipe for making traditional mozzarella cheese. Mozzarella is a "quick" cheese, meaning participants will get to enjoy tasty samples at the end of the evening! Zero previous experience or knowledge required. This class will take place at Bread and Butter Farm in Shelburne and will be led by Phoebe Tucker, an educator, artist, and enjoyer of all things dairy. Please bring appropriate layers, footwear and bug spray as we will be spending a portion of the class outside exploring the farm!
Philo Ridge Farm, Charlotte
Farm Tours
10:00am & 4:00pm |Enjoy free guided tours of Philo Ridge Farm twice daily and learn about their regenerative agriculture practices, including rotational grazing, high rotation vegetable growing, and the importance of compost.
Stonecutter Spirits Garden Party at Philo Ridge Farm
4-8 pm  | Local distillery Stonecutter Spirits of Middlebury, Vermont, will be serving garden inspired cocktails in our Market. Enjoy Happy Hour specials like the popular Farm Popcorn as well! 
SATURDAY, AUGUST 10TH
Philo Ridge Farm - Charlotte
Bring Your Own Indigo Dying Class with artist Maggie Pate 
Explore indigo, the most popular of natural dyes, with talented textile artist Maggie Pate. Bring up to three items to dye in the indigo dye vat and learn about indigo as a dye material. This is a great opportunity to get creative and repurpose old items into new pieces of functional art! Tickets can be purchased on Maggie's website.

10:00am - 11:00am
Philo Ridge Farm - Charlotte
Natural Dye Intensive Class with artist Maggie Pate 
Learn how to turn food scraps and seasonal plants into magnificent colors in this unique dye class. Textile artist Maggie Pate will guide students in dyeing a cotton bandana, fabric swatches, silk ribbon, and wool yarn from Philo Ridge Farm sheep with everything from onion skins to fresh flowers. Students will also take home Maggie's Natural Dyeing E-Course so they can continue their art at home. This is an incredible opportunity to explore how waste can be turned into beautiful and functional art! Tickets can be purchased on Maggie's website.

2:00pm - 5:00pm 
Philo Ridge Farm, Charlotte
Bluegrass, Beer, and Brats: The Meatpackers and Zero Gravity at Philo Ridge Farm
5-9pm | Join us for an evening of bluegrass, beer, and brats! Local band The Meatpackers will be playing popular bluegrass hits in our Great Room from 5 to 8 PM. While you listen, enjoy a beer from Zero Gravity, who will be offering tastings and can pours throughout the evening. What goes better with beer than a bratwurst? Our kitchen will be serving a bratwurst special made with Zero Gravity beer - the perfect complement to a cold one.
Sunday, August 11th
Philo Ridge Farm, Charlotte
Family Activities & Christy Mihaly Reading
9:30am |Bring your kids of all ages to Philo Ridge Farm to participate in educational activities and crafts in their Pack Barn. Local author Christy Mihaly will be reading her children's book, Hey, Hey, Hay, A Tale of Bales and the Machines That Make Them.
WEDNESDAY, AUGUST 14TH
Philo Ridge Farm, Charlotte
Greenbush Jazz Duo at Philo Ridge Farm
5-7pm | Come enjoy a medley of jazz, blues, and rock inspired music from talented local musicians Cobey Gatos and John Creech! 
Boston Post Dairy, Enosburg
Summer Family Fun Day
11:00am - 2:00pm |Take your family to Boston Post Dairy for some kid-friendly fun. Hang out with their chickens and goats and taste their award-winning goat cheese. There will also be face painting for the kids!
THURSDAY, AUGUST 15TH
Last Resort Farm - Monkton
Pizza Dinner and Garlic Braiding Workshop 
5:00pm - 7:00pm | Visit Last Resort Farm for a Garlic Braiding Workshop and Pizza Dinner! Learn to create your own beautiful garlic braid for yourself or to give as a gift. A local pizza maker will provide a yummy flatbread dinner made with Last Resort veggies. Visitors may also take an informal tour of the farm.
Pizza dinner costs to be determined. Braiding workshop cost is $30.00 per person, which includes instruction and materials for full-sized braid.; $15.00 for kid's size. Farm tours are free.
---
For more information about the Lake Champlain Tasting Trail and our partners, click here.
Funding for project came from a 2019 Conservation & Community Grant awarded to the Vermont Fresh Network by the Champlain Valley National Heritage Partnership.