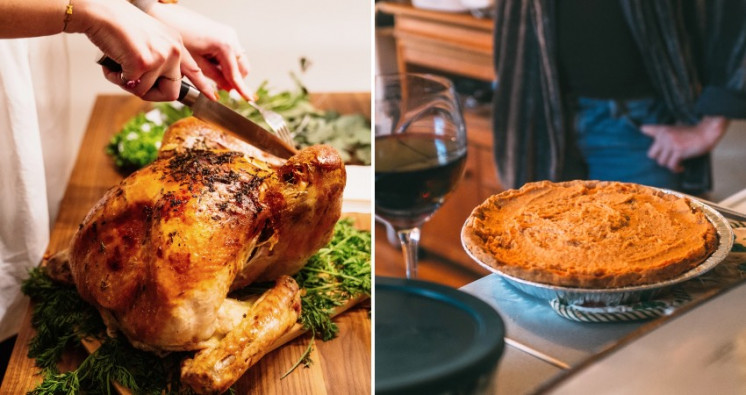 We are proud to present Vermont Fresh Network's Local Holiday Meal Guide featuring farms and markets throughout Vermont.
Don't wait! Deadlines are fast approaching to reserve local turkeys or other special ingredients for your holiday meal. Find all the food items you need using our handy guide.
Though there will likely be fewer opportunities to travel or gather with family and friends, you can still prepare a feast to enjoy and make the holidays feel special. Vermont farmers make it easy to source nearly every ingredient needed for a delicious and unforgettable holiday meal.
No matter where you are, you will be able to enjoy a meal brought to you by Vermont farms! Find a market or farm near you and order your local holiday ingredients today - don't forget the local beverages.
Northern Vermont
Farms
Adams Turkey Farm, Westford - Adams offers fresh and frozen Vermont turkeys humanely raised on an all-vegetarian diet without antibiotics.
Order Now → Call 802-878-4726 or order directly from City Market or other local stores.
Breezy Acres Farm, Montgomery - Breezy Acres is a great option for sourcing grass-fed beef and pork. Cuts are sold frozen by the pound. Steaks, roasts, ribs, sausages, chops, bacon, ham, and more are available. They are sold out of seasonal chicken and turkey this year, but keep them in mind for next Thanksgiving!
Order Now → Call 802-326-2197, email [email protected], or send them a message on their website, Facebook, or Instagram. You're welcome to stop by the farm, but calling or messaging ahead of time is recommended.
Hillside Farm/Pearce's Pastured Poultry, Albany - Father/daughter farmers Bill and Hannah raise turkeys that are free from hormones and antibiotics, fed non-GMO grain, moved to fresh pasture each day, and processed on farm. --> Sorry, SOLD OUT!
Order Now → Visit hillsidefarmvt.com/order-poultry and fill out the Fall Turkey Order Form. Pickup options include the Capital City Thanksgiving Market, Craftsbury General Store, and the farm.
Maple Wind Farm, Richmond - Though Maple Wind is sold out of turkeys for this year, they also raise 100% grass-fed beef and non-GMO pork, which are both great options for a holiday feast.
Order Now → Visit maplewindfarm.com to order! You can pick up your items at the farm on a weekly basis (order by Tuesday). Biweekly home delivery is also an option in certain areas.
Philo Ridge Farm, Charlotte - Thanksgiving offerings, including whole turkeys and prepared sides will be available for pre-order in early November.
Order Now → Visit their online shop anytime for a large selection of meats, veggies, and prepared foods produced on site here: philoridgefarm.square.site.
Triple J Pastures, Irasburg - Triple J raises soy-free turkeys on pasture, available fresh, in addition to frozen pastured chicken pork, and lamb!
Order Now → Call 203-610-7566 or email [email protected]. Pick up is by appointment only.
Vermont Cranberry Company, Fletcher - These local cranberries are the perfect seasonal accompaniment to your celebratory meals.
Purchase Now → Find them at grocery stores, markets, and co-ops throughout the state.
Markets and Co-ops
City Market, Burlington - Get your fresh, local turkey from City Market. They have offerings from several Vermont farms! Pre-order by November 15 from Stonewood Farm in Orwell or Maple Wind Farm in Huntington, by November 16 from Misty Knoll Farms in New Haven, and by November 17 for Adams Turkey Farm in Westford. Prepared side dishes are also available for pre-order. The menu includes sweet potato and apple stuffing, roasted brussels sprouts, gravy, Vermont cranberry chutney, and apple crisp!
Order Now → Visit www.citymarket.coop/thanksgiving-turkeys-co-op and click "order here" for both turkeys and side dishes. Pick up starts on November 23.
Craftsbury General Store, Craftsbury - The General Store serves as a pick up location for Hillside Farm/Pearce's Pastured Poultry, which offers fresh, pasture-raised turkeys fed with non-GMO grain. They're even processed right on the farm!
Order Now → Order directly from Hillside Farm by filling out the Fall Turkey Order Form on their website, and select Craftsbury General Store as your pick up location.
Edelweiss Mountain Deli, Stowe - The Deli is offering local Marble Hill Farm turkeys, fresh or prepared, and a full menu of delicious side dishes (pumpkin ravioli!), breads, pies, cookies, and more!
Order Now → Stop by, fill out this order form (ahead of time or when you stop by), or call 802-253-4034. Place your orders by November 21 for pickup by November 25.
Central Vermont
Farms
Crossmolina Farm, West Corinth - In addition to fresh, pastured turkeys, Crossmolina also offers Thanksgiving shares (sold separately) with all the fixings for a truly local feast. Optional add-ons include wood fired bread, cheese, pies, and more! The Farm offers a few pickup locations in Central Vermont.
Order Now → Call 802-439-3358 or visit www.crossmolinafarm.com/shop.
Graze and Gaze Farm, Barre - This Central Vermont family farm offers pasture-raised turkeys perfect for your special meals, as well as grass-fed beef, pastured pork, and free-range chicken.
Order Now → Call 802-479-2778 or 802-249-8547 ahead to order, pick up by appointment only.
Green Mountain Girls Farm, Northfield - Get your frozen, organically-raised (though not certified) turkeys at Green Mountain Girls Farm, in addition to other pasture-raised meats.
Order Now → Email [email protected] or call 802-505-9840 to reserve a frozen turkey for the holidays, and order other meats anytime at greenmountaingirlsfarm.grazecart.com/store.
LedgEnd Farm, Middlebury - Celebrate the holidays with some farm-raised venison!
Order Now → Call 802-388-8979 or email [email protected].
Misty Knoll Farm, New Haven - They have antibiotic-free chickens and turkeys available fresh and frozen straight from the farm. Sizes vary. Order by November 17.
Order Now → Call 802-453-4748 or email [email protected]t. Get the curbside pick up details here: www.mistyknollfarms.com.
Markets and Co-ops
Alimentari Roscini (AR Market), Barre - Get your Vermont Salumi charcuterie and specialty cheeses for the perfect pre-holiday meal snack board. The Market also has hand cut steaks, fresh produce, prepared side dishes, wine, and pantry goods.
Order Now → Stop by! They're open Wednesday - Friday from 2:00pm - 7:00pm and Saturday from 10:00am - 3:00pm.
Brownsville Butcher & Pantry, Brownsville - Pre-order turkeys from Brownsville's Yates Farm or Orwell's Stonewood Farm or let the chef do all the cooking and get a full, prepared Thanksgiving meal. Pumpkin, apple, and chocolate walnut maple pies are also available.
Order Now → Call 802-546-2900, email [email protected], or stop by before November 15. Check their Instagram and/or Facebook pages for the most up to date holiday offerings and details. Pick up will occur on November 24 and 25.
Middlebury Natural Foods Co-op, Middlebury - The Co-op is offering fresh, local turkeys from Stonewood Farm in Orwell.
Order Now → Visit middlebury.coop/thanksgiving-turkey-pre-order. Order by November 20.
MKT: Grafton, Grafton - Enjoy a menu of delicious appetizers (baked brie with berry preserves!), sides, desserts, and even maple brined roast turkey breast available for pre-order. Click here to view the full menu.
Order Now → Call 802-843-2255. Turkey quantities are limited.
Woodstock Farmers' Market, Woodstock - This unique fresh food market has you covered for local turkey (options include Stonewood Farm and Misty Knoll Farm), as well as a full spread of starters, entrees (stuffed acorn squash for the vegetarians!), side dishes, and pies.
Order Now → Stop by or call 802-457-3658. Online ordering will be available soon!

Southern Vermont
Farms
Meadowdale Farm, Putney - This family-run farm brings their meats from the pasture to your plate! In addition to turkeys, which are available now and sold on a first come, first served basis, Meadowdale has whole roasting chickens, Katahdin lamb, and ribeyes for your special gathering.
Order Now → Call or text 802-387-2391 or send them an email. Cash/check only. Appointments required for pick up.
Rebop Farm, Brattleboro - Rebop raises a limited quantity of pastured non-GMO turkeys. They're then processed on the farm for your holiday meals! In addition, they have rabbit and chicken currently available.
Order Now → Email [email protected], call 802-365-1974, or visit rebopfarm.com/meat-by-wholehalf.
Markets and Co-ops
J.J. Hapgood General Store & Eatery, Peru - J.J. Hapgood will be offering fresh Vermont turkeys, as well as lots of delicious side dishes and desserts.
Order Now → Call 802-824-4800 or stop by! Online ordering will be available soon.
Putney Food Co-op, Putney - Pre-order your local Stonewood Farm bird from the Putney Coop.
Order Now → Stop by or order online by filling out the curbside pickup form by November 16.
Upper Valley Food Coop, White River Junction - The Upper Valley Food Coop will be taking orders for farm-fresh Misty Knoll turkeys.
Order Now → Stop by the cash registers or call 802-295-5804. Orders must be in by November 16.
Don't forget to drink locally, too!
Eden Specialty Ciders, Newport - Eden's award-winning ciders are the perfect accompaniment to your holiday meal. Whatever you're in the mood for, they have it - still, sparkling, and/or ice. It also makes a great host gift. Check out www.edenciders.com for all the offerings.
Order Now → Stop by or have it shipped to you.
Fresh Tracks Farm Vineyard & Winery, Berlin - Pick up a special Holiday Wine Trio from Fresh Tracks! Options include dry or sweet for pairing with your meal, and there are different sizes to accommodate your guest list. The large size is three full sized bottles, while the intimate option includes three 187ml vessels in a handmade wooden box.
Order Now → Order online (see all the details here), and pick up during store hours. Special holiday hours for Thanksgiving week are November 23 - 25, 1:00pm - 6:00pm. They will be closed November 26 - 28. Call 802-223-1151 with any questions.
Check out some of our previous blog articles on beverage pairings for more ideas: