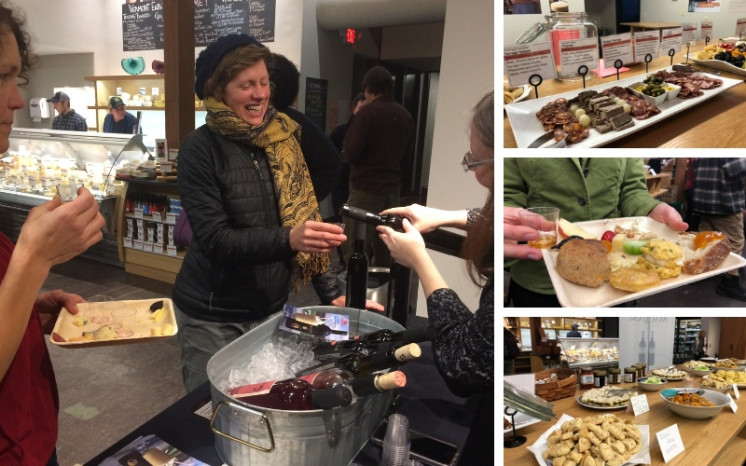 On October 23rd, the Vermont Fresh Network and Mad River Taste Place hosted an evening to explore the flavors of ice cider, mead, and fruit wines. Eight Vermont winemakers came together with guests to sample wines alongside a wide range of foods to discover combinations that went particularly well together. Everyone took their role very seriously and voted on their favorite bites, sips, and overall pairings.
The night focused on the sweeter style of wines - because it would be impossible to taste everything in one evening, and these sweeter options can sometimes be overlooked with food pairings. It's true that a nice ice cider or ice wine can stand alone for dessert (several people declared it was wrong not to enjoy Lincoln Peak's Firelight by itself) and some of these wines also make superb spritzers (the Putney Mountain Rhubarb Blush is definitely recommended in that application).  A wide range of tastes and sips were featured, from cheese to cured meats to a variety of cookies, crackers, and other small bites.
Favorites of the night
Cheese. It's awfully hard to go wrong with a cheese platter. There was not a wine on the list that didn't get a cheese mention. The plate that Mad River Taste Place put together featured Cellars at Jasper Hill Cabot Clothbound Cheddar, Vermont Shepherd Invierno, Von Trapp Farmstead Mad River Blue, and Lazy Lady Farm La Roche. 
Jalapeno Cornbread with Rosemary Buttercream paired with Maquam Pear Wine, Lincoln Peak Firelight, and/or Windfall Orchards' Farmhouse Perry.  Here's a link to the recipe for this magical pairing.
Middle Eastern Flavors paired with Poet's Mead - Artesano's meads worked well with rose, cardamom, and also tahini. Try these Tahini-Rose cookies or this True Love Cake. It also paired well with the semolina cookies, which were a version of these Mamool cookies, featuring mahleb and mastic as key flavors. Those ingredients are a little trickier to find in your average supermarket (once you develop a taste for them, though, it's hard not to go to heroic measures to keep them around).
Marcona Almonds paired with Boyden Vermont Ice Red or Lincoln Peak Cassis. If only Marcona almonds were local . . . they're not. Nonetheless, the smokey depths of the Ice Red and the Cassis went well with these treats.
Overall Recommended Pairings:
Two plates that would go well with any of the ice ciders (Windfall Orchards Ice Cider, Boyer's Orchard Ice Cider, Eden Heirloom Blend Ice Cider) and/or Maquam Blueberry & Maple Wine:

Von Trapp Mad River Blue Cheese, Cabot Clothbound Cheddar, Figs, Strawberries, Heirloom Apples

Lazy Lady La Roche, Cabot Clothbound Cheddar, Blake Hill Preserves French Onion Jam, Blake Hill Preserves Black Currant with Wild Mint, Babette's Table Finnochiona Salami 

Lincoln Peak Cassis and/or Boyden Vermont Ice Red with Marcona Almonds
Putney Mountain Rhubarb Blush Wine & Sweet Potato Ginger Buns (or, one might imagine, anything with a strong ginger flavor)

Maquam Pear Wine, Lincoln Peak Firelight, and/or Windfall Orchards' Farmhouse Perry with Jalapeno Cornbread and Rosemary Buttercream

Eden Heirloom Ice Cider or Farmhouse Perry - Von Trapp Savage Salami
It was great to see everyone having a nice time learning from the winemakers, tasting, sampling and getting into the spirit of the evening.  A big thanks to Mad River Taste Place and of course the winemakers for an unforgettable evening.
Participating winemakers