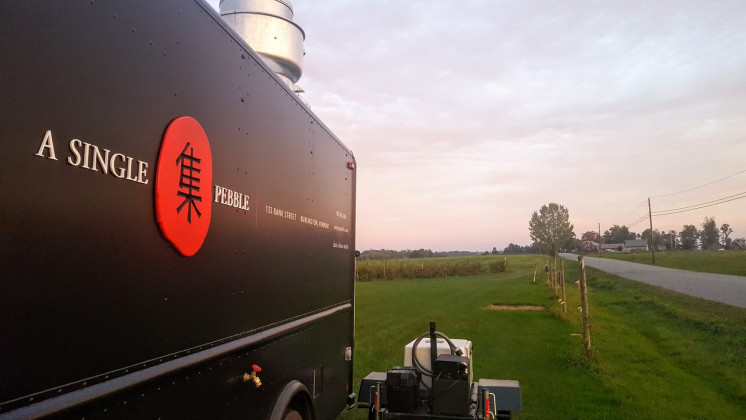 Growing up in Taipei as the youngest in the family, Chiuho Duval never had to cook. There was always someone cooking at home and right outside her door, the streets were lined with the world's most enticing street food scene. Chiuho's food memories from the time are vivid, she described a favorite - rice pouches stuffed with bbq pork, chicken or egg "I remember buying them on chilly mornings, tucking it in my pocket to warm my hands up and nibbling the whole way to school."
Chiuho's love for her native cuisine was strong, but it never led her to the kitchen. Instead, she headed to college to study journalism not knowing how to boil an egg. What inspired her to finally pursue culinary arts? "I just had to know if I could cook," she shared. At age 30, Chiuho left a successful journalism career and her home to travel across the world for culinary school in Montpelier, Vermont. It was here where she linked up with Steve Bogart, the owner of one of the region's most renowned Chinese farm to table restaurants - A Single Pebble. Chiuho was nervous about the job at first, never having cooked her native cuisine before, but her instincts and talents led to success. "I learned to cook Chinese food in English," she laughed. Only a few years into her career at , Chiuho became a business partner and then the full owner in 2008.
Now, 10 years later, Chiuho is bringing it full circle to unleash the foods of her childhood on the streets of Vermont from her new food truck. Some things will be familiar to the devoted Single Pebble customers - and the focus on local sourcing will continue in the mobile version. Dishes like scallion pancakes with crispy chicken, Dan Dan Noodles with smoked pork belly (from Chef Chiuho's own pigs), the little stuffed rice pouches from her memory, and whole braised and tempura-fried "caveman" style LaPlatte beef ribs. Chef Chiuho refers to the truck as a mobile kitchen because it's fully equipped with the firepower needed to prepare her signature dishes - she had it tricked out with custom wok stoves and steamers. This is huge for A Single Pebble catering, where the restaurant's signature dishes, like dry-fried green beans and mock-eel, are often requested but can fall short without the right equipment to prepare them. Now, the food truck can bring all the delights of the restaurant straight to your event.
You can kick off the food truck season with Chef Chiuho at Foam Brewers tomorrow from 5 pm - 9 pm when she starts their Friday night Foam residency! The truck will make many Burlington lunch-hour appearances, and will hit the road for festivals and events across the state. Check out the calendar to track them down! A Single Pebble restaurant is also a must-visit restaurant in Vermont - make a reservation when you come to town! There may be construction happening across the street, but A Single Pebble remains open, providing one of Burlington's most delicious oases.