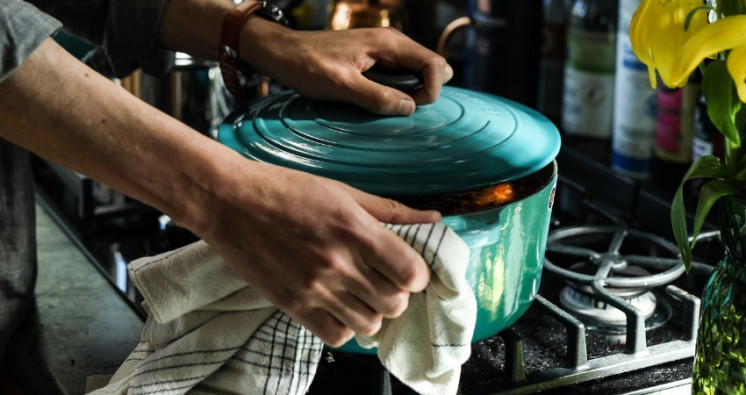 Here at DigInVT, fall has a special place in our hearts. There are so many reasons to love this season. The landscape begins to change in color, from green to shades of orange, red, and yellow. Chillier temperatures mean cozy sweaters and warm drinks (or drinks that warm you from the inside out....ahem, Vermont whiskey). And our local farmers harvest so much delicious produce to enjoy - whether at our favorite restaurants or at home.
But perhaps the most exciting thing about autumn is the arrival of Vermont's sweetest and most versatile fall fruit - the apple!
This year, we set out to find some apple recipes beyond our old favorite - the apple pie. The result could not be more appetizing. Below are a few recipes from Vermont Fresh Network chefs, and some DigInVT staff favorites. As much as we love the classics, we're excited to try something different this year and hope you'll join us!
---
Mulligatawny Soup | Contributed by Dosa Kitchen
There are countless versions of mulligatawny soup, many of them lentil-based, but our favorite features chicken, chickpea flour as a thickener, and apples for their tart-sweet flavor. This Anglo-Indian classic was about to appear on Dosa Kitchen's brick-and-mortar menu when COVID-19 hit, just six weeks after our grand opening. Until we add it back, we invite you to take advantage of the season's abundance of apples and make this soup at home.
Serves 6 to 8
2 tablespoons extra-virgin olive oil or ghee
12 ounces boneless dark meat chicken, cut into ½-inch cubes
1¼ teaspoons sea salt, divided, plus more if needed
1 large onion, chopped
2 medium tart apples, such as Cortland or Granny Smith, peeled, cored, and cut into ½-inch cubes
1 tablespoon minced ginger
1 tablespoon minced garlic
1½ teaspoons mild curry powder
1½ teaspoons ground coriander
1 teaspoon ground cumin
½ teaspoon ground turmeric
¼ teaspoon red chile powder
6 cups chicken bone broth or other broth
5 tablespoons chickpea flour
1 large carrot, cut into ½-inch cubes
2 cups cooked white basmati rice
1 tablespoon fresh lemon juice, plus more if needed
½ cup chopped fresh cilantro, plus more for garnish
Heat the oil in a large saucepan over medium-high heat. Toss the chicken with ¼ teaspoon of the salt, add it to the pan, and leave for about 3 minutes, until it is slightly seared on the bottom and doesn't stick to the pan. Stir and continue to cook for another 5 minutes, or until lightly browned and cooked through. Using a slotted spoon, transfer the chicken to a bowl and set aside while you make the soup.
Add the onion and apple to the fat in the pan and cook, stirring often, until the onion is well browned, 7 to 10 minutes, adding a touch more oil if the pan starts to get dry. Add the ginger and garlic and cook, stirring, for 2 minutes. Add the curry powder, coriander, cumin, turmeric, and red chile powder and cook, stirring, for 30 seconds.
Add 5 cups of the broth to the pan and bring to a simmer. Meanwhile, whisk the chickpea flour into the remaining 1 cup broth (if lumps form that can't be whisked out, blend it using an immersion blender or regular blender) and add it to the pot. Add the remaining 1 teaspoon salt, reduce the heat to low, cover, and simmer for 20 minutes. Add the cooked chicken and carrot, cover, and cook for an additional 10 minutes to soften the carrot and blend the flavors. Add the rice and heat to warm through. Add the lemon juice, taste, and adjust the flavors with salt and/or lemon juice if needed. Stir in the cilantro and garnish individual bowls with more cilantro.
Apple Batter Cobbler | Contributed by Tara, DigInVT
This is one of my "back pocket" recipes. It is quick and easy to pull together and the final dessert is magical. Sometimes I take it straight from the oven to the table, hand out spoons, and scoop vanilla ice cream right on top. I love the combination of vanilla browned butter and apples, but feel free to incorporate other flavors and spices, like ginger and cinnamon.
Serves 4 to 6, adapted from "Pastries from the La Brea Bakery" by Nancy Silverton
½ stick of butter (4 tablespoons)
1 vanilla bean
1 cup (120g) of AP flour
¾ cup of sugar (150 grams)
2 teaspoons baking powder
1 cup buttermilk
2 teaspoons vanilla extract
1½ - 2 cups thinly sliced apples (this also works with berries and stone fruits)
Preheat oven to 350 degrees. Begin melting butter in a small pot over low heat. Slice the vanilla bean in half and scrape the seeds and add both to the melting butter. You'll want to slowly swirl your melting vanilla butter as it bubbles. You want it to brown, not burn. Eventually any bubble will slow and the melted butter will smell nutty and toasty. Pour into an 8x8 baking dish. Remove the vanilla bean.
In a large bowl, sift to combine the dry ingredients. Make a well in the center. Pour the buttermilk and vanilla. Whisk to combine. Strain the batter into the baking dish with a fine-mesh sieve. Distribute the apples over the top and sprinkle with 1 to 2 tablespoons of sugar. Bake for 45-50 minutes, turning halfway through. The top should be lightly browned.
Serve with crème fraîche or a scoop of vanilla ice cream.
Harvest Apple Challah | Contributed by Susan Reid, Senior Recipe Tester, King Arthur Baking Company
From King Arthur Baking Company: Apples and honey are traditionally eaten at Rosh Hashanah celebrations to express the hope for a sweet new year. Tender and just slightly sweet, this bread's round shape symbolizes the cycle of one year's passing and the beginning of the next.
Photo: @chefsusaninvt. Get the recipe here.
Apple Chicken Hash | Contributed by Amelia, DigInVT
This is a fall-inspired breakfast dish that's healthy, delicious, and provides a nice break from scrambled eggs. My sister always begs me to make it! It's that good. Feel free to play with it - use walnuts if you prefer them over almonds, and kale or spinach would work in place of the arugula!
Serves 2 (adapted from "The Whole 30" by Melissa & Dallas Hartwig)
2 tablespoons ghee
1 pound boneless chicken thighs, cut into 1-inch pieces
¼ cup chopped almonds
1 sweet potato, peeled and grated
1 apple, cored, peeled, and diced
½ teaspoon red pepper flakes
¼ cup apple cider
2 generous handfuls of arugula
splash of apple cider vinegar
salt and pepper
In a large skillet, heat the ghee over medium-high heat, swirling to coat the bottom of the pan. When it's hot, add the chicken, making sure not to crowd the pieces, and sprinkle with salt and pepper. Cook until browned, 2 to 3 minutes. Turn the chicken to cook the other sides, add the nuts, and cook until they're toasted and the chicken is browned. Be sure to shake the pan to prevent the nuts from burning. Add the sweet potato, apple, and red pepper flakes and sauté until the chicken is fully cooked, 3 to 4 minutes.
Add the apple cider and stir into the ingredients in the pan, scraping the bottom of the pan with a wooden spoon to release any tasty bits.
Remove from heat and stir in the arugula, drizzle with the apple cider vinegar, and serve!
We also have some other recipes to try from the DigInVT archives. Check 'em out: