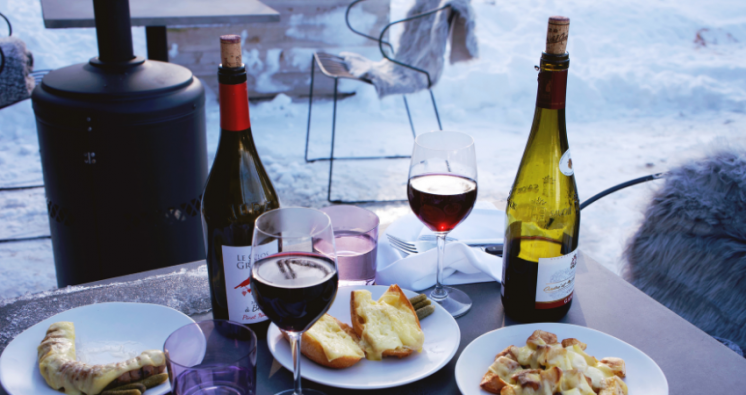 Vermont has a lot of ski towns, but there is no ski town like Stowe. We went to the local experts to find out the best dishes and local pairing for your après ski adventures. Between the cideries, the breweries, and the many restaurants - food and drink pairings here are taken seriously. Whether you snowboard, downhill ski, nordic ski, or prefer to stay back at the lodge for a spa day, après ski is for everyone. And perhaps no place does it like Stowe.
294 Mountain Road, Stowe
Beer nerds, food nerds, music nerds rejoice with over 1000 records, a rotating list of 24 beers on tap and over 50 bottles and cans to choose from. (Did we mention the wine and cocktail menu?) Put your snowboard away and head over. Enjoy the tunes, have a beverage, and relax with food that is sure to get you ready for your next round on the slopes.
Après ski recommendation from Jonathan Pacheco, Chef at Doc Ponds:
"I would order all of the snacks for the table and then get the 1/2 Chicken. It's hard to not go straight to the burger but the 1/2 chicken will also provide lunch for the next day!"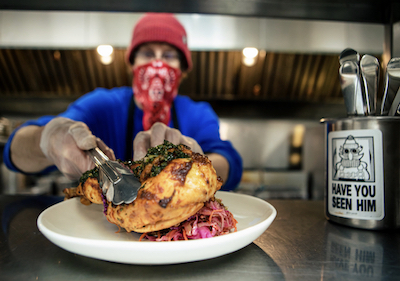 433 Mountain Road, Stowe
Grown On Grand Isle. Vinted in Stowe. New to the aprés ski scene in Stowe is one of our favorite Vermont vineyards! Check out their cozy tasting space at the Field Guide Lodge where you can sip by the fire or play shuffle board after a day on the slopes on Thursdays and Saturdays 3:00 -7:00 pm. This pop-up experience will get you to fall in love with their wines, join the wine club FLOCK or stop in to pick up a few bottles to take home! Lounge at the bar and enjoy a simple charcuterie & cheese plate featuring Jasper Hill cheeses.
Après ski recommendations from co-owner and vintner, Kendra Knapik:
Our 2 reds have been quite popular with the aprés crowd, the newly released Bobby Regan (2020), which is a red co-ferment of Marquette, St. Croix & Frontenac Noir & also our 2019 Barbara Ann, 100% Marquette. They are great wines to cozy up by the fire with. Our pétilllant naturel wines have also been quite popular, and we are almost sold out of our 2020's! Come grab one of the last bottles of Renewal M or Renewal F, our sparkling rosé line. Don't worry, the 2021 pét-nats are coming before too long.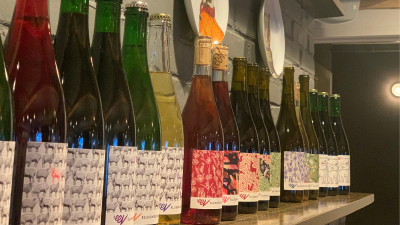 2251 Mountain Road, Stowe
Edelweiss Mountain Deli is Stowe's Mountain Road go to stop for aprés snow adventure fresh, farm-to-table to go prepared foods. Complement prepared foods with local products like cheese, charcuterie, fresh bread or granola. Beverages? Hundreds of non alcoholic beverages as well as 160 local beers, 150 wines or farm-to-glass Black Flannel Spirits.

Après ski recommendation from co-owner Kris Ryan-Clarke:
Try the uber popular chicken pot pie as a delicious, warm aprés comfort food easily paired with either a green or any of our many other salads and either a Chardonnay, an amber ale or a Vermont-made non alcoholic beverage.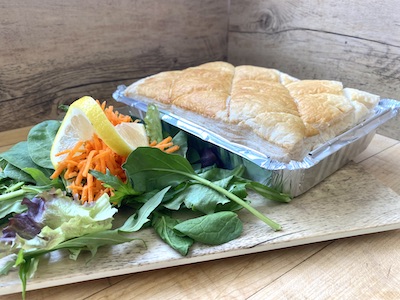 23 South Main Street, Waterbury
Just down the road from Stowe in Waterbury is a can't miss stop on your beer adventures. Prohibition Pig Chef Travis Williams offers his take on his top pick for a meal after a day with friends on the slopes. Oh, and don't forget to pick up a growler of your favorite in-house brew to enjoy later.
Après ski recommendation from Chef Travis Williams:
"'Buy The Farm'! It comes with a little bit of everything. Add two drafts of Bantam Double IPA and roll me home!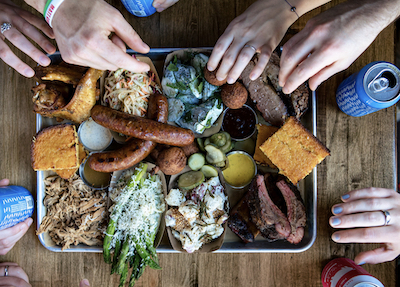 And these are just a few of your après ski choice spots in the area. Be sure to stop by The Bench, Stowe Cider, The Alchemist Brewery, von Trapp Brewery and Idletyme Brewing Company for even more adventures in food and local libations.
1031 Mountain Road, Stowe
Everyday is aprés ski day at Dedalus! Either stop by and pick up a scrumptious basket of international cheese, wine, charcuterie and baked goods to bring back to your lodge, or join the party on the terrace Saturdays and Sundays from 1:00 pm - 5:00 pm for classic Croque Monsieur, glüwein and other alpine treats!
Après Ski recommendation from Chef de Cuisine, Jeremy Wood:
"Our Après Ski menu aims to provide a traditional Alpine experience using New England ingredients. The star of our menu is Spring Brook Farm Reading Raclette melted over house-baked baguette, roasted potatoes, or a Northern Italian-style black mustard sausage, made with Pigasus Farm pork."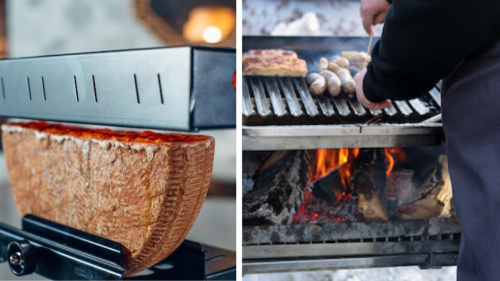 photo credit: Dedalus Wine Shop, Market & Bakery
(This updated article was previously published January 2019. )