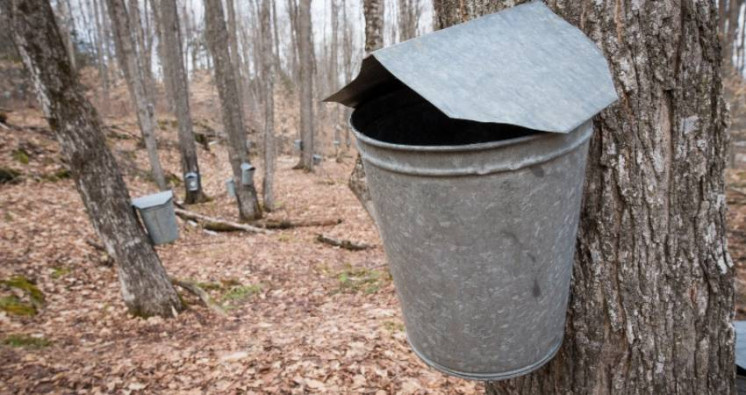 Some recipes easily adapt to include maple syrup.  With sauces, spreads, marinades, and glazes, for example, just replace other sweeteners with maple syrup and keep adding the syrup until you have the flavor you want (you may find that because maple adds flavor, not just sweetness, you want to increase the amount over something like sugar). Baking, though, can be intimidating. So, we asked Claire Fitts Georges of Butterfly Bakery, a wholesale bakery specializing in maple syrup-based baked goods, to give us a quick introduction to the art:
Be unabashed about baking with maple syrup. I get frustrated (annoyed? perturbed?) when I see a "maple " cookie recipe that is made with 1 cup of sugar and 2 tbs of maple syrup. Who has the taste buds to detect that? If you want to taste the maple in your baking, jump in with both feet. Ditch the tropical sugar and go straight for the taste of the Green Mountains. 
If you're looking for a simple conversion, you can usually swap out 1:1 maple sugar for cane sugar, but that can get expensive fast. If you've got time to tweak the recipe, ease up on the maple sugar and bring maple syrup into the game. Layer cake is the easiest place to start (cake pans are great at containing the extra liquid). Sub in maple syrup at 3/4 the volume of sugar and reduce the other liquids in the recipe by about 1/3. If you don't have any reducible liquids (like milk, water, or even oil), just try the cake without the reduction and reduce your oven temperature by about 25°F (to avoid drying and reduce browning).  Sometimes it will work perfectly, sometimes it will be too dense. But then you have to eat that mapley goodness yourself to hide your shame. Poor you. Add ice cream.

When your recipe is having a harder time with the extra liquid (like cookies might) you can increase your flour by a little (start with 10%), and up your leaveners (baking soda, baking powder, also eggs) by a little more, 15-20% or so (baking powder is the easiest to adjust). You can also add (more) chunks. Dried fruit and nuts absorb a lot of extra liquid all on their own.

Or, of course, you can begin with recipes designed for maple syrup - like my Carrot Cake with Maple Cream Cheese Frosting recipe below. I haven't "officially" made this cake in over 10 years, but customers manage to keep hearing about it and requesting it for their special events. It's a fragile cake to make, but tasty. Enjoy!

Carrot Cake

Cake:
1 cup oil
1.5 cups maple syrup
4 tbs arrowroot or corn starch dissolved in 4 tbs water
2 cup whole spelt flour or 1 cup whole wheat flour & 1 cup all purpose flour
2 tsp baking soda
2 tsp baking powder
2 tsp cinnamon
1/2 tsp salt
4 cups shredded carrots
1 cup chopped nuts

Cream Cheese Frosting:
2 cups cream cheese (at room temp)
1 cup maple syrup
1 tbs vanilla

Chopped nuts (optional for decoration)

1) Preheat the oven to 350° F and grease two 9 inch cake pans
2) Whisk together the oil, maple syrup, and arrowroot mixture in a large bowl.
3) In another bowl mix together the spelt flour, baking soda, baking powder, cinnamon and salt. Add the dry mixture to the wet mixture and whisk until smooth.
4) Add the carrots and nuts to the batter and mix thoroughly. Pour the batter into the prepared pans and bake for about an hour at 350° F or until the cake has pulled away from the sides of the pans.
5) In a food processor beat together the cream cheese, maple syrup and vanilla until smooth. Store in the fridge until the cake is ready for frosting.
6) When the cakes have cooled completely hold one pan at an angle and give them several nice hard taps against the counter to loosen the cake from the pan. Then invert the cake onto a plate. Frost the top and sides. Loosen the second cake and invert onto the first. Be careful here, as these cakes crumble easily, so don't try to hold the cake in your hands. Frost the whole cake and cover the sides with nuts.

Serves 12
Claire Fitts Georges is a baker, recipe developer, farmers market vendor, and hot sauce making queen in Montpelier, VT.