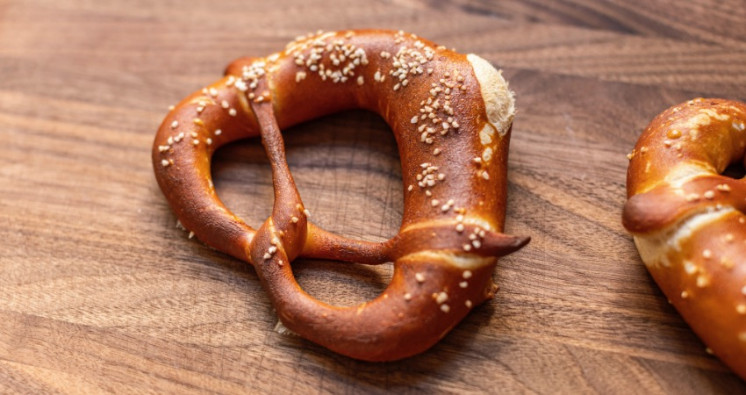 Freshly baked German pretzels are such a treat. Considered the holy grail of German specialties, many bakeries have their own recipe depending on the region. Known as "brezel" in Germany, this delicious baked good is a familiar sight at the Munich Oktoberfest. The saltiness of the pretzels is the perfect complement for hoppy lager beers! 
Vermont's Brotbakery pretzels come from a 150 year old German recipe and are made with sourdough. And to celebrate Oktoberfest, they'll be selling their pretzels on Saturdays all October-long at Misery Loves Co in Winooski! The chef will even be preparing a special condiment for pairing.
Born and raised in Berlin, Germany, Bakeress and Brotbakery founder Heike Meyer shared her special pretzel recipe with us so you can make and enjoy this traditional German treat at home! 
---
Bavarian Pretzels with Rye Sourdough | Heike Meyer, Brotbakery
Makes approximately 12 pretzels, two sheets
Time needed: 24 - 28 hours
Tools needed: sheet pans, pot or stainless steel large bowl, slotted spoon (large)
Special ingredients: lye, fresh yeast, coarse salt for sprinkling  
Preferment 
210 g soft wheat flour  
210 g water (cold)  
2.5 g fresh yeast (cake yeast)  
Mix all ingredients together in medium bowl and let ferment in the fridge temperature for 16-24 hours until you see good activity, but the dough is not collapsed.
Main Dough 
All of the preferment  
455 g strong wheat flour  
70 g ripe sourdough starter (we use rye in the bakery, but a wheat starter works well, too)
175 g whole milk or plant milk, cold  
14 g salt  
5 g fresh yeast (cake yeast)  
42 g cultured farm butter  
Combine all ingredients in the large bowl of a stand mixer and attach the dough hook. Mix on first speed for about 5 minutes and 6 - 8 minutes on second speed. The dough should be smooth and soft. Max dough temperature 22°C/72°F. Let the dough rest, covered with a plastic film to prevent drying out, for about 30 minutes at room temperature.
Weigh out 100 g pieces and roll out to about 45 cm/18 inch strings. The middle should be thicker than the ends. Form into pretzels and let ferment at room temperature on a baking sheet lines with oiled parchment paper for about 90 minutes. Cover the pretzels with linen to prevent drying out. 
Uncover and transfer the sheets with the pretzels to the fridge or to the outside with cool temperature and some air circulation so a skin can form. Leave in the cool air for about 20 minutes to 1 hour.  
Preheat the oven to 250°C/480°F.  
Prepare the lye solution (4%) in a large pot or bowl and dip the pretzel with hand and eye protection in the lye solution for about 3 - 4 seconds each side. Use a slotted spoon to handle them. CAUTION: Lye is a caustic soda, and the common name for sodium hydroxide (NaOH). Always work with rubber gloves and glasses to protect yourself. Never touch lye solution with bare skin.
Dip one sheet of pretzels at a time, they need to go into the oven right away!  
Place them back on the sheet and slash the thick part with a razor blade (for Bavarian style pretzels don't slash them). Sprinkle lightly with pretzel salt or coarse salt.  
Place in the oven, one sheet at a time on the middle rack and lower the temperature to 230°C/445°F. Don't steam. Bake for 15 minutes. Have a water spray bottle ready and mist them lightly with water as soon as they come out of the oven.  
Transfer to a wire rack to cool. Enjoy them within 4 hours. 
- inspired by Lutz Geissler's Almbrezel / www.ploetzblog.de -