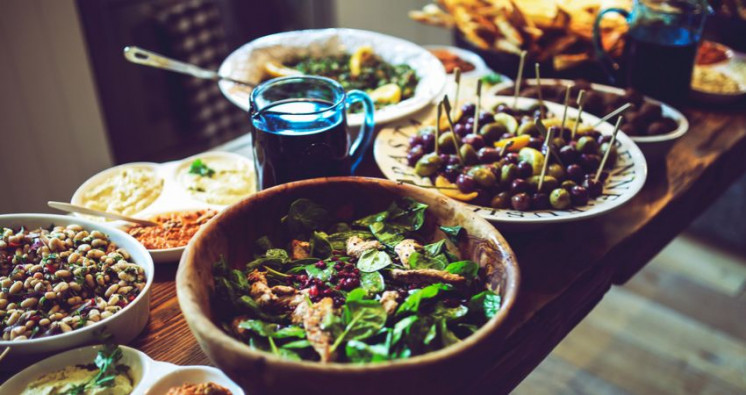 We love cooking at this time of year and we love celebrating the season with Vermont's caterers. Whether you're cooking at home, bringing a dish to a small gathering of friends or hosting a party, be sure to enjoy the pleasures of local food. Vermont Fresh Network member caterers have provided some tips and recipes to get you cooking. And if there are some things you just aren't going to cook for yourself, the Vermont Fresh Network has you covered with creative and talented caterers who always know how to celebrate the harvest.
Artisan Eats caters year round and also has a retail space from May to October. Most of their ingredients are sourced from within a 25 mile radius of their location.  Owner Jennifer Williams had this to say about the fall harvest... "Autumn is my favorite! As most people start their wood stoves, I keep the oven running a little warmer than usual! The smells and the colors, but most importantly, the FLAVORS are flowing around this kitchen all day! The warming, spiced herbs that we all love. Cinnamon, cardamom, maple syrup, oregano dried from the garden and roasted squash. Mixing squash and apples with hints of coffee and onions, I know weird, but still my favorite. I few years ago, I learned about squash soup. Not just any squash soup, but pureed, full of herbs, pure deliciousness. You can pretty much put all the fall things into one pot, cook it down and puree it. No matter the combination, it is always simple and so satisfyingly tasty."
Artisan Eats' Squash Soup
Ingredients:
2 pounds of your favorite squash, peeled and diced
4 cups vegetable broth or water
1 onion, diced
3 cloves garlic, peeled and chopped
1 apple or pear, leave peel on and chop
2 tbsp maple syrup  
1 tbsp brewed coffee
2 tsp oregano, 2 tsp thyme, 1 tsp rosemary
1 tsp salt & 1 tsp pepper
Directions: You can use a crock pot or a stove top. Either way, add all the ingredients, cook until the squash is soft. Using an immersion blender or a blender, puree and serve HOT!! 
Owner Abbey Duke started Sugarsnap in 2003 with the intention of having a farm to table catering company. There aren't many caterers that have their own farm, but that is what you'll find here. Vermont Fresh Network "Gold Barn" member Sugarsnap Catering is a full service catering company that operates its own 3 acre farm in Burlington's Intervale. 
Kale Orange Sesame Salad 
Ingredients:
2 bunches of kale, stripped off of stems and blanched in salted water and chopped
1 red pepper, cut in julienne strips 
2 oranges, segments cut in supremes
2 oz sliced, toasted almonds
1 oz sesame seeds, toasted 
Directions: Mix all of this together.
Dressing:

Ingredients:

2 oz sesame oil 

8 oz orange juice

2 oz lime juice

1 garlic clove 

2 oz soy sauce 

Directions: Blend on high for 1 minute. Dress salad. Add salt and pepper as needed.

 
University of Vermont  - Burlington
Did you know UVM also caterers events with their event services department?  Students and lucky visitors to Vermont Fresh Network "Gold Barn" member, UVM can enjoy farm fresh and seasonal food from the culinary team. UVM Chef Sara Langan shared her Roasted Pepper Panzenella Salad with us.
Roasted Pepper Panzanella
Ingredients:
4 large red or orange bell peppers (about 2 lb.)
8 tbsp olive oil, divided
Kosher salt and freshly ground black pepper
½ small red onion, thinly sliced
2 garlic cloves, finely chopped
2 tbsp red wine vinegar
¼ tsp crushed red pepper flakes
2 tbsp fresh oregano and savory leaves, divided
½ loaf country-style bread (about 12 oz.), torn into pieces
1 oz thinly sliced spicy salumi (such as soppressata)
4 oz fresh mozzarella, preferably buffalo, torn into pieces
Directions:
Preheat broiler. Toss bell peppers and 2 tbsp oil on a rimmed baking sheet; season with salt and pepper. Broil the peppers, turning occasionally, until skins are blackened in spots and blistered all over, 10–12 minutes. Transfer peppers to a large bowl, cover with plastic wrap, and let sit 15 minutes. Reduce oven temperature to 400°.
Peel and seed peppers; cut into 2" strips. Toss peppers in a clean large bowl with onion, garlic, vinegar, red pepper flakes, 1 tbsp herbs, and 4 tbsp oil; set aside.
Toss bread and remaining 2 tbsp oil on a clean baking sheet; season with salt and pepper. Bake, tossing occasionally, until crisp on the outside but still chewy in the center, 8–10 minutes. Let croutons cool.
Toss pepper mixture, salumi, and croutons in a large bowl. Arrange on a platter with cheese; top with remaining 1 tbsp herbs.
Enjoy!