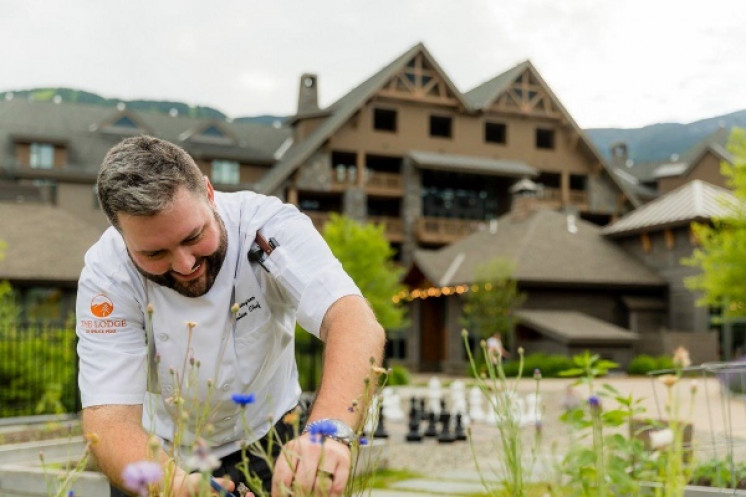 Have you seen this logo around the state or on this website and wondered what it meant? Well, it means something pretty special and unique to Vermont. 
Vermont Fresh Network culinary members have all made a commitment to know Vermont farmers and serve locally grown and raised ingredients. However, each year there are some that take this commitment to the next level and those chefs are awarded the Gold Barn Honor.
Gold Barn chefs source ingredients from at least 15 individual local farm partners, ten of whom are Vermont Fresh Network farmer members, and many far exceed these numbers. In addition, they also spend 35% or more of their annual food budgets on ingredients sourced from local farmers and food producers or purchase $350,000 of locally grown or raised food products throughout the year. And all of this makes for very delicious food.
These chefs and restaurants are inspiring by the way they "walk their talk" when it comes to serving dishes made with so many products grown and raised by Vermont farmers.
Cheers to the 2019 Gold Barn chefs!
---
1801 Tavern at The Grafton Inn in Grafton: 1801 Tavern at The Grafton Inn is famous for its imaginative cuisine, thoughtfully prepared with fresh, locally-sourced ingredients and exploding with flavor. 
American Flatbread - Burlington Hearth in Burlington: American Flatbread focuses on featuring local, regional, and organic ingredients raised and harvested by farmers they know. Burlington Hearth's weekly specials showcase each season's harvest and highlight the specialities of local farmers, cheesemakers, and other food producers.
Black Krim Tavern in Randolph: Black Krim Tavern is a farm-to-table restaurant with global influence. Their menu changes weekly in order to showcase the freshest local ingredients from their family farm, Pebble Brook Farm, and other local growers and producers.
Bleu Northeast Seafood in Burlington: Bleu has a strong commitment to freshness and to small producers. They partner with local purveyors and New England fishermen for daily seafood deliveries arriving straight from the docks.
Butch + Babe's in Burlington: Butch + Babe's serves polished comfort food that is playful and delicious, with a focus on celebrating the best Vermont's farmers have to offer.
Castle Hill Resort & Spa in Cavendish: Chef Harris of Castle Hill Resort focuses on using local, fresh produce and quality meats on their three course dinner menu that changes with the seasons.
City Market/Onion River Co-op in Burlington: City Market is dedicated to supporting the local economy and strengthening the local food system. They work with thousands of Vermont vendors to feature a wide selection of local and Vermont-made products.
Craftsbury Outdoor Center in Craftsbury: The Craftsbury Outdoor Center offers recreational and competitive nordic skiing, running, and sculling, while inside, the kitchen prepares healthy, delicious food, accommodating a wide range of dietary requirements for athletes, staff, and guests. The extensive gardens on site help to provide many fresh ingredients for their seasonal menus.
Doc Ponds in Stowe: With some menus changing daily and some seasonally, Doc Ponds is Stowe's spot for foodies and beer nerds.
Dot Calm Cafe at Dealer.com in Burlington: Dot Calm Cafe serves employees and their guests delicious, local, organic food, made from scratch with no additives or preservatives. (Not open to the public.)
Echo Lake Inn in Plymouth: Echo Lake Inn chefs combine local ingredients with well-loved classics to provide a unique set of menu selections, ensuring everyone will find something they love.
Edelweiss Mountain Deli in Stowe: Edelweiss is committed to stocking Vermont beer and specialty foods and uses local ingredients in their prepared foods. The Deli also features a Barr Hill by Caledonia Spirits tasting room.
Edson Hill in Stowe: Chef Jason Bissell and the Edson Hill culinary team take a modern approach to classic New England fare. Guests can enjoy sensational meals, intimate ambience, and views of the picturesque grounds in Edson Hill's elegant dining room.
Farmers & Foragers in Burlington: Farmers & Foragers is a food truck that highlights the beautiful bounty Vermont has to offer. Their food menu rotates regularly based on what fresh ingredients can be sourced from their local and organic farm partners.
Farmhouse Inn at Robinson Farm in Woodstock: Embodying the essence of Vermont, the Farmhouse Inn serves homemade and locally sourced dishes featuring fresh eggs from their hens, honey from their bees, homemade maple syrup, fresh baked goods, and produce from their kitchen garden.
Hen of the Wood in Burlington: Hen of the Wood supports local growers that practice environmentally sound agriculture and believes in showcasing the most vibrant foods of the season and wild edibles such as Hen of the Wood mushrooms.
Hen of the Wood in Waterbury: Hen of the Wood serves seasonal American food that celebrates the farms of Vermont and the northeast.
Hill Farm Inn in Sunderland: Hill Farm Inn is a boutique bed and breakfast and event venue offering locally sourced food and drink, in addition to luxe lodging, unique amenities, and personalized service on 50 conserved acres.
Homestyle Hostel in Ludlow: Dinner service at Homestyle Hostel features a laid-back environment, a family-style menu, locally sourced dishes, and a unique dining format: orders are placed and food is brought out one or two fresh dishes at a time for the table to share.
Honey Road in Burlington: James Beard nominated restaurant Honey Road serves up Eastern Mediterranean mezze in the heart of downtown Burlington.
Inn at Shelburne Farms in Shelburne: The Inn welcomes people to come stay at Shelburne Farms, a 1,400 acre working farm with educational programs and National Historic Landmark on Lake Champlain. Their farm-to-table restaurant features locally produced food.
Inn at the Round Barn Farm in Waitsfield: Home to 245 acres of pristine farm land, four acres of certified organic gardens, a restored round barn, and a farmhouse, Inn at the Round Barn Farm is a world class inn and bed and breakfast highlighting the Mad River Valley's dynamic food culture.
J.J. Hapgood General Store & Eatery in Peru: A historic general store with a modern focus on food and community gathering, J.J. Hapgood offers local craft beers on tap, an expansive dining menu, fresh produce and local meats, and a carefully curated selection of Vermont specialty food and gift items. Their menu also changes with the seasons, but always features contemporary comfort food with local products at the height of their freshness.
Jackson House Inn in Woodstock: Jackson House Inn is a luxury inn on the edge of Vermont's picturesque Woodstock village, nestled inamong beautiful gardens and featuring memorable breakfasts highlighting local farms and growers.
Jules on the Green in Essex: Open daily for breakfast, lunch, and dinner, guests are invited to enjoy a menu that celebrates American rustic cuisine using classic techniques and premium local ingredients in a variety of exciting dishes.
Juniper Bar and Restaurant at Hotel Vermont in Burlington: Juniper is a local ingredient-driven bar and restaurant serving up dishes bursting with flavor. Juniper uses lots of fresh ingredients from their farming, foraging, and fishing friends.
King Arthur Flour in Norwich: King Arthur Flour uses traditional methods and top quality ingredients to bake their outstanding preservative- and additive-free breads. Their on-site cafe highlights the best of the region's offerings from Vermont basil pesto to local berry jam and everything in between.
Let's Pretend Catering in South Burlington: Let's Pretend Catering is a full service catering company that focuses on custom built menus working with the seasons of Vermont.
Leunig's Bistro in Burlington: Leunig's Bistro is a popular, award winning restaurant that brings together the panache of Paris and the value of Vermont. Their chef creates spectacular seasonal menus that tantalize guests' taste buds with local ingredients.
Lucky Star Catering in Bristol: Lucky Star is a catering company specializing in rustic and comfortable fare with a focus on local, seasonal ingredients.
Maple Soul in Rochester: Maple Soul is a small farm-to-table restaurant with a focus on fresh, local ingredients. Their relationships with nearby farmers allow them to source their ingredients farm direct. It's Vermont comfort food with a southern twist.
Mary's at Baldwin Creek in Bristol: A pioneer of the farm-to-table movement since 1983, Mary's at Baldwin Creek is a chef-owned restaurant in a five-room inn at the foot of the Green Mountains.
Michael's on the Hill in Waterbury: Enjoy Vermont's culinary bounty with seasonal, farm-to-table cuisine prepared by award-winning Chef/Owner Michael Kloeti at Michael's on the Hill.
Morse Block Deli in Barre: Morse Block Deli offers sandwiches, a full service deli, taproom, and catering focused on house-made and locally sourced meats, cheeses, breads, produce, beverages, and more.
Otter Creek Brewing Company in Middlebury: Otter Creek's Pub Space menu features local meats, cheeses, and more to compliment their popular brews.
Reluctant Panther Inn and Restaurant in Manchester Village: The Reluctant Panther Restaurant features contemporary American cooking with an emphasis on locally sourced products to create a sophisticated dining experience that is unsurpassed in northern New England.
Simon Pearce in Quechee: Using fresh local ingredients, thoughtfully prepared creative American cuisine is served with the backdrop of the Ottauquechee River waterfall and covered bridge.
Solstice at The Lodge at Spruce Peak in Stowe: Solstice, The Lodge at Spruce Peak's signature restaurant, offers Vermont artisan-inspired cuisine in an elegant and relaxed setting.
Sugarsnap Catering in South Burlington: Sugarsnap is a farm-based catering company, as they operate their own 3-acre farm in Burlington's Intervale Center. Focusing on both full service catering and drop off service, Sugarsnap handles events like weddings, corporate functions, memorial services, and much more.
The Farmhouse Tap and Grill in Burlington: The Farmhouse Tap and Grill is a farm-to-table gastropub serving local burgers, charcuterie, cheeses, and innovative specials. The tap room offers highly prized beers from Vermont's backyard and beyond.
The Inn at Weathersfield in Perkinsville: The Inn at Weathersfield is a boutique farm-to-table inn and restaurant featuring a cooking classroom and an on-site heirloom vegetable garden that supplements what they source from local farms. The menu changes seasonally and sometimes nightly.
The Mad Taco in Montpelier, Essex Junction, Middlebury, and Waitsfield: The Mad Taco uses the best local and regional ingredients to create their homemade hot sauces, house smoked meats, and so much more. Taking their commitment to supporting the local food system even further, Chef-Owner Joey Nagy and his partner, Georgia Von Trapp run Marble Hill Farm in Fayston, directly supplying Mad Taco's four locations with lots of fresh produce, as well as pasture raised goat when available.
Two Brothers Tavern in Middlebury: Two Brothers Tavern's affordable menu features upscale, Vermont-inspired comfort fare including vegetarian and vegan offerings. They're also a self-proclaimed "beer mecca," with over 30 craft brews on tap, including Vermont beers, ciders, and kombucha.
UVM Dining/Sodexo in Burlington: UVM Dining is a committed partner in the development of a strong Vermont food system and has worked hard to increase the number of local vendors who provide food items to the campus and integrate Vermont products into their core menu mix. (Not open to the public.)
UVM Medical Center in Burlington: UVM Medical Center understands that nutrition and food systems are inextricably linked to the health of their patients and community. This is reflected in their commitment to serving fresh, locally produced, minimally processed foods, and to partnering with farmers throughout the region to supply healthier foods to patients while boosting the local economy.
Vermont Farms Catering in Pittsfield: Vermont Farms Catering works with local farmers and purveyors to offer you the best Vermont ingredients. These products, in the hands of a creative, talented, and experienced team, turn weddings and events into unique and memorable realities.
Vermont Studio Center in Johnson: As the largest international residency program in the US, Vermont Studio Center hosts more than 50 visual artists and writers from across the country and world. Fresh produce from local and organic farms is used whenever possible in daily entrees, soups, and salad.
Wake Robin in Shelburne: Dining is a vibrant part of life at Wake Robin, a non-profit Life Plan Community. Delicious and creative food brings their residents together in a variety of dining venues, and connects Wake Robin to the community at large through their commitment to local ingredients and relationships with local farmers. (Not open to the public.)
West Mountain Inn in Arlington: The Inn offers romantic guest rooms, fantastic views, extensive gardens, and fabulous dining. Chef Scott uses the freshest local and organic ingredients in preparing delicious New England fare for guests to enjoy.
Williamsville Eatery in Williamsville: The Williamsville Eatery offers tasty, wholesome, and uncomplicated food and drinks. Surrounded by small farms, the Eatery supports local producers by using as much of their produce, meats, grains, and beverages as possible.
Woodstock Farmers Market in Woodstock: Woodstock Farmers Market is a unique fresh food market serving up delicious prepared foods, baked goods, fresh meats, cheese, wine, beer, and groceries! They love supporting the local food chain and knowing the farmers and vendors that fill the market's shelves.
Look for the logo when you dine!