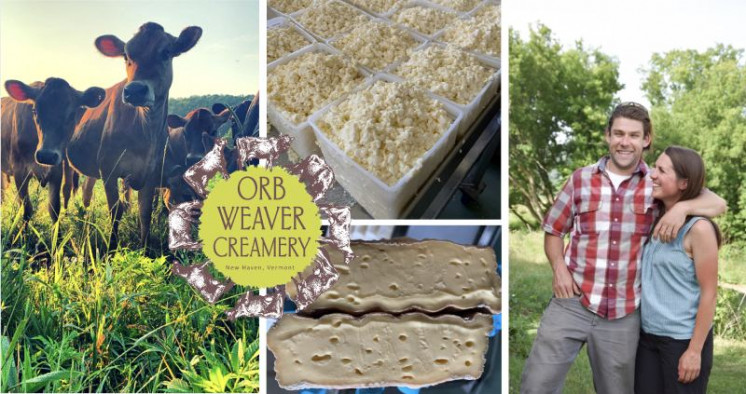 Orb Weaver Farm in New Haven, VT was started by Marjorie Susman and Marian Pollack over 40 years ago. In 2018, they passed the cheesemaking aspect of the farm, Orb Weaver Creamery, to Kate Turcotte and Zack Munzer. Kate is a self professed cheese nerd and loves all types and makes of cheese. She has had her hands in curds and whey for over 10 years. Kate shares some of her background and a behind-the-scenes look at making cheese below.
---
How did you get started in cheesemaking?
I started making cheese at Shelburne Farms in 2007. I had just returned to UVM for my second year of college after taking some time off to work and travel. I had become focused on learning hard skills and thought cheesemaking would be a great one to add to that list. Going into it I thought it would be a part-time job for the summer, but I ended up staying at Shelburne Farms for over ten years. 
Could you talk a bit about the history of Orb Weaver cheese? 
Orb Weaver cheese is an American original developed by Marjorie Susman and Marian Pollack in the early 80's. They are cheesemaking and dairy farmer pioneers who created a unique recipe at a time when no one was making farmhouse cheese. The goal was to have a herd of Jersey cows and make a product that would be an everyday eating cheese for their community. 35+ years later our goal is to continue this legacy and to feed our community. 
Do you have a favorite cheese?  
We make a fresh, lactic cheese for markets that I'm in love with these days. I had a vision of making something that would be a true representation of our milk. I spent all winter changing the recipe to perfect the texture and make sure that all you taste is fresh Jersey milk. These days most meals consist of fresh bread, a generous amount of this fresh cheese, and some tomatoes from our garden. 
What is a typical day of cheesemaking?  
Like many beginning farmers, I also work off the farm, so there isn't a typical day for me. We're also making 6-9 types of cheeses, which range from a 2-14 hour make day, so every day is a little different. My favorite days start at 4AM and end early enough that I can spend some time outside with Zack, my partner in life / business, the cows, and our two dogs. 
What comes first when developing a new cheese?  
At Orb Weaver, the first thing is the name of the cheese. We're naming all of the new cheeses we develop after Marjorie and Marian's original herd of cows. On their iconic label, each has a portrait of the featured cow that circles around the Orb Weaver Farm name. So far we have Frolic, Whimsey, Sultana, Ubu, and Orbit. Each cheese is a dedication to the original Orb Weaver cow and a way to tell their story. 
What is one of the most challenging aspects of being a cheesemaker? 
Making a consistent product throughout the changing seasons. There are so many things to consider, from the temperature of the cheese room, the humidity in the cave, and the components in the milk. We are also a seasonal dairy, meaning that all of our cows calve around the same time and then dry off together to have a little rest period (for the cows, farmers, and cheesemakers!). This means the milk is changing with their natural lactation cycle. Every day these factors need to be considered and the recipe changes to try and yield the same product. 
Which Vermont cheesemakers do you find inspiration from?
Too many to name them all! Marjorie and Marian are the most inspirational and planted a vision of cheesemaking when I first visited their farm in 2007. I spent two years at Consider Bardwell Farm in southern Vermont where I learned how to make cheese and native cultures from the legend Peter Dixon. He's a master that truly knows how to combine the art and science of cheesemaking. These days I find inspiration in all of the small, farmstead cheesemakers who make incredible cheese, like Blue Ledge Farm, Sage Farm Goat Dairy, Vermont Shepherd, Lazy Lady Farm, and Woodcock Farm. 
What is one of the most rewarding aspects of being a cheesemaker in Vermont?
The cheesemaking community here is incredible. I feel like I've been supported by them from the first day when I was a young college student to today, being a new business owner. People are willing to share all of the tips and tricks, and there really is a sense of wanting the collective group to succeed as a whole.
---
The name: an orb weaver is a spider that makes delicate, symmetrical webs.  She is a metaphor for the cyclical rhythms of the farm, sowing, harvesting and enriching the soil to grow new pastures and gardens season after season.