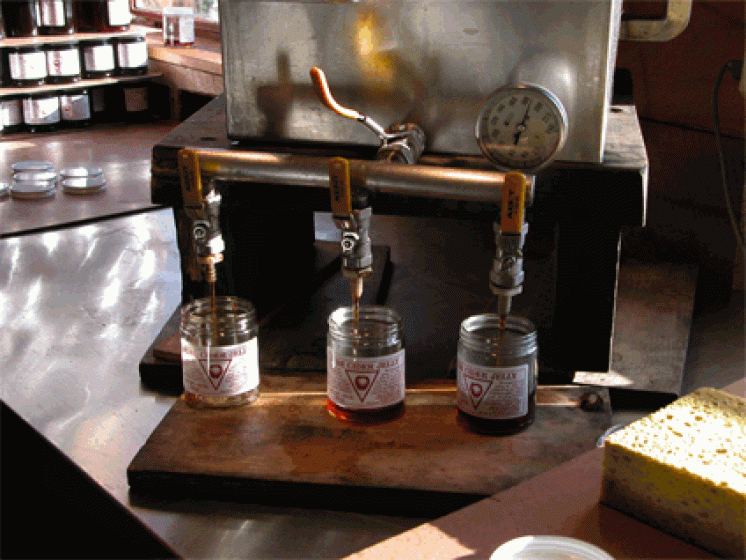 Cider making at Wood's Cider Mill is a tradition that dates back over a century. Willis Wood and his wife Tina have took over the Weathersfield farm in the 1970's, but Willis' family has worked the land there since 1798. In 1882, they bought their first and only twin-crank cider press, the hand powered machine that still makes their cider today. From their cider they make traditional boiled cider and cider jelly, exquisite Vermont products you can't find anywhere else.
Boiled cider used to be in every Vermonter's pantry, but went the way of many traditional foods. Now, the unique and exquisite treat is slowly making it's way back into kitchens, delighting chefs like Jason Tostrup at the neighboring Inn at Weathersfield. "My fist taste of Willis and Tina Woods' crimson gold blew my mind and, ever since, Boiled Cider and Cider Jelly are the blood that run through the veins of the Weathersfield kitchen. The Wood's 6th generational cider pie recipe is a staple always on out pasty menu or a perfect paring for hardy Vermont cheese." Chef Jason was excited to also share his recipe for Wood's Apple Cider Jelly Sorbet, which he likes to serve with fresh apples, sauteed with basil and butter.
Woods Apple Cider Jelly Sorbet
I have had this on the menu since I first started at the Inn. It was an instant success, as it continues to be year after year. I make large batches of the sorbet in the fall using firm local apples that last most of the year. Eaten when frozen, the cider jelly makes for a very light and refreshing dessert. I like to sauté fresh apples with basil & butter to serve over the sorbet.
 INGREDIENTS
3 qt Water
2 cp Cider Jelly
2½ cp Dark Brown Sugar
1 ea Lemon Juice
1 tsp Ground Ginger
3 ea Apples Pealed, Quartered & Sliced ½ inch thick (preferable from local apple)
1 ea Cinnamon Stick
1 tsp Salt
 
INSTRUCTIONS
 
1. Place all ingredients into saucepot. Bring to boil and simmer on low for 20 minutes. Be sure to whisk all items together and stir pot regularly while cooking so nothing sticks to the bottom of the pot.
2. Remove from heat and let cool to room temperature. Remove cinnamon stick.
3. Using blender or hand-held immersion blender wand, puree mixture until smooth. Do not strain. Place in refrigerator to chill overnight.
4. Using an ice cream or sorbet freezer, place sorbet base in machine and "spin" sorbet until mixture has a "milkshake" consistency (according to directions given on the specific machine).
5. Have a rubber spatula and container ready. Place the semi-frozen mixture in freezer overnight to freeze.
6. You should be able to scoop and serve the following day!