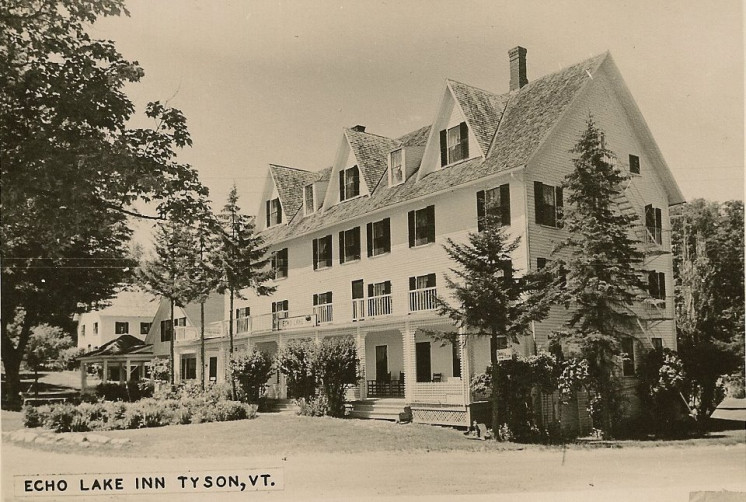 The Echo Lake Inn was built in 1840 as a Victorian summer hotel. Today it remains one of the few authentic Vermont country inns operating year round. The Vermont Country Inn's rich heritage includes frequent visits by President Calvin Coolidge, Henry Ford, Thomas Edison and many other historic figures. Along with gorgeous event facilities, Echo Lake Inn has an outstanding restaurant led by Chef Kevin Barnes. 
Chef Kevin Barnes, of Ludlow's Echo Lake Inn, has been working with friends, farmers, and his staff to serve Vermont-grown food for 25 years. "I don't buy locally just because it's local, I buy locally because it is the freshest, best product I can get," Chef Barnes explains, "and my customers aren't coming to Vermont to eat the same food they have back home, they want to experience the local flavors that Vermont has to offer.
What is Chef Kevin excited about? Discovering the Green Thumbs in his staff...
Chef Kevin has found some of his best produce right under his nose- from a bartender that grew a huge garden catering their needs, to a breakfast waitress that brings in beautiful veggies for the kitchen. Even Chef Barnes, himself, contributes blackberries, herbs and produce from his own home garden. Chef Kevin graciously offered a delicious recipe for Green Mountain Smoke House Bacon-Wrapped Vermont Butter and Cheese Creamery Bonne Bouche with McIntosh Chutney. 
Green Mountain Smoke House Bacon Wrapped Bonne Bouche Cheese with McIntosh Chutney
Ingredients:
                  1 Vermont Butter and Cheese Company's Bonne Bouche 
                  2 slices Green Mountain Smoke House Bacon (par cooked)
                  8 fresh baquette slices+
                  2 Vermont McIntosh Apples (peeled, cored and ½ inch dice)
                  I small red onion (small dice)
                  ½ sweet bell pepper (small dice)
                  ¼ cup brown sugar
                  1/8 cup raisins
                  ¼ tsp ground cinnamon
                  ¼ tsp allspice
                  ¼ cup Cold Hollow cider
                 ¼ cup Cold Hollow cider vinegar
Preparation:
                  Chutney:
                                    Place apples, onion, pepper, brown sugar, cinnamon, allspice, cider and cider vinegar in heavy saucepan. Stir mixture, bring to a simmer, and cook until apple cubes just start to soften but retain their shape. Remove from heat and add raisins and stir once more. Place mixture in a nonreactive container and refrigerate. Leave refrigerated until Bonne Bouche is ready. (make about an hour ahead of cooking cheese)
                  Cheese:
                                    Preheat oven to 475 degrees. Wrap par cooked bacon slices around Bonne Bouche cheese with tooth picks or skewers to hold bacon in place. Place bacon wrapped cheese on a sizzle platter or similar pan. Once oven is at temperature, place wrapped cheese inside oven. Heat until bacon just starts to crisp and cheese just starts to soften (about 5 minutes).  Serve immediately with chilled chutney and baquette slices.