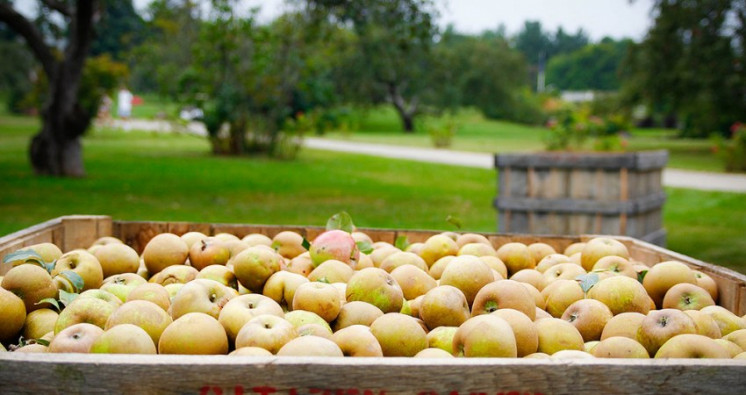 Apple and cheese are a classic pairing, from apple pie with a cheddar crust to a creamy grilled cheese sandwich slathered with apple butter. The sweet, spicy, tart flavors of apples play well with the creamy, savory flavors of our favorite Vermont cheeses. And when we are choosing our cheese and cider pairings, we put the call out to the experts to help us plan our next cheese board.
We spoke with Kate Pace of Hill Farm Inn, a lovely bed and breakfast located in Southern Vermont, about how they build their cheese boards paired with cider.
"We put a ton of love into our cheese and charcuterie boards. Updated seasonally, they're designed to delight and inspire and to show off Vermont products that our guests can easily pick up to take home. 
In our little pub, we run four local brews on tap and stock cans and bottles of other favorites. You'll always find Citizen Cider's Unified Press on hand. It's crisp, refreshing, with a touch of sweetness. A perfect entry point. And it pairs beautifully with the smooth, buttery Oh My Gouda from Cobb Hill or a Vermont Brie (Blythedale Farm on this board). An interesting Vermont blue is a perfect match for Wit's Up, Citizen's dry, ale-style recipe. Go for Parish Hill Creamery's West West Blue or Jasper Hill's Bayley Hazen. Can't go wrong!"  
Citizen Cider began with three friends in 2010, a wine salesman, a chemist, and a small farmer. They experimented with hard cider fermented from sweet ciders pressed in the backyard barn and the results quickly found a following. Visitors can sample the Cellar Series and seasonal limited releases, along with the flagship ciders at their tasting room on Pine Street.  
Citizen's Cheray MacFarland talks about their collaboration with Vermont Farmstead Cheese.
"We partner up with Vermont Farmstead to make Unified Cheddar. We release this once a year and it is an incredible cheese. Rick, the Cheesemaker, does a really great job with keeping the cider front and center with the sharp cheddar and the two really complement each other. Of course, you must pair this with Unified Press to get the full effect! I highly suggest a grilled (Unified Cheddar) cheese on Red Hen bread with an ice cold Unified."
Champlain Orchards is a family owned and ecologically managed orchard in Shoreham, Vermont. As one of the oldest, continuously operating orchards in Vermont, they take pride in growing over 100 varieties of apples, as well as peaches, pears, plums, cherries, nectarines, and berries. We spoke with Champlain's Sara Trivelpiece about their favorite pairing.
"Our pairing is Grafton Village Clothbound Cheddar with our Mac & Maple cider. There's a reason Cheddar is one of the world's most popular cheeses and in Grafton, Vermont, Grafton Village rocks a cloth-bound cheddar that is just as legit as its classic English cousins. A couple hours northwest in Shoreham, Champlain Orchards is concocting delicious alchemy of their own, and they've hit on a combination that can only be described as "Vermont in a can." Blending Vermont grown McIntosh apples and dark robust Vermont maple syrup, this delectable sipper has just the right amount of sweetness to make it amazing with cheese. Especially cheddar. There is so much goodness going on with this pairing, it's hard to know where to start. The sweet-tart flavor of the apples? The caramel, woodsy tones of the maple syrup? The salty and savory body of the cheese? Eat a whole lot more and get back to us with an answer."
Located in a restored 1875 carriage barn on the picturesque 5th generation Boyden Farm, Boyden Valley Winery and Spirits is steeped in the culture and agricultural heritage of Vermont's Green Mountains. They craft a variety of award-winning wines, ciders, and spirits that support sustainable agriculture and local farms. They offer a variety of experiences including tastings and free tours of the production facility.
Their favorite cheese and cider pairings:
"Boyden Valley Winery's Vermont Ice Cider with Cabot Vintage Choice Extra Sharp Cheddar -  Apples and cheddar have always been a classic pairing. The barrel-aged sweet apple flavor from Boyden's Vermont Ice Cider crafted with MacIntosh, Empire, and Northern Spy apples pairs perfectly with the extra sharp Cabot vintage choice that has an equivalent amount of robust flavor! 
Boyden Valley Cidery's Vermont Ice Hard Cider pairs nicely with Little Hosmer by Jasper Hill -  The crisp and dry apple notes from the cider and light carbonation are a great compliment to the creamy texture and mild flavor of Little Hosmer cheese – not unlike pairing a camembert with a dry champagne.
Boyden Valley Cidery's Royale Cider pairs beautifully with Green Mountain Creamery's Boucher Blue cheese. The salty pungent and earth notes from the Boucher Blue are accented beautifully with the bold black currants blended with apples to make the Royale Cider."
Eden Ciders is a boutique winery in the heart of the Northeast Kingdom of Vermont. The folks at Eden focus on artisanal drinks that reflect the heritage and climate of this beautiful region - elegant, gold-medal winning ice ciders, hard ciders, and herb-infused aperitif ciders for adventurous wine drinkers, creative chefs, confident sommeliers, and inspired bartenders. Adam Goddu retail director of Eden, recommended one of our favorite pairings.
"Eden Ciders Heirloom Blend Ice Cider - blend of around 15 different heirloom apple varieties which provide a balanced acidity to the dessert cider. A magical pairing with any blue cheese, but a particular favorite with Bayley Hazen Blue (Jasper Hill) which has great spice and a nutty roundness that makes for the perfect ending to any meal."