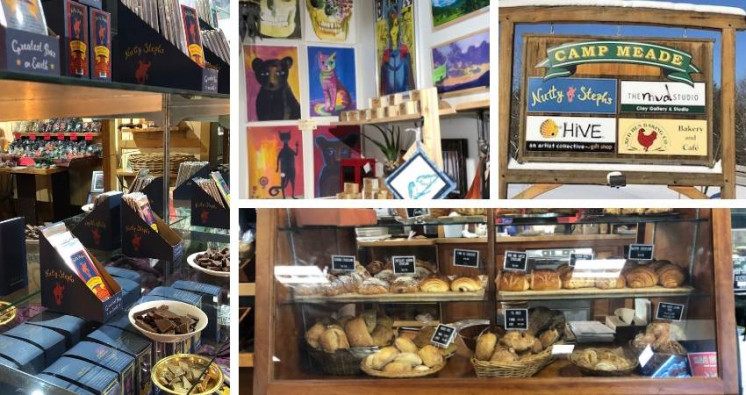 As you travel up Highway 89 past Montpelier or as you drive south past Waterbury, there is a stop you need to make. Exit 9 towards Middlesex takes you to a pretty special place. A gathering place full of local art, freshly baked bread, lots of chocolate, and community events.
Camp Meade was a former Civilian Conservation Corps campus was built in the 1930s. It has gone through many changes since that time. It was a 1950's-era motor court with pool and WWII museum with planes and weaponry.  Now it is a place of community, creation, and collaboration according to Planetary Matters, a company started by Mike Pelchar, Alan Newman, and Russ Bennett over a year ago to foster collaboration and community in Middlesex.
Today it is home to a group of Vermont artisan businesses, including Red Hen Bakery, Nutty Stephs granola and chocolate, Mud Pottery Studio, and the Hive Art Gallery. 
Red Hen Bakery
Red Hen is a Certified Organic bread bakery and cafe guided by the principle that pure, uncomplicated ingredients and the hands of skilled artisans are the building blocks of great food. 
You may have bought Red Hen bread at your local grocery store, but at the Middlesex bakery you can watch the bread being made by the bakers through the picture window as you try to decide between croissants, galettes, sandwiches, and the many other treats. 
Red Hen Bakery and cafe moved to this location several years ago. Since then, the cafe has become a spot to meet up with friends, chat with locals, and pick up locally made food and beverages from all over the state. You can purchase provisions for your next picnic or get-together,  as well as enjoy one of the house-made breakfast or lunch sandwiches made with fresh Red Hen Bread. Oh and don't forget the chocolate croissants....the galettes...cookies...and so many other delectable treats.
Nutty Stephs
After having breakfast or lunch at Red Hen, be sure to stop by Nutty Stephs for chocolate truffles, chocolate bars and, of course, the food that stared it all...the granola.  The granola came first at Nutty Stephs, but the chocolate has taken over. Owner Jaquelyn Reike and her team of chocolatiers make small batch chocolate bars and truffles with the freshest ingredients. You'll find Kimball Brook cream in their truffles, local maple syrup in their granola, and local maple sugar and Cabot butter in their toffee.
It would be hard to pick just one favorite chocolate bar flavor, so we recommend you grab a bunch and have a nice of chocolate tasting with friends. How can you choose between Dark Chocolate Coffee Toffee or the Love Bar... the salt caramel bar is good, too. Just buy a bunch and hide them in the cupboard so your kids won't find them! Then you can savor them knowing that they are yours and yours alone. Of course, sharing is caring, so feel free to share the chocolate love.
Another aspect of their business is the focus on raising money for local causes. Owner Jaquelyn will often come out with special chocolates to raise money for local causes or nonprofits important to her and her team.  Recently they made a chocolate pop of Ceres, the Goddess of Agriculture. A portion of the proceeds of each Ceres-shaped chocolate pop goes to Friends of the Vermont State House, a non-profit that supports the State House. The art and chocolate design for their new project, "Divine Feminine," raises money for Planned Parenthood. They hope to raise over $100,000. For  information on how you can participate, visit their website.
So stop by pick up some granola and sample a chocolate bar. We dare you to buy just one.  
Visit this local artists collective featuring hand made jewelry, paintings, clothing, woodwork, furniture, and so much more. This store is full of unique and beautiful pieces of art by mostly local artists. Stop in, you'll always find something new to see.
Mud Pottery is a place to get your hands dirty. It is a full service pottery studio with classes for adults and kids. There is also gallery space and an event area.
Community Events
Since taking over the location, the owners of Camp Meade have made it a point to organize events to bring together the folks in Middlesex, as well as to draw new visitors to the area during these celebrations.  Stay tuned for more events this year - they are sure to be fun! 
Eat Up At The Green
Their first event held every Sunday last summer was "Eat up at the Green." Visitors enjoyed evenings full of live music, local food, and lots of fun activities. 
Winter S'morestice Celebration
The recently held Winter S'morestice celebration, was Camp Meade's version of the Holidays, New Year's, and Solstice Celebration all wrapped up into one evening culminating in building the world's largest s'more. Red Hen Bakery baked the graham crackers, Nutty Stephs supplied the chocolate.