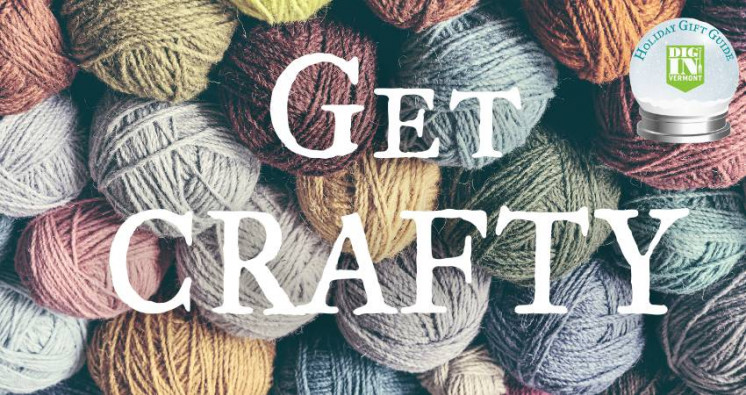 We all have those friends, co-workers, or family members - you know, the ones who carry a bag of their knitting and crocheting projects everywhere they go; the ones you'll find knitting in work meetings, crocheting at home in front of the television, always looking for new felting projects, and discussing new knitting patterns. What can you get your favorite fiber lover? So many of our Vermont farms raise alpaca and sheep. For this DigInVT Holiday Gift Guide we decided to focus on the farms so you could learn a little about them. Here are a few to get your crafty fiber lover started on a Vermont farm-to-fiber tour. All of them have online stores that are ready to go for gifting!
The folks at Cloverworks Farm raise Bluefaced Leicester (BFL) and Border Leicester sheep. Surprise your fiber friend with a walking tour of their farm. They are open for socially-distanced tours and yarn and wool shop visits. During the tour, guests will meet some of the sheep and learn about how the farmers raise and care for them. The Cloverworks Farm online store has quite a selection of wool and yarn to order. For the advanced beginner or intermediate knitter, Cloverworks also offers a complete hat kit including Derby Line Sport Weight Border Leicester yarn, and easy to follow instructions to make their Sheepscape Hat. Do you know your knitter's favorite colors? For more advanced knitters, choose the colors for the gorgeous two tone Meadow Moon Sweater Kit, which includes 8 skeins of the main color and 2 skeins of contrast.
The Green Mountain Spinnery is a Worker-Owned Cooperative in Putney that offers only natural fiber yarn. All the fibers (they use alpaca, mohair, wool, and organic cotton) are grown in the United States. They make every effort to purchase directly from individual growers. From yarns of every color and fiber to hundreds of patterns to books to carded fleece for handspinning, Green Mountain Spinnery has everything a fiber lover could want for their next project.
High Ridge Meadows Farm is a small, family-run farm in the hills of East Randolph, Vermont. Their goal is to raise healthy, organic food; grass fed beef and lamb, pastured chicken, eggs, maple syrup and produce, as well as yarn, roving, pelts, and rugs. All of their animals are raised kindly and naturally, using organic standards. View their online shop for sheepskins, wool roving, wool rugs, and wool yard.
Knoll Farm is a certified organic family farm that has been in agriculture since 1804 and its buildings are on the National Register of Historic Places. The land is perfectly suited for growing berries (they have PYO blueberries in the summer), and raising their Icelandic sheep. From homemade jam to hand-dyed yarn to wooden bowls, to gift certificates, the Knoll Farm online store has a bit of everything. You can even put down a deposit on a starter flock of Icelandic sheep. They do not offer mail order at this time, so you'll need to pick up your gifts.
Located on 100 scenic acres in western Vermont just north of Brandon, Maple View Farm breeds and raises Alpaca. Alpaca fleece is soft and warm and can be used in many ways. We love these felted Alpaca. They are perfect for decoration or in a child's room. Maple View Farm's online store also offers blankets, Yeti socks (we all need Yeti socks) and a bird nesting kit for the bird lover.
Scuttleship Farm specializes in pasture-based regenerative meat production. All of their livestock spend their lives on pasture and are moved onto fresh grass every day (even the chickens!) for the health of the land, the animals, and the consumer. Their specialty is 100% grassfed, Animal Welfare Approved lamb, mutton, and naturally-tanned sheepskins. They also produce pastured meat chickens, grassfed beef, and fibers (in partnership with Bobolink Yarns). See their online store for their beautiful sheepskin rugs and the Totally Square Hat Kit.
The folks at Vermont Grand View farm focus on low impact sustainable farming with attention to raising high quality Gotland sheep, which conform to Swedish standards, and produce heirloom wool products. The farm is now accepting reservations for their farmstay suite built in the 1700s. Owner Kim Goodling has a Gotland blog and offers custom fiber art classes and retreats. In their online store, we love these notecards with a sketch of a two week old lamb named Ofelia wearing a scarf and this felted wool purse is a unique and beautiful gift.
This DigInVT Holiday Gift Guide was made possible by support from the new UVM Office of Engagement. The office is the University's "front door" for private, public, and non-profit entities looking to partner with UVM to address community needs.