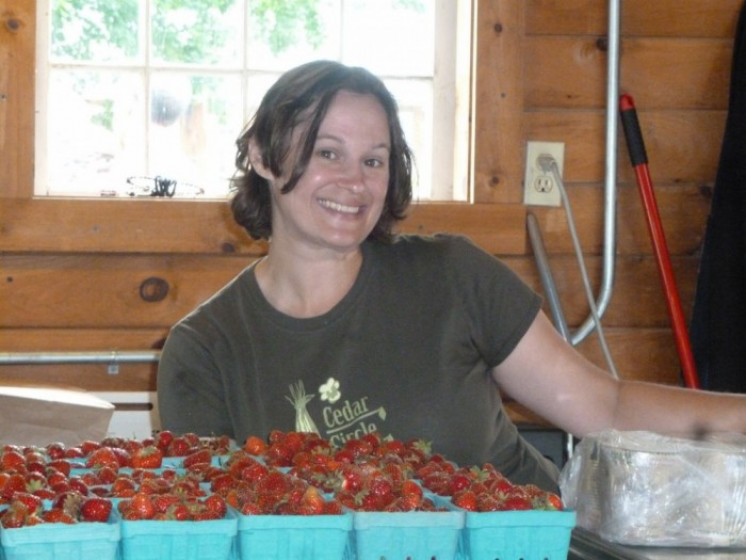 This article was originally posted on the Cedar Circle Farm blog.  Their farmstand is now open.  As the seasons change it's refreshing to read this post about cycles, seasons, and working on the farm.  If you want to get onto the farm, check out Cedar Cirlce and these other farms visits.
The concept of cycles or circles are everywhere on a farm. Just look out back of the yellow farmhouse (there really IS a cedar circle). The seasons turn, the crops are rotated, and as I write this, seeds are starting in the greenhouse.
This writing also marks the end of my first season as an employee at the farm and the beginning of my second. I originally came to Cedar Circle as a CSA member years ago when my husband and I first moved to the area. I returned as a volunteer two summers ago, and after a major career change, came to work at the farm last season. At the farm, I found a working environment where I believe strongly in the mission and enjoy the physical work and people I interact with. Plus I have access to delicious organic produce and lattes!
I moved to the Upper Valley nine years ago from a suburb of Boston and over time discovered that I was more of a "back-to-the lander" than I knew. My husband and I started growing some of our own food and are learning how to be more self-sufficient. Helping Cat with classes at the farm increased my knowledge of composting, soil, and the importance of land stewardship (including the impact just one person can have on implementing change). Working in the farmstand has allowed me to continue learning the importance of organic food and farming practices, and I am also able to exchange recipes and cooking ideas (especially with the glut of cucumbers and cabbage!) with customers.
Last month I started on my final freezer bag of strawberries and kale that I harvested last summer. While I love winter, my body is starting the annual craving for fresh produce and I can't wait to experience the firsts of the year: early lettuce, berries, tomatoes, peppers, brown butter granola scones… Only a couple of short weeks until opening day on April 26!
Looking forward to seeing you in the farmstand! Amy Beston