September brings us back to school, the first chill of autumn, woodsmoke in the air and of course, apple orchard visits. Is there anything better than eating a crispy, juicy apple straight from the tree? We love our orchard visits from eating warm cider donuts, and drinking fresh apple cider, to bringing our peck of apples home to cook and bake with. Apple butter, apple pie, baked apples…oh my.
Vermont chef's know how to turn the simplicity of an apple and all of its natural goodness into creative dishes. Apples are featured on restaurant menus across the state, be sure to pay them a visit.
DigInVT staff put the call out to Vermont Fresh Network restaurants and chefs for their favorite apple recipes and dishes. Check out the options below and try a new dish! We bet you can source most of the ingredients at your favorite farmers market and your local food markets. Let us know what you make by tagging @diginvt on Instagram
DigInVT has the in-cider scoop on how some of our favorite restaurants celebrate apple season! Click the quick links below, or scroll to discover them all.
Some of Chef Michael Kloeti's favorite ways to incorporate apples into his dishes are to load a buttermilk biscuit shortcake with hot, sauteed apples. Adding lots of spices, brown sugar, maple syrup and butter, poured over the biscuits then topped with ice cream or an orange scented mascarpone. His all time favorite recipe is his Fall Squash Soup. Various types of winter squash, onions, celery root, parsnips, and of course apples and cider, all roasted together and pureed with a touch of maple, cider and stock. We serve it with all kinds of things-cheddar fritters, crispy bacon, spiced creme fraiche, wild rice, pumpkin seed oil.
Enjoy this classic Vermont galette with a cheddar crust. Perfect for a holiday party, a special desert, or a fun way to use the apples you picked! Bonus: It's extra delicious with a scoop of ice cream.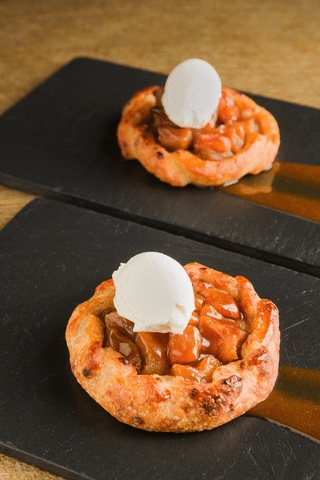 Vermont Apple Galette
Yields 9 Galette's
Ingredients for Dough
2 Cups Flour
½ Cup Cornmeal
¼ Cup Sugar, granulated
½ Teaspoon salt
¼ Cup Cheddar cheese, grated
¾ Cup Butter, unsalted
5 Ounces Water, iced
⅛ Cup Buttermilk, cold
1 Egg
1 Tablespoon Water
Method for Dough
Preheat the oven to 375 degrees F.
Combine all dry ingredients.
Pulse all together in a processor until it looks like a coarse meal.
Add the butter and cheese and pulse until the mixture looks like chunks of peas.
Add the liquid until it just holds together.
Wrap dough in plastic wrap and allow it to rest in the refrigerator for 2 hours minimum.
Combine the egg and water for egg wash; set aside.
Ingredients for Apple Filling:
2.5 Ounces Butter, browned
9 ea (4.5 lbs) Apples, tart-McCoun or Granny Smith, peeled, cored, and sliced
¼ Teaspoon Salt
4 Ounces White sugar
3 Ounces Brown sugar
2 Teaspoons Cinnamon
1 Teaspoon Lemon Juice
Pinch Nutmeg
1 Tablespoon Liquor - such as calvados or run (optional)
To taste Sanding Sugar
Method for Apple Filling:
Brown butter over medium heat.
Add apples and salt, cooking down to brown and evaporate liquid. -Add sugar and cook down; add spices.
Deglaze with lemon and liquor if desired.
Note: This should be jammy, caramelized and soft, not liquidy. Filling needs to be relatively dry or it will ooze. Cool.
To Assemble:
Roll out dough into 9 circles, approximately 4.5 inches in diameter and 1/8-inch thick.
Scoop cold filling into the center of the dough rounds, leaving a 1.5-inch border of crust.
Pinch edges of dough together over the sides of the apple mound, leaving the top of the apples exposed. -Brush with egg wash and sprinkle with sanding sugar.
Bake in the oven for approximately 18 minutes or until juices are bubbling and the dough is brown.
Serve with a drizzle of Vermont maple syrup and your favorite ice cream.
At Brownsville Butcher & Pantry, they mostly use apples in their bakery; famously in their apple pies. They have been making these pies from the beginning, and the recipe hasn't really changed - it's a classic! Apples will inevitably be incorporated into a variety of other baked goods: apple breads, danishes, hand-pies, and more. They're a signature part of Vermont that they love to feature in the fall. Embodying this, they also have an apple/brioche soft serve with their house cinnamon sugar donut on the menu now!
The DigInVT team was able to get their super secret apple pie filling recipe from their team of talented bakers...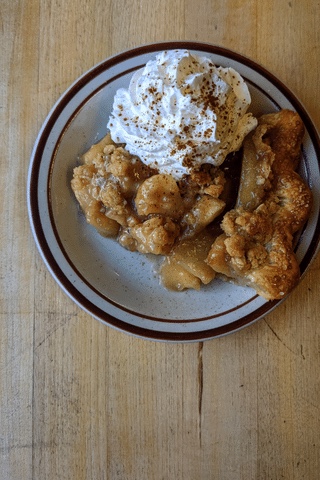 The Butcher & Pantry's Classic Apple Pie Filling
Yields 1 Pie
Ingredients for the filling
7 large apples (peeled, cored, and sliced)
⅓ cup white sugar
⅓ cup brown sugar
2 tbsp butter
2 tbsp heavy cream
1tsp cinnamon
3 tbsp cornstarch
Juice from ½ a lemon
Method
In a heavy bottomed saucepan, melt butter over medium heat. Add sugars and heavy cream; mix until combined. Cook until syrupy and bubbling.
Add apples and cinnamon.
Combine cornstarch and lemon juice together to make a slurry (adding a little water if necessary). Mix thoroughly, and pour into apples while stirring.
Stir constantly until thickened.
Remove from heat and let cool before adding to your favorite pie crust & baking!
Below are a few words from Chris Lataille, the Chef de Cuisine at Bleu Northeast Kitchen:
"This take on the apple cobbler is to really showcase the apples without your traditional spices that often can be in the forefront of the dish. Instead, we are using the richness and sweetness of the reduced wine to pair well with the tartness of the apples, and with the buttery pastry and creamy fatty ice-cream to balance it all together. You should see this, or something very similar, on the Bleu menu this fall."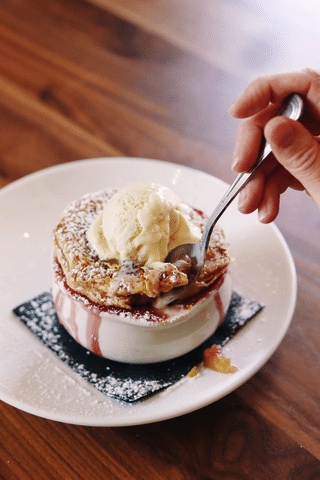 Apple Cobbler
Yields 8 Cobblers
Ingredients for Dough
1 Cup Red Wine
1 Cup Port Wine
3 Apples, washed and diced
1.5 Cup Sugar
1 Cup Fresh Cranberries
3 Tablespoons Cornstarch
Puff Pastry
Method
Put red wine and port wine in a pot and reduce by half, then chill.
Put apple dice, sugar, cranberries, cornstarch, and 1 cup of the wine reduction in a bowl. Mix well and put into individual cups.
Roll out puff pastry and cut into rounds that would cover the apple. Brush with a half egg half cream egg wash and sprinkle with Sugar in the Raw.
Bake in low fan, 350 degrees for 20-25 minutes or until the apple is soft, the cobbler is bubbling, and the pastry is golden.
A few words from Pastry Chef Ellie Irving Philo Ridge Farm:
Apple Season Fall in Vermont is very different from the Fall I grew up with in North Carolina. The air turns crisp; the leaves do indeed change color (other than a dusty brown), and rather than figs and muscadines, there are apples everywhere! Apple season offers unparalleled abundance: these fruits' variegated shapes and hues begin arriving in late summer. And then they keep coming.
A bin of apples is the antithesis of a precious pint of raspberries. There's no rushing to put them on the menu; I can take my time with them. There's freedom in their steadfastness. Rather than fragile and fleeting, they are lasting, humble, and grounding. I find just as much pleasure in making one perfect apple pie as I do processing 25 pounds of the fruit into apple butter—their versatility encourages creativity. I don't believe that there is such a thing as too many apples.
When paired with warm spices, apples offer a grounding comfort that we crave in the Fall. The cake is very tender, which is why a dense and well-balanced apple, such as Gala, is essential here. You want the apples to add pockets of sweetness rather than crunch.
This coffee cake has been a staple of the Philo Ridge Farm market menu for quite a while. It adapts easily to the changing seasons, welcoming rhubarb in the spring just as it does apples in the fall. It is perfect with a hot coffee or herbal tea on a crisp fall afternoon."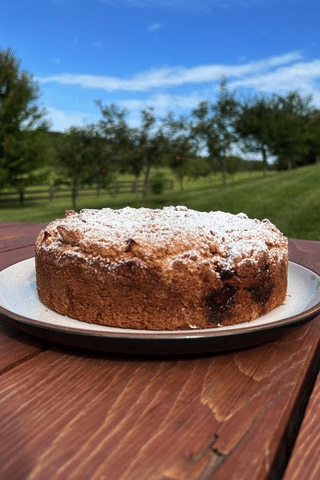 Apple Coffee Cake
Yields 1 Apple Coffee Cake
Ingredients for the crumb
1⁄2 cup (115 g) brown sugar
1 cup (120 g) all-purpose flour
1⁄2 tsp salt
2 tsp cinnamon
1⁄2 tsp cardamom
6 Tbsp (85 g) butter, cold
Method for the crumb
Whisk together the sugar, flour, salt, cinnamon, and cardamom in a medium bowl.
Add the butter and squish it with your fingertips until it's evenly moistened and holds together
when squeezed.
Ingredients for the cake
2 medium apples, diced
2 Tbsp sugar
1 tsp cinnamon
1⁄2 tsp ground ginger
6 Tbsp (85 g) butter, soft
3⁄4 cup (150 g) sugar
2 eggs, room temperature
1 tsp vanilla extract
1⁄3 cup (50 g) whole wheat flour
3⁄4 cup (100 g) all-purpose flour
1⁄2 tsp baking soda
1 tsp baking powder
1⁄4 tsp salt
1⁄2 cup (120 g) sour cream
Method for the cake
Preheat the oven to 350°F. Grease and line the bottom of an 8-inch cake pan with parchment
In a small bowl, combine diced apple with the sugar and spices. Set aside.
In a stand mixer, beat the sugar and butter together on medium-high speed until light and fluffy,
about 4 minutes. Add the eggs one at a time. Scrape down the sides of the bowl.
In a small bowl, whisk together the dry ingredients.
With the mixer running, alternate adding the flour mixture and sour cream in three additions,
beginning and ending with the dry ingredients. Do not over mix. Finish combining the mixture by
hand.
Spoon half the batter into the pan and smooth it to cover the bottom of the pan evenly. Sprinkle
1⁄2 of the crumbs and 1⁄2 of the apples evenly over the batter. Spoon the remaining cake batter
over the top and gently smooth it to cover the crumbs and apples. Sprinkle over the remaining
apples and crumb topping.
Bake for approximately 45 minutes or until the center registers 205°F on an instant-read
thermometer or a toothpick inserted into the center comes out clean.
Let cool before running a knife around the edge of the pan and tipping the cake out.
Dust with powdered sugar and slice!