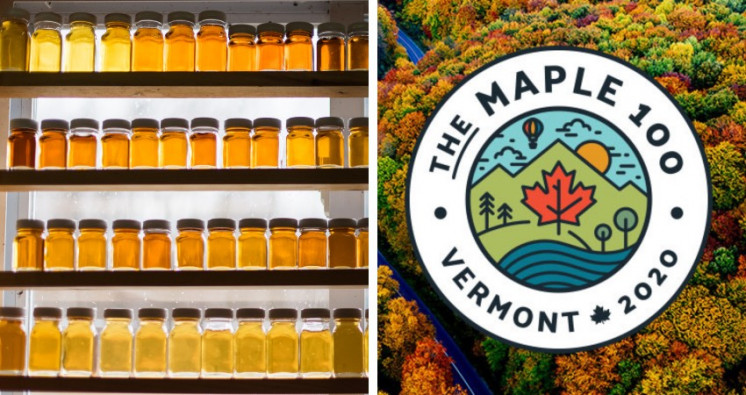 Celebrate Vermont maple this fall foliage season with The Maple 100! Created by the Agency of Agriculture in collaboration with Vermont Tourism and many other state partners, The Maple 100 presents the chance for all of us to learn more about how maple syrup is made, where it comes from, and the beauty Vermont's maple trees add to the landscape this time of year (and always). For the month of October, find a sugarhouse to tour, a recipe to try, and new ways to experience and appreciate maple and autumn in Vermont!
---
1. Go out to eat (or get takeout)!
All month long, talented Vermont Fresh Network chefs will be serving up some creative maple-inspired dishes. Head to your favorite restaurant or try a new one. Check out our blog post to see the list of participating eateries!
2. Play a game!
These family-friendly options will bring some extra fun to your fall! There are two scavenger hunts to choose from, as well as Maple Bingo.
3. Take advantage of sales and specials!
It's the perfect time to get some of your holiday shopping done early or to stock up on maple products for your family. Many local businesses are offering sales and specials throughout the month of October in honor of The Maple 100. For the full list of participating businesses, click here, but check out just a few below.
4. Walk through a sugarbush!
Escape to a local farm on our new Farm Walks Across Vermont Trail and discover the beauty of our state's agriculture this autumn (and throughout the year)! There are even a few sugarmakers on the list: Silloway Maple, Shelburne Farms, Sugarbush Maple & Cheese Farm, and more. Get the details here.
5. Cook and bake with maple!
Vermont Tourism rounded up Seven Vermont Maple Recipes to Bake This Fall! The Maple-Bacon Biscuit Bake from King Arthur Baking Company sounds especially intriguing, but you can't go wrong. While you're at it, be sure to check out the special recipes contributed by Chef Stefano of Morse Block Deli.
Many Vermont sugarmakers also list traditional and/or family recipes on their websites, so head to your go-to Vermont producer, and see what they recommend. Jed's Maple Products of Derby is offering a special virtual weekly series of family favorite maple recipes for The Maple 100 that will be shared via their newsletter (sign up here).
The Vermont Maple Sugar Makers Association's substitute maple for sugar guide will definitely come in handy. They have a recipe for almost anything utilizing maple syrup on their website, too.
6. Have a creemee!
DigInVT recently teamed up with the Vermont Agency of Agriculture to put together the new Vermont Maple Creemee Trail! If you live in Vermont, or if you've visited during the summer and fall months, you know that maple creemees are one of the best ways to enjoy the sweet flavor of Vermont maple syrup. Check out the stops on the trail and decide which are your favorites!
7. Attend an event!
One of the most exciting parts of The Maple 100 is all the great events that are planned! Maple doesn't have to just be something you enjoy in the spring. It's a way of life around here. What better time to experience this sweet liquid that comes from a tree than fall foliage season? For the full list of participating businesses, click here! Here are just a few of the fun happenings that await you:
8. Indulge in a maple beverage!
Take a sip of Vermont! Vermont's craft beverage producers have created so many maple options to choose from...
9. Don't forget the virtual options!
Join in on the fun from home with virtual tours and other online maple events. Watch how producers like Lake Champlain Chocolates and Mad River Distillers incorporate maple into their specialty products, learn more about the lore of the maple creemee, or read some of DigInVT's Meet the Maple Sugarmaker Profiles from past sugaring seasons. Again, please check here for all The Maple 100 happenings!