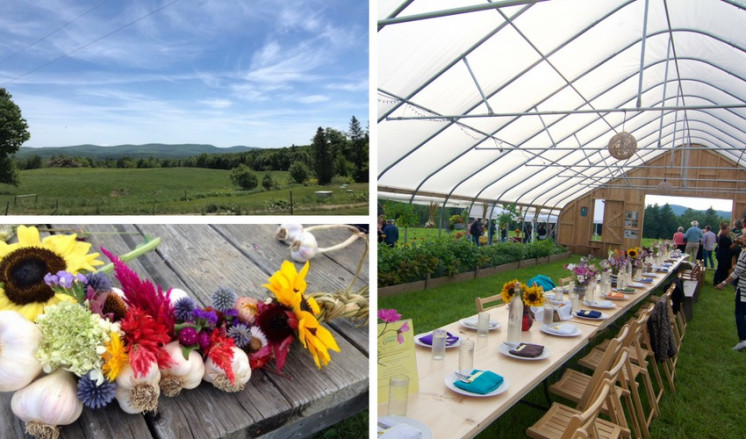 Have you ever been to a concert on a farm? There is nothing like kicking back listening to music or watching a movie with the summer breeze blowing, while you enjoy food grown and raised right there. Grab your friends and head out to these fun events on the farm. This Open Farm Week, bring your friends on a rural adventure to a farm where farmers and producers come together to create outstanding experiences. There's still time to make your plans for Vermont Open Farm Week 2019!
---
FRIDAY, AUGUST 9TH
Green Mountain Girls Farm, Northfield
5:30pm | What happens when...farmers are also avid cooks? Farmshare members are also world class musicians? And those musicians are also composers and have friends that are similarly talented? And when the farm wraps up its 10th anniversary just as the musicians launch theirs? A celebratory gathering of course!
Farms and art grow from and towards community. Please join Green Mountain Girls Farm and Scrag Mountain Music as they honor universal interconnectedness as well as reciprocity between farmers and eaters, artists and audiences, Vermonters/Vermont appreciators and working landscapes, as well as this very special, decade-old partnership.
Step beyond the barnyard into growing season abundance. Whiff herbs crushed under your feet and touch fruits filling as their trees photosynthesize gregariously. Listen to the soundscape of the farm ecosystem. Lovingly ingest the wellness of food grown and prepared at Green Mountain Girls Farm. Dine and converse with musicians and the community of supporters. Enjoy stunning performances and be challenged to participate in Scrag Mountain Music's signature participatory style.
A $30 ticket secures your spot (parking and seats) for farm supper/tour as well as the concert. But the concert payment will be collected at the concert. Pre-registration required.
SATURDAY, AUGUST 10TH
Philo Ridge Farm, Charlotte
5-9pm | Join us for an evening of bluegrass, beer, and brats! Local band The Meatpackers will be playing popular bluegrass hits in our Great Room from 5 to 8 PM. While you listen, enjoy a beer from Zero Gravity, who will be offering tastings and can pours throughout the evening. What goes better with beer than a bratwurst? Our kitchen will be serving a bratwurst special made with Zero Gravity beer - the perfect complement to a cold one.
Flatlander Farm, Starksboro
3:00 pm | Come celebrate summer at Flatlander Farm! Enjoy farm tours and live music on the lawn overlooking the animals as they graze beneath Mount Ellen and Mount Abe. Join us in celebrating our season with live music by Glass Pony and neighboring doers and makers offering their goods for purchase. This event is great for the entire family, but please leave your canine members at home. A suggested donation of $10 is welcome to help compensate the band for their art.
WEDNESDAY, AUGUST 14TH
Philo Ridge Farm, Charlotte
5-7pm | Come enjoy a medley of jazz, blues, and rock inspired music from talented local musicians Cobey Gatos and John Creech! 
Headwaters Produce Farm, Hinesburg
6pm | Enjoy a farm tour of the Headwaters Produce Farm and an on-the-farm dinner featuring handmade pies from Pie Empire followed by an outdoor screening of the new film The Biggest Little Farm. 
THURSDAY, AUGUST 15TH
Green Mountain Girls Farm, Northfield
7pm | Enjoy a free screening of the amazing documentary Secret Ingredients, a film by Jeffrey Smith and Amy Hart. It provides incredible motivation for why Green Mountain Girls farms the way they do, focused on healthy, clean food to support people's desires for wellness, nutrition, and environmental healing. Come be inspired to eat healthy, local food and cook from great, known ingredients. Green Mountain Girls will provide the film complementary to the community.  Their organically managed popcorn, popped in our pasture-raised, organically managed lard will be available and the farmstand will be stocked with easy picnic-style dinner options for before or during the film.
RSVP is great but not required. You may RSVP to either: [email protected] or on the event registration page.