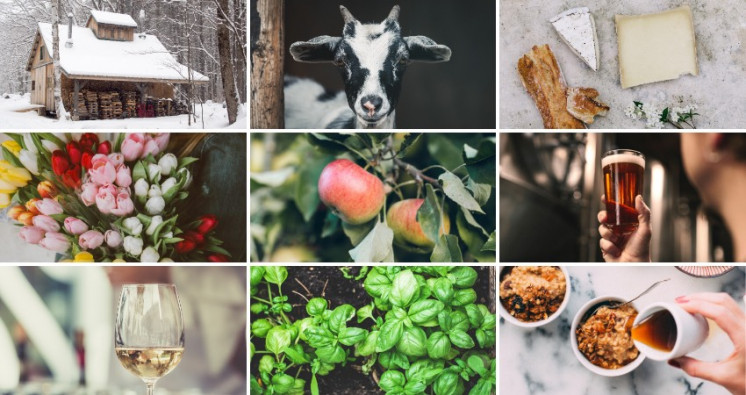 As the temperatures rise, the trees begin to bud, and the mountains turn green, we start shedding layers and spending more time out and about. We get excited about visiting sugarhouses, shopping at farmers markets, and even picking berries. But in March 2020, things are a little different. This year, we're slowing down and staying home. In an effort to combat cabin fever and make it easier for everyone to isolate and stay healthy, we've compiled a list of videos that bring farms to you! From printable activities to do with your kids and family-friendly educational videos, to interviews with your favorite Vermont brewers, there's a little something for everyone (who doesn't love farm animals, especially the babies being born at this time of year?). We hope you enjoy!
---
Kids and Farms
Billings Farm & Museum is offering educational resources for local families with kids at home and for folks further away who want to explore the farm and museum. Visit their website to download their educational "Bag of Fun" kits, that include instructions and materials for agricultural activities. They also post videos featuring book readings, farmhouse tours, and virtual visits with their farm animals. Subscribe for updates by email, and be sure to send along ideas for future kits and videos. They are happy to answer any questions you may have about their animals, the farm, and their exhibits and collections! So far, video topics include meeting goats and cows, learning about milking, and more.
"Vermont Farm Kids: Rooted in the Land" is a short film depicting the unique stories of kids and young adults (ages 10-28) who've grown up on a farm in Vermont. Produced by Maria Reade, a farmer, freelance writer, and photographer, and James Chandler, a local filmmaker, this is an entertaining and educational watch for all ages. To watch this free film, click here, and to download it, please visit nofavt.org/vermont-farm-kids.
Dairy
Take a peek into the life of Amy Richardson, a Vermont dairy farmer. The Richardson Farm has a herd of Jersey cows that produce some of Vermont's highest quality milk for Cabot Creamery Cooperative's award-winning cheese. As a farmer and a mother, she raised her family while continuing to work on the farm. This video, produced by the Vermont Agency of Agriculture, is a short, interesting watch.
You may have tasted Butterworks Farm's delicious yogurt, or at least seen it on the shelves of your local grocery store. Follow along with Stuck in Vermont's 2017 visit to the Northeast Kingdom farm and learn more about owners Jack and Anne Lazor's story and how they've adapted to the challenges of the organic dairy market, plus see some cute cows.
Goats (and Goat's Milk Caramel)
Learn more about Fat Toad Farm's goat's milk caramel sauces! How are they made? What is the process like? It all happens on the family farm. Check it out here.
Lambs
Who doesn't love lambs? This video is full of them! Learn about what it's like to be a sheep farmer during lambing season from Chet Parsons of The Parsons' Farm.
More sheep! Visit (virtually, of course) Grand View Farm in Washington and learn about the unique Vermont yarns they offer - by skein or by CSA share. Also hear about the Goodling family's fiber art classes, summer camp programs, and farmstay experiences.
Maple
Solar Sweet Maple Farm shares a little bit about their maple operation with Vermont Vacations.
First, read DigInVT's Stewart Maple profile, then watch the compilation from their Instagram takeover on March 18th and 19th, 2020. Find it on our Instagram profile (Stewart Maple in our highlights). Experience sugaring from the comfort of your couch.
Have you ever heard the question "isn't all maple syrup organic?" Or maybe you've asked it yourself. This video produced by Vermont Organic Farmers (VOF) shows what it means when maple syrup is certified organic.
Apples, Orchards, and Cider
Are you looking forward to apple season? This Vermont Vacations video featuring Champlain Orchards and Cidery in the fall will bring back happy memories of seasons past. Owner Bill Suhr explains how Lake Champlain impacts the apple season and shares what fall brings at Champlain Orchards!
This quick watch, with upbeat music, shows the cider making process from start to finish!
Cheese
Cabot cheese -- another great thing Vermont is known for! Learn how it's made in this short video from Food Insider. Cabot Creamery Cooperative makes over 130 million pounds of award-winning cheese a year. Follow the journey from the farm to your fridge.
Meet Stan Biasini and Debora Wickart, owners and farmers at Mt. Mansfield Creamery. They make high quality cheese with raw milk from their small dairy farm just up the road. Learn more about their family business and how their cheese is made at the links above.
Beer
Join Vermont Public Television as hosts Rob Michalak and Anya Huneke speak with Shaun Hill of Hill Farmstead, John Kimmich of The Alchemist, Matt Cohen of Fiddlehead, and Matt Nadeau of Rock Art. Hear about your favorite beers and learn the stories of these well-loved breweries.
Flowers
Stuck in Vermont visited Emily von Trapp, owner and farmer at von Trapp Flowers. Known to her family and friends as the "Tulip Queen" or the "Flower Family," she hosts Tulip Teas at her greenhouse, so folks can enjoy the joy of flowers in the dead of winter. Learn more about her family history, farm, and unique flower bunker.
Wine
This video packs a lot of information about the wine making process into a couple of minutes, and features beautiful images of Vermont's green mountains and Boyden Valley Winery and Spirits. Check it out!
NBC5's Alice Kang visits Shelburne Vineyard and gets the chance to speak with winegrower Ethan Joseph and owner Ken Albert about growing grapes in Vermont's climate and the wine they make with them. Watch to learn more.
---
This list is by no means exhaustive. For more videos, visit the following YouTube channels and explore. You can also try Googling nearby farms and food and beverage producers - they may have their own YouTube channels. Enjoy your at-home Vermont food adventure!