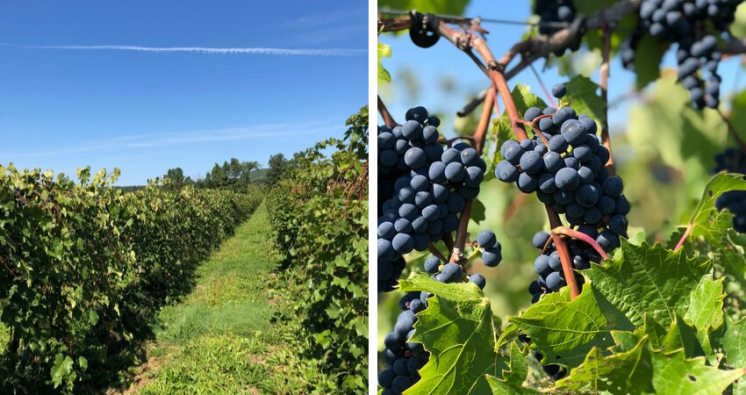 Vermont's wine industry is continuing to grow, filling tasting rooms, restaurants, and markets with unique and delicious offerings. The vineyards and wineries along the Lake Champlain Tasting Trail are the perfect places to begin your adventure discovering Vermont wine.
According to the Vermont Grape & Wine Council, Vermont's climate has proved challenging for grape growing in the past. Due to the short growing season, many grape varieties were unable to ripen before the cold winter hit. Growers in places like Vermont and the upper Midwest were limited to varieties like Concord. If they were able to ripen, their flavors were more suited to jelly than wine. Luckily that has all changed!
Vermont's wine is made from relatively new grape varieties. It all started in the 1940s with a farmer from Wisconsin named Elmer Swenson who experimented with grape breeding on his farm. Aiming to grow hardier vines that could stand up to a colder climate, he crossed his grandfather's vines with French hybrids and wild "riverbank" grapes. Fast forward to today, Vermont's most commonly used wine grapes have a Swenson vine in their family tree. The most popular Vermont-grown grape, Marquette, was released in 2006. Although there isn't a long history of creating wine with these grape varieties, local wineries have found a way to produce high quality wines with flavors tied to the land on which the grapes are grown.
The locally produced wines made from grapes grown along the Lake Champlain Tasting Trail have their very own terroir. And it's something you have to experience for yourself! Below is a little teaser of the amazing wineries you'll have the opportunity to visit on the Trail.
Snow Farm Vineyard, located in South Hero, was Vermont's first modern vineyard. Due to its location on an island in the middle of Lake Champlain, Snow Farm is able to grow a slightly different mix of grapes than other vineyards in the state. "We planted a lot of different grape varietals not knowing how they would [be] 20 years later. We could have had to rip everything out and put in Marquettes but we stuck with it and I am proud to say they're doing well!" says Snow Farm Vineyard's Winemaker, Patrick Barrelet. Their menu boasts a variety of whites, reds, and specialty wines, including ice wine, a sweet dessert wine made from grapes harvested in December once they've been through a hard freeze.
Another stop along the Lake Champlain Tasting Trail is Shelburne Vineyard. Shelburne Vineyard's location close to the shores of Lake Champlain has allowed them to cultivate a small planting of more tender grape varieties including Riesling and Vidal Blanc, in addition to their cold-hardy vines, to produce high quality whites, reds, and rosés. Winemaker Ethan Joseph self describes his winemaking style as "exploratory;" "We're working with pretty new varieties and still in the process of determining how best they express themselves and where they are grown. Wine is made in the vineyard, so we bring in the best fruit we can and do as little as possible in the winery." In 2017, Joseph released Shelburne Vineyard's line of Iapetus wines, crafted with minimal intervention and native yeasts, which reflect the land and environment of the farm. Their winery and tasting room have earned a LEED certification and these days, you may even see sheep grazing among the vines.
Lincoln Peak Vineyard and Winery is the last of the wineries on the Lake Champlain Tasting Trail. All of their wine is made strictly with grapes grown on the farm's 12-acre vineyard. They have entered the International Cold-Climate Wine Competition for several years and have won multiple best-in-show awards and gold medals. When asked about his favorite grape varietal, owner and Head Winemaker Chris Granstrom says, "I love working with Marquette because it makes such an outstanding red wine; we often hear from folks that they are surprised that a wine with such depth and complexity can come from Vermont. And it's also versatile; in addition to our barrel-aged dry wine, we make a rosé and a nouveau-style wine from Marquette." Their tasting room's porch is perfect for sipping wine and taking in the vineyard views.
Wineries are just one category of the farm and food stops to discover on the Lake Champlain Tasting Trail. Click here to see what further adventure awaits.
Read the full interviews conducted as part of our Meet the Winemaker series: Patrick Barrelet | Snow Farm Vineyard, Ethan Joseph | Shelburne Vineyard, Mark Boyer | Boyer's Orchard, and Chris Granstrom | Lincoln Peak Vineyard and Winery.
Funding for project came from a 2019 Conservation & Community Grant.