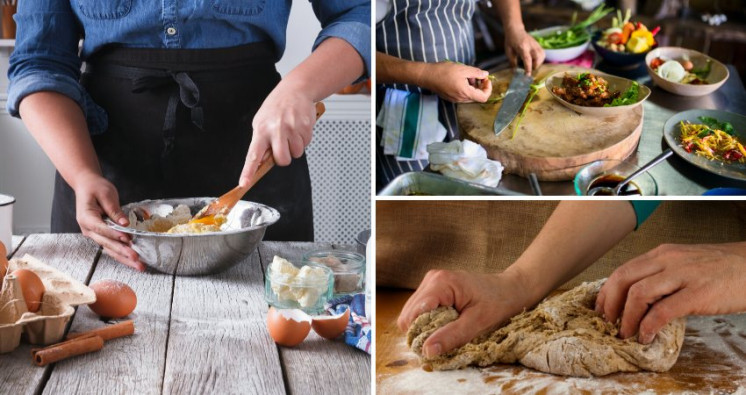 Have you ever taken a cooking class or signed up for a workshop on growing vegetables? While we all might have favorite cookbooks or online videos, learning in person or taking a live online class offers you a more well rounded experience. You're able to follow along as others ask questions that you may not have thought of and then ask your own. What does well kneaded bread dough feel like? How do you know when a vegetable is properly roasted or steamed? Can your nose tell you when spices are perfectly toasted? What does it sound like when cider doughnuts are ready to be taken out of the hot oil? A class teaches you to use all of your senses and allows you to immerse yourself in the experience.
Taking a cooking class is a lot of things...it's learning, it's fun, and it is great to do with friends. In Vermont, whether you like to bake, cook with herbs, ferment food, or learn how to use the flavors of a new cuisine, there is something for everyone! And now many many workshops and classes are available online for you to explore from your own kitchen.
Here are some of our favorite places and people to learn from. Before you visit, build your own trail to help you explore and plan more adventures.
People travel from all around the country to take a class at the King Arthur Flour store and education center. With its wide ranging schedule, visitors can learn to bake a croissant, master the breads of Italy, or spend an afternoon learning cookie decorating techniques. From beginners to professionals, this is a baker's paradise. Stay overnight at the Norwich Inn and explore the area.
This tiny bread bakery in Fairfax uses natural leavens and a wood-burning oven to produce magical loaves of bread. Enjoy the views and a spread of cheese and conversation after your class with bakeress and founder Heike Meyer, who grew up in the bread center culture of Germany. Classes range from learning how to make authentic neopolitan pizza and making brioche and crêpes as part of a French breakfast class to more intensive classes spending a day learning to master sourdough or rye breads. Heike also added private online classes to her repertoire.
Interested in growing and learning about gardening and cooking with herbs? Join the Red Wagon folks in the greenhouse for an herb garden workshop, jam making, or explore the many different varieties of tomatoes.
Enjoy a gourmet getaway at this special resort. Most classes at the Cooks Academy at the Essex Resort and Spa include a three- or four-course meal. And the best part is eating the result of your efforts. Classes vary throughout the year depending on the season and availability of fresh ingredients - they have included cooking with Vermont beer, making fresh pasta, wine tastings, and vegetarian cooking.
Many of our cozy bed and breakfasts and inns offer special classes and weekend stays. Pick raspberries and learn to make muffins. Or spend your weekend learning food photography. There are many creative and unique options.
At DigInVT, we know farmers have a lot to teach. And our Vermont farms are generous with sharing their knowledge. From cheesemaking and beekeeping to raising chickens, vegetable gardening, and so such more, it will be hard to decide which farm to choose and which workshop to take. Shelburne Farms is a working farm with classes and camps for all ages. It is in their mission statement "to inspire and cultivate learning for a sustainable future." Their year round schedule will take you on a morning bird walk, spring wildcrafting, or learning how to make butter in a camp. Knoll Farm in Fayston raises Icelandic sheep and organic blueberries. They focus on regenerative agriculture and they offer retreats and classes. The 517 acre historic apple orchard, Scott Farm, in Dummerston, established in 1791, is home to 40 acres of orchards producing 125 varieties of ecologically-grown heirloom apples and other fruits. Every spring they offer a pruning workshop for backyard fruit growers. This is the place to go to learn about fruit trees and taste history.
Events
Right now we aren't thinking about or planning to go to any large events, but keep this in mind for 2021. Some people may go to festivals to eat and listen to music, but did you know you can sometimes take a class, too? Whether you join folks at the Maple Open House weekend, Vermont Brewers Festival, the Vermont Cheesemakers festival, or Open Farm Week, be sure to set aside time to sign up for any learning opportunities offered. Open Farm Week 2020 is happening this year. Take a look at what's in store for you.