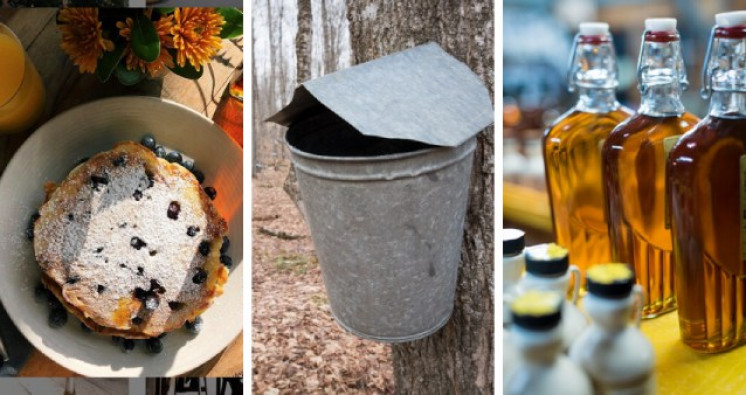 It's MAPLE sugaring season! This is the 19th year we have been visiting Maple Sugarmakers during a very special weekend in March. Maple Open House Weekend is an opportunity to learn about the Lake Champlain Basin region, the importance of a healthy sugarbush and, of course, how maple syrup is made.
It is impossible to measure the importance of maple sugaring to the heritage, culture, and community in this region. You have probably poured maple syrup over your pancakes or enjoyed a maple creemee or two, but have you ever tasted sap straight from the tree? Every school-age child in Vermont has toured a sugar house to learn about the long history and process of sugaring. Maple Open House Weekend is right around the corner and it's the perfect time to celebrate the 2020 maple crop with the members of the Lake Champlain Tasting Trail.
Join the folks at Boston Post Dairy for their annual "Taste of Maple." On Saturday, March 21 from 9:00am - 2:00pm, you'll have the opportunity to try this year's maple syrup, free coffee, and some delicious goodies prepared with pure Vermont maple syrup. Sign up for door prizes and take advantage of in-store specials. And don't forget the award winning cheese!
Visit Snow Farm Vineyard at their Crescent Bay Farm during Maple Open House Weekend for both maple* and wine tastings.
*Did you know that brix is the measure of sugar content in an aqueous solution? They use it in wine too. So, you see, maple sugaring and wine making aren't all that different!
14th Star Brewing Company will be featuring maple beer, including their popular Maple Breakfast Stout. Plan a visit over the weekend.
Start your maple excursions with the blueberry pancakes at Juniper. (We know this isn't an "official" Maple Open House Weekend event, but it should be.)
Citizen Cider is celebrating Maple Open House Weekend in the taproom with samples of Tree Tapper, their cider infused with Runamok Maple syrup, and maple infused cocktails.
Switchback is celebrating Maple Open House Weekend with Switchback Ale maple ice cream floats! Yes, you read that right. Maple ice cream floats with Switchback Ale. Enjoy a scoop of creamy vanilla Lake Champlain Chocolates ice cream in Switchback Ale with maple syrup drizzle on top.
Kids floats will be available, too - a scoop of creamy vanilla Lake Champlain Chocolates ice cream in cream soda with maple syrup drizzled on top.
Head up to the Shelburne Farms sugarbush to see the sugar house in action! Experience a sugarmaker's tools, tap a sugar maple, add sap from the collection buckets to the bulk tank, go on a scavenger hunt throughout the sugarbush, and of course, no maple celebration is complete without sugar on snow!
Bring your kids and learn about the journey of sap to syrup. Settle around the fire circle to learn how the Abenaki gathered and used maple syrup and how this wonderful gift from nature was given to the First Peoples of Vermont. Discover the sugarbush in a new way with Outreach for Earth Stewardship and learn about the wildlife that loves to live in the woods. Shelburne Farms is part of the Bird-Friendly Maple Project from Audubon Vermont. There will be ongoing live bird-on-hand presentations, as well as some helpful hints about the other birds you may find at this time of year.
Visit Dakin Farm for a fun-filled weekend of sweet deliciousness, topped with fun pancake breakfasts and sugar on snow parties. Enjoy fresh, pure Vermont maple syrup over spring snow or ice cream, stop in to the annual pancake breakfast for some mouthwatering buttermilk pancakes, bacon, and sausage. Savor a sausage hoagie cooked in sap or a bowl of their very own maple chili for lunch and enjoy free samples of maple syrup, ham, bacon, and more! 
Guests can observe boiling sap in the sugarhouse at Boyer's Orchard and sample this year's pure maple syrup during Maple Open House Weekend! They'll be serving free sugar on snow for the kids and free Boyer's hard ciders and wines for adults, featuring this year's newly released ice cider. Syrup, maple candy, hard ciders, and wines will be available for purchase.
There are so many maple celebrations. Below are a few other favorite DigInVT Places to visit in Vermont during Maple Open House Weekend.
The sap is running and it's time to celebrate the sweetest season of them all - sugaring season! Boyden Valley takes pride in the traditional certified organic maple syrup they've been making for over four generations. Taste the variety of grades and even some bourbon-barrel aged syrup, as well as wines and liqueur crafted with their very own maple syrup! 
On March 21st and 22nd in the Mad River Valley, you'll find Lawson's Finest Liquids celebrating Maple Open House Weekend. They will be releasing a special maple beer on Saturday, March 21st - Fayston Maple Imperial Stout Aged in Mad River Distillers Rum Barrels. It will be available on draft and in 22oz bottles to go. They will also have other maple beers on draft and packaged in cans. Their maple beers are brewed with maple syrup from Vermont Maple Sugar Makers Association member Purinton Maple.
Liberty Hill Farm will be serving aaple themed meals for dinner and breakfast and offering tours of the neighbors' sugarhouses. Head out and explore and then come home to the farm for a yummy dinner featuring farm fresh maple and Cabot cheddar cheese!
Head over on Saturday, March 21st from 12:00pm - 6:00pm for Maple Fest. They will have menu and store specials as well as maps and tours to local sugar houses.
Funding for project came from a 2019 Conservation & Community Grant awarded to the Vermont Fresh Network by the Champlain Valley National Heritage Partnership. 
Funding for project came from a 2019 Conservation & Community Grant awarded to the Vermont Fresh Network by the Champlain Valley National Heritage Partnership.