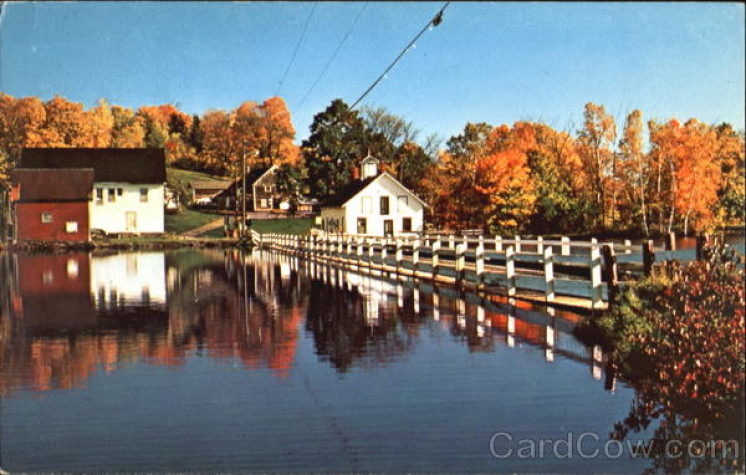 Whether you are looking for day trip ideas or a way to experience fall foliage in an off-the-beaten-path way, we invite you to our farms and community. We organized the Floating Bridge Food and Farms Cooperative to make our working landscape more accessible for folks to enjoy. Cooperative members host  farm tours, apple picking and lattes on the hoof throughout the foliage season. And on October 11th we are hosting our annual Foliage Market and apple pie baking contest.
Brookfield's Old Town Hall and the village itself, tucked between the hills and tiny Sunset Lake, is intimate and welcoming. Our new, yet historic, Floating Bridge, invites you onto Sunset Lake via foot or by car. The bridge grants perspective. Like our farms, the bridge and village help frame fall foliage within the visually rich architecture of rural Vermont. 
At the market on the 11th, Brookfield Bees will do hands-on cider pressing demos and samples. That is how we are, often we miss the politeness of farm-to-plate or farm-to-table and go straight from farm to mouth! There will be snack and meal options, gifts, pasture raised meats, and the season's harvest will be on offer. The hall will be as colorful as the hills our products originate from. Flowers, herb-dyed scarves and the smells of Chef Lee and Ariels Restaurant's Mexican Cantina lunch dishes will add to the stimulation. Fat Toad Farm will be there with their award winning caramel and ice cream to add to the pie when they become eligible for purchase by the slice! Proceeds will benefit the Floating Bridge Food and Farms Cooperative and the Randolph Area Food Shelf. 
So pie makers, start your ovens! Apple pickers, stop at nearby Liberty Orchard and let Ginny and Dwayne provide information on apple varieties and pick your own tips. Bring your questions on pie making to Chef Lee Duberman and our other judges and contestants who will gather in the Old Town Hall. Get more recipes and ideas for pairing and embellishing apples from the Fat Toad Farm team. Pick up lard for your Thanksgiving pies or feedback on pairing pastured pork and chicken with apples, sauces and chutneys,  from the Green Mountain Girls. Pick up lovely garlic to grace your dishes or ward off the sniffles from Spotted Dog farm. Get your late season fresh flowers or dried arrangements from Spruce Lane Flower and Third Branch Flower Farms. Pre-empt the stress and find gift certificates for tours from Pagoda Pond Farm. Come experience, eat and enjoy!
Whether you want to fill the pantry and fridge or entertain a multi-generational group, whether you are trying to frame the ultimate fall foliage photo or shift your frame of mind, we offer a learning-filled way to do so. We hope you join us!