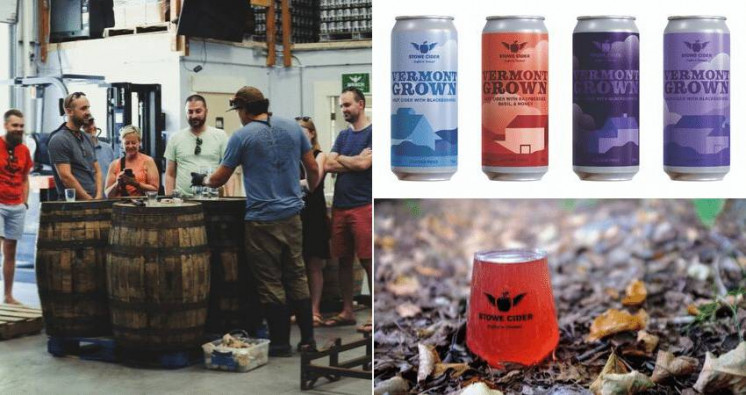 It's an opportunity to celebrate and taste your way through the many ciders produced in Vermont and support the Vermont Cider Makers Association.
---
Vermont is known for its apples and the wonderful orchards all over the state, but did you know that cider makers often use other fruit from Vermont farms? Citizen Cider's "The Americran" uses cranberries from The Vermont Cranberry Company in East Fairfield. In addition to apples from their orchard, Champlain Orchards Cidery uses grapes grown at a small vineyard they manage in Orwell in their award winning Sidria "sangria" cider.  
Local Fruit, Maple Syrup, Honey, and Herbs 
Just in time for the harvest season, Stowe Cider is releasing "Vermont Grown," a limited series of ciders that highlight local ingredients and feature local farms. Folks can enjoy all four of these farm-to-glass ciders during their debut at the Vermont Cider Classic in Waterbury. These new ciders reflect the range of local ingredients that Vermont harvests throughout the year. Some of these farms are seasonally open to the public, so sample a cider and make plans to visit the farms next summer.
Blueberry Maple 
Using blueberries from Charlotte Berry Farm in Charlotte and maple syrup from Nebraska Knoll in Stowe, this cider highlights two of Vermont's best flavors in a perfectly balanced partnership that is not too sweet and not too dry.
Raspberry Basil Honey
Fresh raspberries from Fisher Brother's Farm in Shelburne, honey from Suddabee's in Morrisville, and basil harvested from around the state are what make this cider delicious and unique. Raspberries, honey, basil, and apples? We can't wait to try it!
Black Currant
The driest of this series, Black Currant is made with berries from Lanzer's Fruit Farm in East Hardwick.
Blackberry
Using blackberries from Fisher Brother's Farm in Shelburne, this cider is sweetly tart just like a blackberry.
All four have a gorgeous color that reflects the local fruit used in making each special cider.  
And then....Visit the Stowe Cider Taproom!
After sampling all the great Vermont ciders at the Cider Classic on September 28th, be sure to plan a visit the Stowe Cider Taproom right in the heart of Stowe. They have 24 ciders on tap to choose from. We recommend sampling a flight and taking home some favorites for later. The Taproom is right in the middle of the production facility, so don't hesitate to ask questions about the cider making process while you enjoy their delicious ciders.