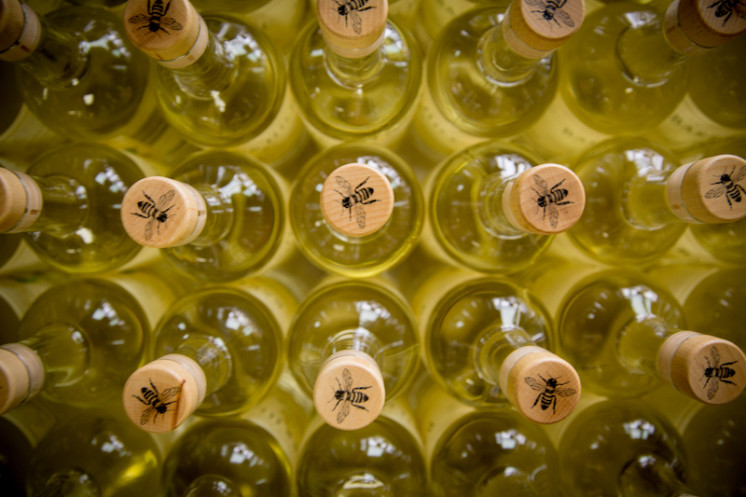 In 2011, Caledonia Spirits began distilling gin, vodka, and an elderberry cordial in the distillery in the North East Kingdom. And since that time, they become well known for their Barr Hill Gin, their Tom Cat Gin, which is aged in American oak, and their Barr Hill Vodka. What do they all have in common? If the raw beeswax seal on each bottle doesn't give it away, then certainly the flavor will. The answer is of course… Honey. Raw Honey. Caledonia says their spirits are "landcrafted in Vermont," and it's true. They use local grains and the raw honey used in their spirits is regionally sourced.
Did you know almost 90% of all flowering plants and approximately 30% of our food crops depend on animal pollinators? Honeybees alone pollinate more than 90 different kinds of food crops.
For the fourth year in a row, Caledonia Spirits highlights the importance of honeybees for our food and farms with Bee's Knees Week. From September 24th - October 3rd, bartenders, restaurants, and bars across Vermont and the U.S. are coming together to celebrate the Bee's Knees Cocktail and bring attention to the importance of bees and pollinators to our food system.
During Bee's Knees Week, Barr Hill will be planting 10 square feet of bee habitat for every Bee's Knees cocktail - a classic made with gin, lemon, and honey, shared on social.
We spoke with Sophia Light of Caledonia Spirits to learn more about Bee's Knees Week.
How did Caledonia Spirits come up with Bee's Knees Week?
Our distillery was founded by a beekeeper, Todd Hardie, which is why we incorporate raw honey into each of our spirits and the reason we are so passionate about honey bees. Unfortunately, honey bee colonies are suffering due to a wide variety of human and environmental factors. Bee's Knees Week is a way to create meaningful conversation around the importance of honey bees in our food system, threats to bees, and how we can work together to help.
How has Bee's Knees Week grown and what's been the reception?
It's been really well received because there is a heightened level of awareness that the honey bee population is struggling and colony collapse is real. People understand the importance of honey bees in our food systems as the primary pollinators of much of the food and drink that we consume. People want to help and don't always know how; Bee's Knees Week is a fun platform for creating solutions and conversation around this important issue.
Make sure you get out and support our honeybees by ordering a Bee's Knees cocktail. You can find your nearest participating Bee's Knees Week location here.
And, if you'd like to make a Bee's Knees cocktail for you and your friends, here's the recipe:
The Bar Hill Bee's Knees
2 oz Barr Hill Gin

.75 oz Lemon Juice

.75 oz Honey Syrup (2:1)

Lemon for garnish

Lavender (added garnish - optional)
To a shaker filled with ice, add gin, lemon juice, honey syrup, and shake vigorously. Pour into a chilled cocktail glass. Add garnish. * For the honey syrup - dissolve 2 part raw honey in 1 part warm water. This is a chance for you to meet your nearest beekeeper and use local honey.
Whether you visit one of the Bee's Knees Week venues for a cocktail or if you make it at home, once you have a taste of the Bee's Knees, you'll know that it's the cat's pajamas.
We recommend planning a trip to the Montpelier area to visit the Bar Hill Distillery for a cocktail and tour of their facilities.