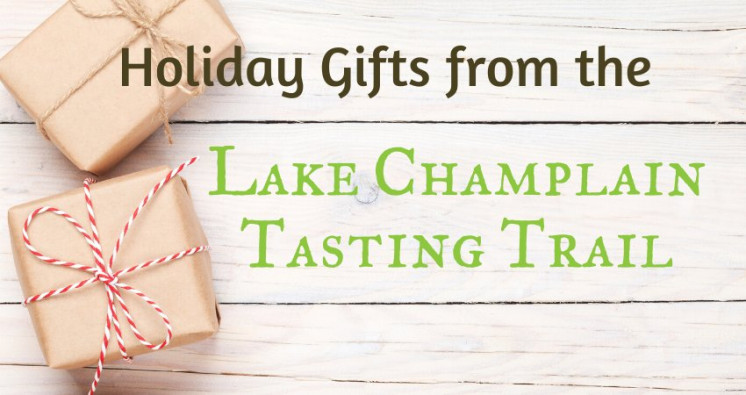 Did you know that Lake Champlain is 124 miles long and 12 miles at its widest point? The beauty of the Lake and the surrounding natural resources make the Lake Champlain Basin a great place to travel, visit, and explore. A healthy lake is vital to the health of the region.
This year, support the farms and food producers of the Lake Champlain Valley and use the Lake Champlain Tasting Trail as your gift giving guide.
When you find yourself in the whirlwind of last-minute gift shopping, or you're searching for something those people who have everything, consider our recommendations below! This kind of shopping is not limited to the holidays. You can enjoy local foods, drinks, and adventures along the Lake Champlain Tasting Trail all year long.
Share your favorite libations
Vermont's wine industry is relatively new, but many of our wineries are close to the Lake. Click here to learn about the wineries on the Trail. The cold-hybrid varietals that many wineries are growing are perfect paired with a dinner prepared with local ingredients.
Pick up a growler or two of wine, beer, or cider and/or visit your favorite distillery and share the love. We have three cidermakers on the Trail - Citizen Cider, Boyer's Orchard, and Champlain Orchards and Cidery.
Lake Champlain is only three miles from Champlain Orchards and Cidery. Owner Bill Shur talks about how the Lake influences his growing season in this video by Vermont Vacations.
Have fun at a festival
We have some of the best food and drink festivals in the country and many of them take place on the shores of Lake Champlain. There is a food event for everyone on your list. Take your favorite beer lover to the Vermont Brewers Festival in Burlington in July. Vermont Fresh Network holds their Annual Forum Dinner the first Sunday in August and The Vermont Cheesemakers Festival is a week later and is considered to be one of the top food and wine events in the country. Start here to go on a food and drink festival celebration along the Lake.
Spend the night
Book a week or weekend at a farm, bed and breakfast, or hotel. Farm stays are a great chance to get a taste of farm life. There are farms all over the state that offer you a chance to experience the many aspects of farm life and see the beauty of Vermont.
Make dinner plans
Bring your your friends and family to their favorite restaurants or buy a gift certificate and put it in their stocking. All the eateries on the Trail are members of the Vermont Fresh Network.
Something for the kiddos, young and old
Give a yearly membership to Shelburne Farms. Shelburne Farms is a nonprofit education center for sustainability, 1,400 acres working farm, and National Historic Landmark on the shores of Lake Champlain in Shelburne, Vermont.
From walking the trails and visiting the farm barn to attending special events, at Shelburne Farms you can experience and learn about the importance of Vermont's agriculture, natural resources, and historical preservation.
As a special gift, make a reservation at the Inn for an overnight and brunch. The Inn is open for the 2020 season from May 8 - October 19, 2020. Reservations for next year will open on January 1, 2020.
Travel the backroads
Plan a road trip on the Lake Champlain Tasting Trail, from North to South and everyplace in between. Grab your family and friends and spend a week or a weekend visiting your favorite breweries and cideries and enjoying our restaurants, or build your own trail and plan your adventure. There are so many activities to be enjoyed.
Did you know that 318 species of birds live on or near Lake Champlain? And Lake Champlain is considered one of the best bass fishing lakes in the United States? To learn more about fishing on Lake Champlain, check out Vermont Fresh Network's FishOn! Project.

Build a gift basket
Food (including cheese!) is always a good choice for a gift. Boston Post Dairy, Shelburne Farms, and Dakin Farm have you covered. They all have gifts baskets ready to go, filled with local food and gifts for any occasion.
Last minute shopping for gifts isn't limited to the holidays. Keep these ideas in your back pocket and you'll always know what to get friends and family as you travel along Vermont's Lake Champlain Tasting Trail.
Funding for project came from a 2019 Conservation & Community Grant awarded to the Vermont Fresh Network by the Champlain Valley National Heritage Partnership.