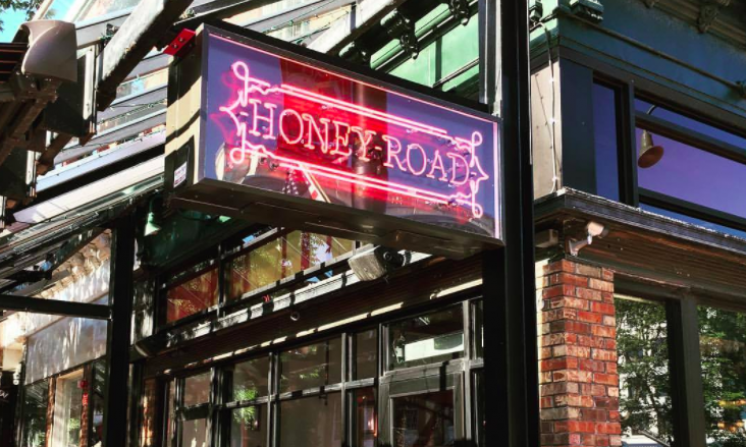 Follow the pink neon sign at the corner of Church and Main Street into the warm, inviting and bustling dining room of Burlington's newest restaurant Honey Road. Honey Road has been pulling in rave reviews since their opening this summer. The buzz is strong for many reasons – the restaurant is female owned and run, helmed by Chef Cara Tobin and VFN restaurant veteran Alison Gibson; they're serving up Eastern Mediterranean small plates – a new (and delicious) concept for Burlington; and it's good – really good. We checked in with Cara to see how she was creating this global cuisine while staying Vermont-focused with ingredients. 
How did you come to open a restaurant in Vermont? 
I started working in a professional kitchen when I was 17. It was at a pizza place in Hanover NH. I fell in love with it and kind of never looked back. In 2001, I met my now husband, in Vermont. We moved together back to my home state of California, but we always missed the east coast and hoped to move back someday. In 2010, we did and I started working at Oleana in Cambridge, MA. That is when I started learning about Middle Eastern, specifically, Turkish cuisine. It was a whole new world and it was amazing. After traveling to places like Turkey and Morocco, I knew that this was the cuisine where I had found my place. Living in Boston was great but we quickly knew that we wanted to move north, to Vermont and set down roots. So I started conceptualizing what is now Honey Road. It was so natural to combine the fresh, Mediterranean cooking style of California with the flavors and textures of the Eastern part of the Mediterranean. Then to add in the wonderful produce, meats and dairy of Vermont seemed like a no-brainer. Once I was back in Vermont I was introduced to Allison Gibson. It sounds silly but we sort of had a blind date and the rest is history. We had a lot of the same philosophies about running restaurants and we were both ready to do our own thing. It's crazy but that's what happened. It was like asking someone to marry me. On our second "date" I said, "I want to open an Eastern Mediterranean restaurant in Burlington, do you want to do that with me?" And she said "Yes"!
Tell us a little about Honey Road and Eastern Mediterranean cuisine.
Honey Road is an Eastern Mediterranean restaurant that serves Mezze, small plates, family style. Eastern Mediterranean cuisine is influenced by places like Turkey, Lebanon, Egypt, Greece and Syria. Some people recognize it as being middle eastern. What I love about this combination of cuisines are the spices. We use a lot of spices. The spices are used to create depth and flavor, instead of using butter and heavy cream. You walk away feeling full and satisfied but not like you overindulged. We also use things like Tahini, Sumac, Za'atar and Maras Chili. Some menu items that might be familiar are Hummus, Baba Ganoush and lots of Lamb!
We use mostly local ingredients. Right now about 90% of our produce is locally sourced and almost all of our dairy is local as well. With the exception of some protected origin cheeses that come from Greece and Cyprus. Our lamb, chicken and quail are also all local. The atmosphere in the restaurant is refined casual. It's a super fun place to hang out and get a drink and a snack but also works for a special occasion dinner place as well.  
What's your method to create flavors from afar while sourcing locally?
It's the use of spices with the local produce, meats and dairy that help create the flavors of the middle east while eating carrots or lamb that are grown and/or raised in our own backyard. Also, did you know that people are making tahini in Vermont?! Aside from the spices themselves, we have all we need here. Tahini, sumac, and Za'atar!
What is Za'atar?
Za'atar typically refers to wild thyme or oregano, but can also refer to a condiment that combines wild thyme or oregano with sumac and sesame seeds. Its origin is as foggy as the origin of most Middle Eastern dishes. Many countries claim it as theirs but it is found almost everywhere in the Middle East and parts of North Africa, throughout history.    
What dishes do you use it in? 
Right now on our menu, we use Za'atar on the Braised Lamb Shoulder with yogurt. It also appears on crackers for dipping in hummus and on the Crispy Hen of the Wood mushrooms that we are getting from local foragers. 
It's hard to choose favorites, but what are some fall menu highlights?
Fall and Winter are when Middle Eastern cuisine shines. You can really get into all the braised and stewed meats and vegetables. Try the Braised Lamb with Yogurt and Za'atar; Haloumi Cheese with Delicata Squash and Maple Tahini; and Brussels Sprouts, Freekah "Dirty Rice", Walnuts.