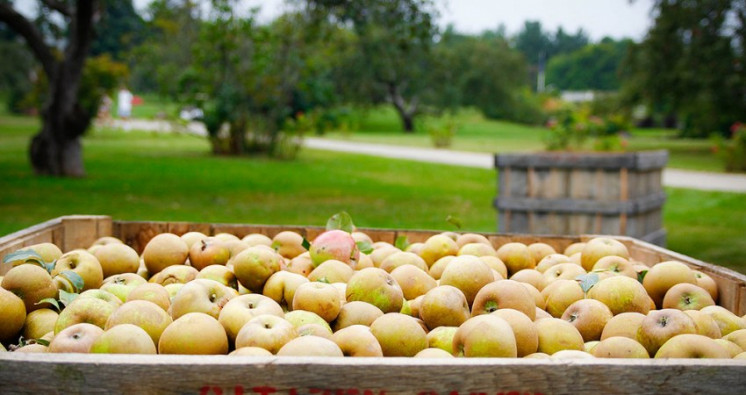 Each year, autumn brings plenty of food and farm-related activities and many of them involve one of our favorite locally grown fruits-- apples! Vermont is filled with amazing orchards to visit. Below are some ways you can maximize your apple harvest experience in 2019.
1. Apple Picking
Head to your favorite orchard or check out a new one. Click here for a list of pick-your-own orchards. Many also serve fresh apple cider, cider donuts, and more!
2. Party Time
Each fall, there are tons of fun harvest festivals throughout the state. This year is no exception! Peruse the list below to find one (or several!) near you:
Check DigInVT for more, as new events are added every week!
3. Learn About Vermont's Apples
Here are a couple of events that offer a little bit of history and education, in addition to tasty fruit:
19th Annual Apple & Cheese Harvest Festival at the Justin S. Morrill State Historic Site | September 29th | Celebrate Johnny Appleseed's birthday! Make your own cider in an antique press, and taste heirloom apples, fine artisan Vermont Cheeses, Vermont ice cream, and homemade apple pie. There will also be kid's activities, farm animals, and period games.
17th Annual Heirloom Apple Days at Scott Farm Orchard | October 13th - 14th | Join Orchardist Zeke Goodband in the Apple Barn for apple lore and tasting of some of Scott Farm's 130 varieties of heirloom apples in season. There will also be hard cider samples, food vendors, live music, kid's activities, guided dry stone wall tours by The Stone Trust, and more!
Have you tasted Shacksbury's Lost and Found Cider? Shacksbury has been searching for "Lost Apples," the apples from American's early cider tradition, in Vermont since the fall of 2013. They've sampled thousands of apples, made cider from over 150 unique trees, and selected eleven varieties to propagate over 1,000 trees. From these apples, they make a unique cider with roots in the past. Visit their website to learn more!
4. Add Cheese
Nothing goes better with apples than cheese! Explore the Vermont Cheese Trail and pick up some cheddar to serve alongside your apple pie. Or attend the Fresh Cheese Making & Heirloom Apple Pairing Workshop with Rebop Farm at Scott Farm Orchard on August 31st. You'll get to make butter, ricotta, and stretch mozzarella, and then enjoy it with different varieties of heirloom apples!
5. Don't Forget About Cider
Many orchards serve up their own freshly pressed apple cider during the harvest season and some of them also brew their own hard cider! Check out the Vermont Cider Trail for some favorites.
Head to Cold Hollow Cider Mill on Saturday, September 28th for The 5th Annual Cider Classic! You'll have the opportunity to sample ciders from Woodchuck Hard Cider, Stowe Cider, Citizen Cider, Windfall Orchard, Eden Cider, Shacksbury Cider, Cold Hollow, and Champlain Orchards and Cidery! In addition, enjoy live music and eats from local food trucks.
Bring your wild apples to Citizen Cider and be a part of The People's Cider! Collect wild apples from your property and bring them to Citizen Cider's tasting room on Pine Street in Burlington. They will press and ferment them into a delicious hard cider and then give three bottles of the finished product to each participant!
You can even learn to make your own! Join Jason MacArthur of Whetstone Ciderworks at Scott Farm Orchard for an introductory class on hard cider on October 6th. You'll learn about apple varieties, techniques, equipment, yeast strains, fermentation, bottling and racking, and the steps that lie between fresh juice and a bottle of your own delicious homemade elixir.
6. Make a Run For It!
These fall runs make for a fun and healthy way to enjoy the cool, crisp air, and the tasty treats that await you at the finish line.
If a walk is more your style, visit Scott Farm Orchard for one of their Heirloom Orchard Walks happening on several Sundays throughout the season. 
7. Harvest Themed Dinners
Indulge in the bounty of the season by attending a harvest themed dinner filled with local ingredients. Here are just a few of what this autumn has in store:
Be sure to keep your eye out for seasonal dishes at your favorite farm-to-table eateries! For example, Smugglers' Notch will be serving apple infused items in all of their on-resort restaurants during their annual Fall Applefest! We promise they won't be the only ones!
8. Baked (or Fried) Apple Treats
Cider donuts have to be one of the best fall treats! Some of our favorites come from Boyer's Orchard, Champlain Orchards, and Happy Valley Orchard, but we're always looking to try new ones. You really can't go wrong. We love the idea of this cider donut bread pudding from Champlain Orchards! Follow the recipe here.
Don't forget the apple pie! Do you have a family recipe steeped in tradition? Or a new fangled concoction that's gotten rave reviews? Enter to win a pie baking contest:
If your baking skills could use some refinement, check out King Arthur Flour's Baking School. The September schedule is up and has several autumn pie classes.